ATTRACTION: Manatee Snorkel Tour.
WHERE: Orlando Dive & Snorkel Tours-Crystal River, Florida.
AGE RESTRICTIONS: None, but parents MUST stay with their children at all times and the children must remain quiet. Recommended age is at least 8 years.
PRICE: $40 per adult. Children 12 and under $30 not including gear. Full gear package $20 per person.
ADDITIONAL INFORMATION: This manatee encounter runs daily year round at 7.30am or 11am. You will be gone about 4 hours. Advance reservations are highly suggested two weeks in advance. A tour can be arranged by one phone call 407-466-1668 or email Diveorlando@aol.com
Most snorkel and diving tours are located just two hours from Orlando and Kissimmee area. They have selected only the Premium snorkel sites available that are not weather regulated. This means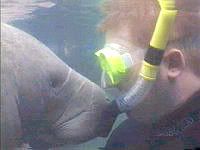 that when you book your dive or snorkelling trip with them it will not be cancelled due to weather. The dive sites have been selected from Florida's most spectacular crystal clear inland springs and rivers boasting 200 ft. of visibility with a wide variety of marine life.
Most of their dive and snorkelling sites are fresh water and the water temperature stays around 72 degrees year round.
Swimming with the manatees is fun for all ages and is one of the most memorable and unique experiences you will ever have. You don't need any snorkelling experience to participate. This gentle giant will warm your heart and you will come away from the trip with an understanding of why we need to protect this mammal from extinction. An experienced guide is provided for all manatee encounters.
Digital Underwater Camera Rental for $25
Rent a digital under water camera for your next manatee encounter. Take endless pictures that you want. The cameras are a 5-mega pixel, and they require a SD memory card. If you have your own card you can use yours (make sure it has no pictures on it, before staff install it in the camera) if you are using your card it is requested that they are no larger than a 1G. You can purchase SD cards from the tour shop….they range in price and memory 256K, 512K, 1G  $15.99, $19.99, $24.99