ATTRACTION: Sea Lion Encounter.
WHERE: 31 Corrine Pl. Key Largo, FL 33037.
AGE RESTRICTIONS: Seven years of age or older.
PRICE: $120 per swimmer
ADDITIONAL INFO: The Sea Lion Encounter is a personalized program dedicated to one on one interaction with Wono. The experience is limited to two participants per session and is offered twice daily, seven days a week. To complete the in-water portion of this program, participants must be comfortable in water approximately 10-15 feet deep.
Reservations CANNOT be made on-line. Tel: (305) 451-1993 or  Email: info@dolphinsplus.com
Dolphins Plus offers a Sea Lion Encounter program twice daily at 9am and 1:15 pm. The sea lion experience is an excellent blend of education and exciting interaction with a California sea lion.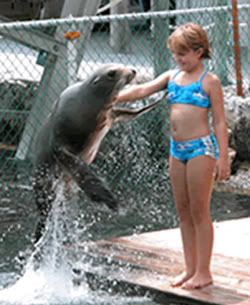 The swim portion of the program is preceded by a 20-30 minute educational briefing, during which participants learn about various topics including: California sea lion habitat, feeding habits, predation, reproductive biology, threats to longevity, and conservation. Swimmers also receive information about important guidelines for conduct during the session. The briefing concludes with a feeding and a short demonstration of behaviours by Sugar, one of the two sea lions.
Following the briefing, participants have the opportunity to meet Wono, an energetic   California sea lion. Participants will complete a series of trained behaviours with Wono during a session mediated by one of the professional marine mammal trainers. This interaction portion of the program takes part in three stages: on a floating platform, from an underwater bench, and completely in the water. The combination of behaviours varies but may include activities such as flipper tows, kisses, hugs, high fives, jumps, splash fights, and body rubs.