ATTRACTION: Big Cat Habitat.
WHERE: 7101 Palmer Blvd, Sarasota, Florida 34232.
AGE RESTRICTIONS: None.
PRICE: Small donation of $30 per adult, $15 for children aged 12 and under.
ADDITIONAL INFORMATION: Private tours are available year round by appointment only by calling (941) 371-6377.    
Big Cat Habitat and Gulf Coast Sanctuary is a non-profit safe haven for big cats, bears, and other animals in need. Founded by Kay Rosaire who enjoys more than 30 years of experience working with and caring for exotic animals. She began rescuing big cats in 1987. Their goal is to educate the public by fostering appreciation for animals and stressing the importance of habitat preservation.
Tour days during July, August, September, and October are Thursday and Saturday each week. Reservations are required, call (941) 371-6377. No email reservations.
Parking is free.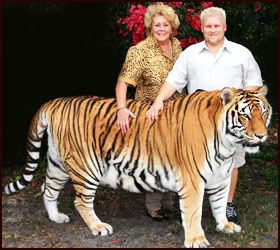 Animals in Action Demonstration!
The Rosaires' special relationship with wild animals makes every demonstration thrilling to watch, with the opportunity to see the animals in a close encounter of the exotic kind! Be entertained by the individual personalities and characteristics of the animals. The Rosaire family's unique style of gentle handling, praise and treats encourages the natural behaviour of the big cats.