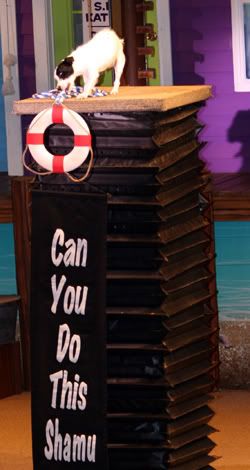 ATTRACTION: Pets Ahoy.
WHERE: SeaWorld.
AGE RESTRICTIONS:.None.
PRICE: Free with park admittance.
ADDITIONAL INFORMATION: Most of the animals in the show have been rescued from animal shelters in central Florida.
This show features a menagerie of cats, dogs, birds, skunks, a pot bellied pig and others. These animals will flip, jump, skip, even ride dune buggies and all with a comical twist.
The show may start with birds flying around the room while a cat runs over a rail above your head. The adventure has begun and you will witness a dog making a telephone call….he's making a credit card purchase of flowers to take to his girlfriend. Another dog sneaks treats from his master's picnic basket without being spotted, continually escaping from his collar then reinserting his head back into the collar so as not to get caught.
At one point, one of the animals releases a whole litter of "weiner" dogs from a vending machine advertising "Hot Dogs" for sale. There is non-stop entertainment until a pig finishes the set…..won't tell you how!
There is a chance to see some of the dogs from the show afterwards at the front of the stage.