THE FOLLOWING DINING EXPERIENCE HAS BEEN CANCELLED UNTIL FURTHER NOTICE
ATTRACTION: Dine With Shamu.
WHERE: SeaWorld.
AGE RESTRICTIONS: None.
PRICE: $42 plus tax per adult. $22 plus tax for ages 3 – 9. Children under 3 eat free but still need a reservation. 
ADDITIONAL INFORMATION: Special dietary meals available but they may occur an extra charge. Menu subject to change. Plan to arrive 15 minutes prior to reserved check in as times may vary slightly according to show schedule. Park entrance in not included but required. Book online at seaworld.com
Go backstage and meet the killer whale trainers as you enjoy a delicious buffet meal. Dine poolside at the killer whale exhibit and watch Shamu as you eat. The trainers will introduce you to the world they share with Shamu and demonstrate the amazing connection they have with the whale.  
 ENTRÉE SELECTIONS:
Fresh Garden Salad and Dressings
Caesar Salad
Potato Salad
Pasta Primavera
Rice Pilaf
Garlic Mashed Potatoes & Gravy
Fresh Garden Vegetable Medley
Beef Stew
Seafood Creole
Chicken Dijon
Sliced Turkey
Freshly Baked Rolls & Butter
 KIDS' SELECTION:
Pasta Shrimp Alfredo
Plain Noodles
Meatball Pasta Marinara
Fresh Fruit and Vegetables with Dip
Brownies
Shamu Cookies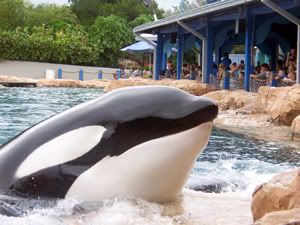 Cupcakes
Assorted Pastries
Assorted Cakes
*special thanks to Tinkerbell
for supplying the photos