ATTRACTION: Brevard Zoo.
WHERE: 8225 North Wickham Road, Melbourne, Florida 32940.
AGE RESTRICTIONS: Guests aged 16 and under must enter with an adult aged 18 or over.
PRICE: Adults $13.50. Seniors aged 60 and above $12.50. Children aged 3 to 12 years  $10. Children under two are admitted free.
ADDITIONAL INFORMATION: Daily from 9:30am. to 5:00pm. Closed Thanksgiving and Christmas Day. Free parking available. Satisfy your hunger from an impressive list of meals, snacks and refreshments at the Flamingo Café. The Zoo also serves Dippin' Dots ice cream. The Flamingo Café is open daily from 10am. to 4:30pm.
Smoking is not permitted inside the Zoo. Pets are not allowed inside the Zoo (service animal owners must check in with Zoo administration office.) Shirt and shoes are required at all times. Weapons of any kind are not permitted on Zoo grounds. Bicycles, skateboards, roller blades and rolling shoes (heelies) are not allowed in the Zoo.
WHEELCHAIR & STROLLER ENTALS:
Wheelchair – $5
Single Stroller – $5
Double Stroller – $7
Electric Conveyance Vehicle – $20
(These prices do not include tax.)
Brevard Zoo offers lots of activities like kayaking, riding the train, and feeding the animals. In addition, the zoo daily offers animal demos that rotate depending on the day including alligator, otter, and vulture feedings.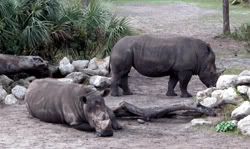 Expedition Africa: Getting up close and personal with a giraffe is only one of the many adventures offered in Expedition Africa. Go on a kayak ride down the Nyami Nyami River where you will encounter a wide variety of African wildlife including birds, primates, gazelles, lemurs, antelopes, rhinos, and of course, giraffe.
The view from the river's edge will give you a whole new perspective on these magical creatures. 
La Selva: A walk through La Selva or "the jungle" exhibit brings encounters with jaguars, many species of monkeys and tropical birds, and capybaras, the large guinea pig-like animals. The tapirs might be taking a dip in their pool or the giant anteater might be snuffling out some tasty ants in a hollowed out palmetto. 
Austral/Asia: The Austral-Asia Loop has a free-flight aviary where the cockatoos, parrots, kookaburras and cockatiels offer a rousing welcome. For an up-close encounter, guests can feed the rainbow lorikeets fruity nectar. Indonesian fruit bats (also known as flying fox), muntjacs (tiny deer from China), cassowaries (giant prehistoric-looking birds), dingoes, wallabies, kangaroos, turtles and emus round out the visit.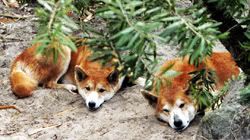 Wild Florida: Just down the way, past the 250-pound crocodiles, is the Wild Florida exhibit where visitors feed Annie and Flame, two white-tailed deer. The otters dive into their pool for a block of ice loaded with fruit. The alligators, including 13-foot Humphrey, are waiting for their public feeding. Endangered red wolves, fox, bald eagle, bobcats and red-tail hawk are in natural settings perfect for viewing. 
At the end of the walkway, guests find themselves ready for a kayaking adventure through a restored wetland area. The guided tours are offered daily, weather permitting. 
Feed the Giraffes / Lorikeets: Feed the giraffes at the giraffe platform in Expedition Africa. Treats are $2.
Feed nectar to the lorikeets (parrots) in the Aviary in Australasia. Nectar cups are $1.
Kayaking: 
Brevard Zoo offers two guided kayaking tours. Choose a guided kayaking tour of our 22 acre restored wetlands in Wild Florida at the Wetlands Outpost Kayaking or paddle through Expedition Africa. Cost is $6 per person. No children under five can kayak, and 12 and under must be accompanied by an adult. A signed waiver is required.
Alligator and Crocodile Feeding:
Alligator and Crocodile feedings are at 3 p.m. every Wednesday, Friday, and Sunday and can be seen from the bridge to Wild Florida.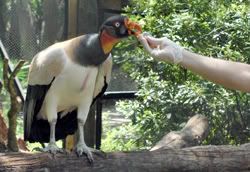 Vulture Feeding:
Vulture feedings are at 12 noon daily in the La Selva loop.
River Otter Feeding:
River Otter feedings are at 2 p.m. every Tuesday and Saturday at the otter habitat in Wild Florida.
BEHIND THE SCENES TOURS
Wild Encounter Tours, Destination Africa
This unparalleled adventure takes visitors off the boardwalk on an awe-inspiring educational hour getting up close and personal with some of the Zoo's most charismatic animal residents like Ollie, a black-throated monitor lizard, to Howard, our white rhino. Guests learn the intricacies involved in keeping these beautiful creatures conditioned, healthy and mentally-enriched, and will explore first-hand how the Zoo's skilled keepers utilize their training to interact with the animals. Reservations required. Tours offered on Saturdays and Sundays at 1 p.m. Cost is $75 per person and includes Zoo admission and a souvenir. To make a reservation call 321.254.9453