Stroller Rental Fees and Frequently asked Questions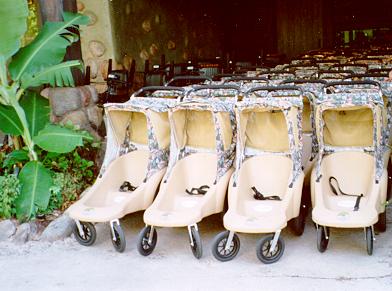 What are the strollers like?
If you are flying, you can take your stroller right up to the gate, receive a gate check ticket and then leave it at the door to the plane.
Having your own can make it a lot easier for getting around WDW, for example at the resorts, walking in from a parking lot, waiting for a bus or at the water parks. Your own stroller will also be a lot easier to find among the masses of them parked outside attractions.
For an extended stay (where the daily rental fees will add up) with a very young child or if you will be spending much time away from the major parks, consider bringing your own stroller. You will save the park stroller rental fees and the child may be much more comfortable.
Can I rent one at Disney?
Yes, you can.  If you have an older child who wants to walk some of the time it might be easier to rent one when you are in the parks for when they get tired.
Strollers can be rented at the entrance of each Theme Park and Downtown Disney.   Disney's water parks do not offer stroller rental.
Disney has a Length of Stay rental for strollers and wheelchairs.
With the length of stay rental, you make a one-time payment for as many days of rental that you will need. When you visit a park, show your receipt at the stroller/wheelchair rental location and you will be directed through the queue with little or no wait. There is a slight discount when purchasing the length of stay rental ticket.
NB:  The length of stay option is NOT offered during peak attendance times, such as Christmas.
Single or infant stroller:  $15.00 for single – no deposit or $13.00 per day for length of stay rental
Double stroller:  $31.00 for double – no deposit or $27.00 per day for length of stay rental
Downtown Disney Fees: $10 for single stroller with a $250 credit card imprint deposit required – $8 per day for length of Stay
Double strollers are not available.
Reservations are not accepted. If you want to visit more than one park in a given day, retain your stroller receipt and present it at the second park to obtain another stroller at no additional cost.
Where are the stroller rental locations?
Magic Kingdom:
Under the Main Street Railroad Station.
Epcot:
To the right at main park entrance.
Also at International Gateway, to the left before entering park.
Disney's Hollywood Studios:
To the right after entering park, at Oscar's Super Service, located just inside the Disney Hollywood Studios gates (in what looks like a "gas station").
Animal Kingdom:
To the right, after entering the park.
Downtown Disney West Side:
DisneyQuest Emporium – NB  Double strollers are not available.
Downtown Disney Marketplace: 
Disney's Wonderful World of Memories – NB  Double strollers are not available.
What are the strollers like?
All of the strollers are made from hard plastic and have 4 wheels.  It is worth taking some towels of coats with you for your child to sit on.
Is it safe to leave my stroller outside an attraction?
It is best not to leave anything of value in your stroller.  A lot of people do leave their diaper bags with the stroller.
Strollers cannot be brought into any attractions, so if it looks like it might rain, throw a rain poncho or some other protective covering over it.
What if I need a replacement for some reason? 
There are several places where you can obtain a replacement stroller. (NB: There are only limited quantities of replacement strollers available, on a first-come, first-served basis.)
In the Magic Kingdom:
Main Street, U.S.A. at Strollers/Wheelchairs
Frontierland at Trading Post
Tomorrowland at Tomorrowland Arcade
In Epcot:
Germany (Glas und Porzellan)
In Disney's Hollywood Studios:
In Animal Kingdom: