ATTRACTION: Capone's Dinner & Show
WHERE: 4740 West Irlo Bronson Highway, Kissimmee, FL 34746
AGE RESTRICTIONS: None.
PRICE: Adults $49.99. Children aged 3 to 11, $29.99. Children under 3 years old admitted free. Prices do not include tax. Click HERE for half price tickets. Times are 8pm nightly during the summer and spring, 7.30pm during fall and winter.
ADDITIONAL INFORMATION: Tel: 407-397-2378. Cash bar also available. Open 365 days. Contact Capone's Dinner & Show by emailing info@alcapones.com On Thanksgiving Day you are offered a traditional menu including roast turkey, ham, and all the trimmings. The Christmas shows run from Thanksgiving Day through December 31st. On New Years Eve there are two shows -an early bird show, and a second show which includes a champagne toast at midnight. D.J. and dancing after the show.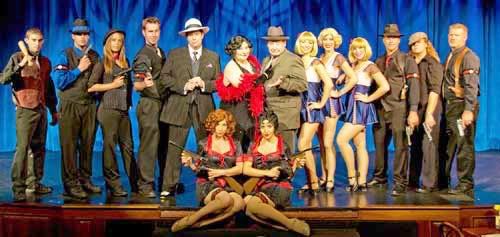 Set in the 1930s, Capones is a fun mobster romp based in the prohabition era. With plenty of singing and dancing this is a show for just about anyone but beware, if you're worried about audience interaction, this show is pretty heavy on audience involvment!

.You will find more information and often some special offers on capone's facebook page and it's well worth subscribing to them https://www.facebook.com/Caponesdinnershow
Each night Mama Capone prepares a real Italian Feast plus a few American favourites for Al's guests.
Eat hearty, Mama Capone don't want no one going hungry! Served buffet style, eat all you like!
Al's a very generous guy – also included in ticket price is unlimited draft beer, Al's original rumrunner, Cape Cods (vodka & cranberry), red and white wine, soda and coffee. Plus dessert's included too.
Menu: Deep-dish lasagne, pasta with red sauce and meatballs, pasta with cheddar cheese sauce, vegetable lasagne, spaghetti with meat or marinara sauce, baked chicken, honey roasted ham, mixed vegetables, garlic parsley potatoes, pasta salad, tossed salad & Italian garlic bread. Dessert is homemade brownie surprise!