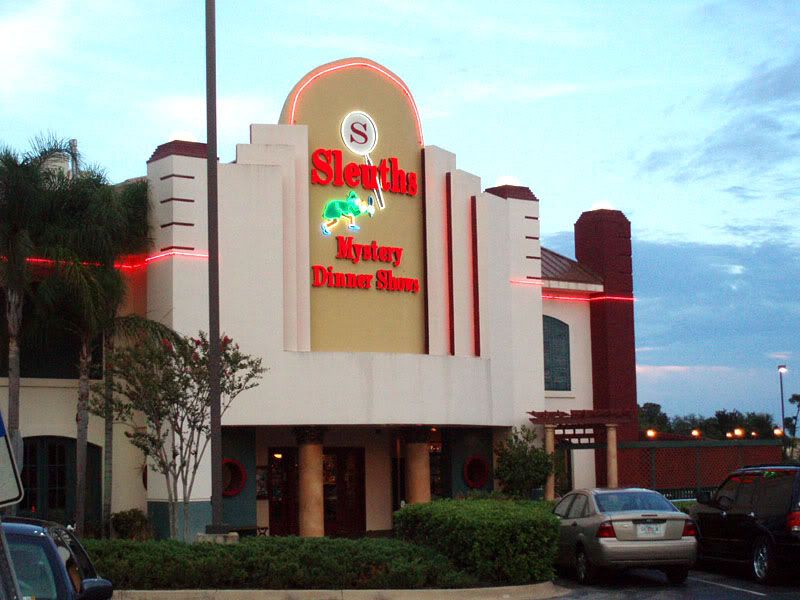 ATTRACTION: Sleuths Mystery Dinner Show. 
WHERE: 8267 International Drive, Orlando, Florida. 
AGE RESTRICTIONS: None. 
PRICE: $52.95 adults. $23.95 children aged 3 to 11. (prices change with menu choices)
Buy tickets online HERE
ADDITIONAL INFORMATION: Reservation Line: 1-888-590-5910. Call 407 363 1985 to find out when a particular show is being performed.
Bring your investigative skills, your appetite, and be prepared to laugh your way through the evening at Sleuths Mystery Dinner Shows, Orlando, Florida. 
You'll be kept on the edge of your seat as you enjoy a delicious dinner and dessert with unlimited beer, wine and soft drinks. Nightly performances feature one of thirteen original comedy mysteries of which three are alternated throughout a week. 
All shows are 2-1/2 hours of scripted mystery, improvisation and audience participation. Watch for anything suspicious, interrogate the suspects and help solve the crime.
Before The Show:
Assorted crackers and our signature cheese spread

Hot and cold hors d'oeuvres
Choice of Entree:
Honey-glazed Cornish game hen with herbed stuffing, sweet potato, vegetables, and cranberry sauce

Prime rib dinner ($3.00 extra + tax) with baked potato and vegetables

Four cheese lasagne (with or without meatballs, your choice) with vegetables and garlic bread
Mystery Dessert:
If they told you, it wouldn't be a mystery, would it?
Beverages (all drinks are included in the ticket price):
Bud Light, Budweiser, White Zinfindel, Chablis, Merlot.
Soft Drinks:
Pepsi, Diet Pepsi, Sierra Mist, Mug Root Beer, Tropicana Orange Soda, Sweet Raspberry Iced Tea, Coffee, Hot Tea
Lord Mansfield's Fox Hunt Banquet You are the nobility and have been invited to Lord Mansfield's annual fox hunt banquet. You enter Mansfield's Mansion and are greeted by Jeffries, the butler. He, the epitome of solicitousness and decorum, ushers you into an elaborate dining room where a boisterous maid is serving up hors d'oeuvres. Gypsies are preparing a feast and Lord Mansfield is concocting a potent home brew in the kitchen. Thievery, debauchery, and magic occur as one of the characters meets an inevitable fate. Solving this crime will be a challenge for the entire family.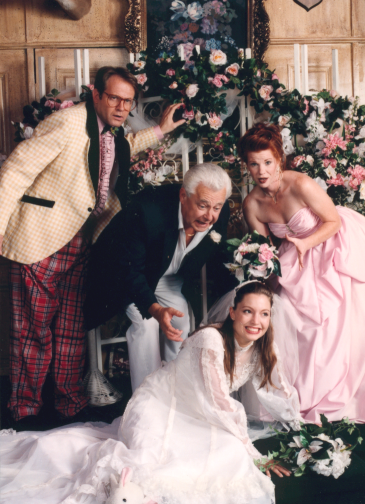 Kim & Scott Tie The Knot Kim and Scott are getting married. Serious questions arise: Did Kim murder her first husband? Has Scott been trading computer software secrets for precious gems? Relatives try to protect Scott from each other in this fun-filled spoof of an Italian wedding gone wrong.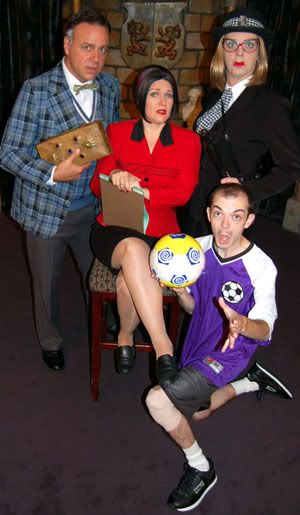 Squires Inn You have been touring northwest England, but your bus has broken down and you find yourself in Clifton, a quaint country village. The Squires Inn welcomes you and offers you a meal and lodging. The overly solicitous proprietor will do anything to keep you there. Be prepared for the unexpected. Your tour guide discovers a close relative in the Inn. An old pensioner has been hiding a treasure that once belonged to Mary, Queen of Scots. The offbeat antics will have you dying of laughter.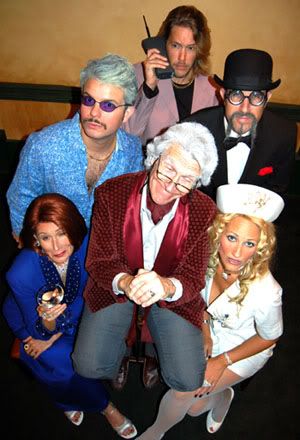 G.K's 80th Birthday Gerald Keenan's friends and family have been invited to his 80th birthday party.  He informs them that he intends to change his will.  However, someone has other ideas.  Mingle with Nurse Faber, Mr. Chen, and Mr. Keenan's relatives, watch for anything suspicious, and then interrogate these outrageous characters to gather clues.  Help us find out who made G.K.'s 80th birthday his last.
Roast 'Em & Toast 'Em Meet Arty Miller, a fun-loving entrepreneur who secures famous celebrities for speaking engagements around the world. As head of the illustrious Celebrity Elite Agency, he and his zany crew are throwing a roast for his step-mother Margaret Petrovich, infamous wife of Slovaria's Premiere. But what is Margaret's true agenda? Help Police Sergeant Pruitt solve a crime that may be one of passion… or perhaps international intrigue.
The Premier You are invited to the opening night celebration of a fantastic new cinematic production. Well, at least Jeremy, the director of this B-movie, believes that it is magnificent. There is a lot of pressure on Jeremy for this film to be successful. Oil tycoon Henry Beaumont has invested millions into this film in hopes that his niece Nicki will become famous actress. Watch for celebrities at this movie extravaganza, but also watch for clues because someone will commit a horrible crime. Who could be the criminal? Jeremy? Henry? Nicki? Bert? Or maybe Madame Gilda, "Psychic to the Stars"?
The Show Must Go On Auditions are being held for an international touring company. The production attracts both veteran performers and young hopefuls, and the company's outrageous director must decide who will be part of this colorful revue. To complicate matters, the producer and the owner both want to flex their muscles. This show within a show climaxes with a murder and the director's decision to cover it up.
The Reunion Your attendance at an alumni reunion for Luray Academy is direly requested. It is extremely important! The survival of the liberal arts college is at risk. One of the graduates, Lilah Beauregard, wants to bulldoze the college and set up condos. She must be stopped! Organizers of this class reunion are planning a gala affair to raise money in defense of the school. However, the evening does not go as planned. The band that is scheduled to perform is jailed, secret relationships are revealed, lies come to the surface, and ultimately the event ends in murder. Come help save the Academy and find out if Lilah's loathsome plan is averted.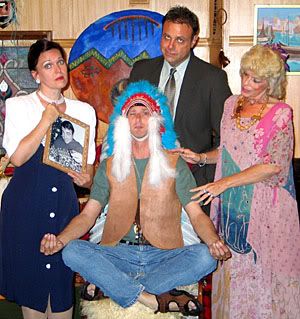 Joshus's Demise You have been invited to a memorial service for Joshua Langam who mysteriously "passed over" last year. In attendance is his widow Trish, brother Brett, cousin Charlotte, and mother Liza, who is accompanied by her faithful Indian sage, Mapewi. Liza is convinced that Joshua's death was not an accident and she has arranged to speak with Joshua from beyond. What will Joshua reveal?
Celestial Manor Welcome to the Celestial Manor, nestled in the English countryside, and where 'visitors' once left 'signs' etched upon the fields. Wheat grown on them has been used in making Celestial Cookies. For over 100 years prominent people have visited the Manor including Gandhi, Einstein, Freud, and Oprah, drawn to the other-worldly cookies as well as the Manor's many amenities including a world-class salon where you can get a killer cut. Alfonzo, stylist extraordinaire, and proprietors Marion and Oliver are very protective of the Manor's many secrets. Add the lovely Katrina and the not-so-lovely Constable into the mix and you will find yourself in one of Sleuths' most outrageous mysteries.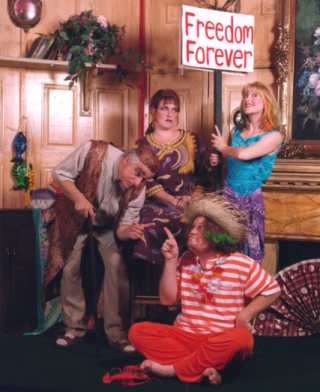 Island For Sale The Grand Duchess, benevolent ruler of Parrot Island, has decided to auction "the jewel of the South Pacific" to the highest bidder in order to travel the world. While she's delighted that many important corporations and billionaires are vying to gain possession of the island's unique properties and historical treasures, not all of the island's inhabitants are happy about her decision. Will the auction go off without a hitch, or will someone try to stop the sale of their home? The parrots may have the answer…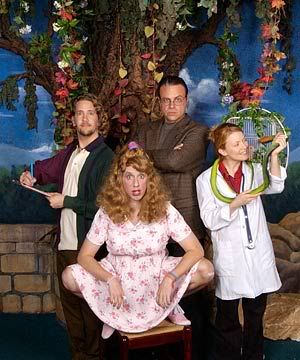 The Family Tree You are invited to Surrey, England for a gathering of long lost relatives of the largest family tree. Doctor Osgood Merryweather will be your host. Many unusual discoveries will unfold including altered genetics. Equally amazing is his collection of exotic animals. Be careful what you ask, because there are unmentionable secrets that the family guards. You will be captivated by revelations of this unique collection of people as they become part of your family, too!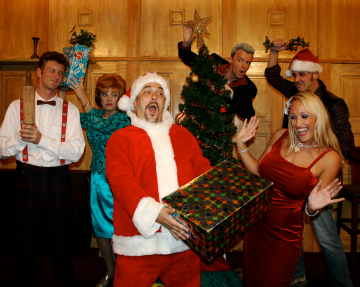 Holidaze! Mayor Rockwell and the citizens of Hillendale invite you to their quaint Americana town to celebrate their Annual Holiday Pageant and compete for fame and fortune on TV's #1 reality show. The contestants will do anything to win even if it means taking out the competition!