ATTRACTION:
Blue Man Group.
WHERE:
Universal Orlando.
AGE RESTRICTIONS:
While the show appeals to a wide audience, it may not be appropriate for all

children, especially under 3 years old

.

    
PRICE: T

icket price range is from $65 per adult, $25 per child – aged 3 to 9. (Check web site for latest rates.)

All children must have a ticket and sit in their own seat.
ADDITIONAL INFORMATION:
Show length is 1 hour and 45 minutes long with no intermission.
The poncho section is the first four rows of seats in the theatre closest to the stage. If you have seats here, you will be provided with a poncho to wear because the performers work with some materials that splash and can make a mess.
Strobe lights are used during two portions of the show. People sensitive to strobe lights should know this when deciding whether or not to attend the show. (Strobe lights may cause seizures to people with epilepsy.)
After experiencing the wildly popular Blue Man Group, enjoy FREE ADMISSION to select CityWalk venues with the presentation of your Blue Man Group ticket stub.
The worldwide phenomenon known as Blue Man Group has set up shop in Orlando. Now performing, you can catch Blue Man Group live at Universal Orlando.
Their unique form of entertainment that combines music, comedy and multimedia theatrics to create a blissful party atmosphere that people of all ages agree is a totally outrageous experience. 
World-renowned for their live stage shows, Blue Man Group now brings their eclectic mix of live music, fantastic percussion instruments, unexpected humour and so much more to Orlando.
The lobby provides a full concession counter with an array of snacks, cold beverages and cocktails. Patrons can bring their snacks and drinks to their seats and enjoy them during the performance. 
The blue man group is the newest group to hit Universal Orlando, and it's a show that you certainly don't want to miss. The show has an 'out of this world' quality . 
The costumes the blue men wear are comprised of latex caps which make them look bald, and tons of blue paint on their faces and heads. The Blue Man Group never talk. Throughout the whole performance, they manage to entertain, make people laugh, and create a spectacular show without uttering one word.
Nearly everybody likes to make a mess. And if we can't make a mess ourselves, we like to watch somebody else doing it.That's the real key to the success of Blue Man Group.
The Blue Men got their start making weird percussive noises with PVC tubes: In fact, the original name of their off-Broadway show was Tubes. But what they're really known for is less the loony drumming, although that's pretty cool, than the throwing, catching, spurting and regurgitating – the things they do with paint and food.
So you can see one Blue Man pitch gumball-sized paintballs at another and watch the second one catch them in his mouth and then spit the paint at a canvas – thus, a child's-eye view of art. You can see a Blue Man throw what look like marshmallows at the second guy, who catches as many as 18 in his mouth and then spews them out to create a sticky mass of glop.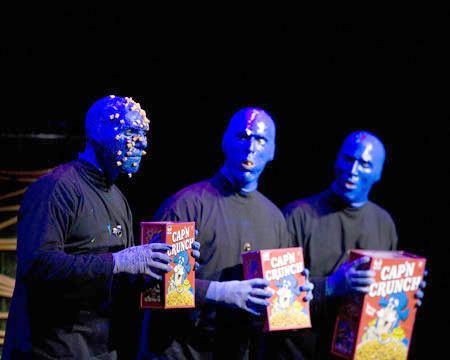 You can watch the three of them gorge themselves on the contents of oversized Captain Crunch boxes and listen to their chewing amplified to rock-concert-like proportions.
Or you can simply watch as they pour paint on three giant drumheads and then bash the living daylights out of those drums, sending paint flying gorgeously into the air.
Universal's 1,000-seat theatre allows the Blue Men to do lots with their multimedia-extravaganza of a show: TV-like video screens rise and fall, long tubes twirl from the ceiling, giant screens show you what's going on when the blue guys run up to the back of the house.