ATTRACTION: Outta Control Magic Show.
WHERE: 9067 International Drive, Orlando, FL 32819. (Inside WonderWorks)
AGE RESTRICTIONS: None.
PRICE: Adult $24.95, Child $16.95 plus tax.
ADDITIONAL INFORMATION: Tel: 407 351 8800. Two shows nightly: 6:00 pm and 8:00 pm. Show length approximately 90 minutes. May be closed major U.S. holidays.
Reservations recommended however, walk-ins welcome.
TIP: Entrance is free with the purchase of a Go Orlando 3, 5 & 7 day card.
Discount coupons HERE
Don't miss Orlando's funniest dinner show! This hilarious show combines high-energy comedy improvisation with spectacular magic to thoroughly entertain audiences of all ages. During the show, enjoy unlimited salad, fresh hand-tossed pizza, popcorn, dessert, and unlimited beer, wine, and soda. The Outta Control Dinner Show provides a one-of-a-kind entertainment experience to the Orlando area with non-stop audience participation. You may find yourself on stage in the centre of all the excitement.
Be sure to contact WonderWorks before heading out to check show times and make sure there are tickets are still available. Anywhere you sit for this show is a great seat, but it is recommended trying to sit close to the front, or near the centre of the room. Get there early! They start lining up about 15 minutes prior to show time, and the line fills up fast. Once the doors open, at either 6pm or 8pm, you find yourself a place to sit, and the food begins to arrive.

As you walk through the doors, you're first greeted by plastic top hats, filled with fresh buttery popcorn, waiting for you on the tables; a nice touch to get you in the mood for the magic to come. As everyone begins to settle into their seats the serves come around with hot, fresh pizza, your choice pepperoni or cheese, as well as take your drink orders. For the first 30 minutes after entering the dining room, you're put into the mood with a wide assortment of music being interrupted with an occasional outburst of "What's in the box?!" Don't worry, if you didn't hear it the first few times, you'll hear it once or twice more during the show!

And now, the moment you've  been waiting for! At 6:30pm and 8:30pm the show begins to start. Don't worry, however, if you haven't gotten your fill of pizza or drinks, they will continue serving during the show. Get ready for excitement, and put your hands together for the show you've all been waiting for!  
Now that you're all hyped up the fun is about to start! Filled with non-stop laughter and surprises, the show is sure to please. The best part about this show: It's impromptu! Of course it is, it has to be! In a live show filled with audience participation, things are bound to change.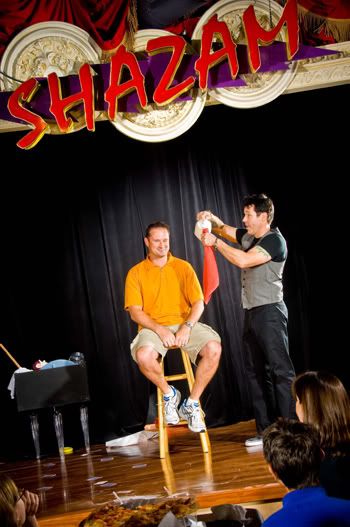 Be ready to keep one hand empty for this show, as they're always asking for volunteers, and you're sure to find yourself raising your hand faster than you can consider what you're getting yourself into. Just keep one thing in mind: you're not only a volunteer, you're a victim for the comedy antics that are sure to follow. 

 
So who should go visit the show? Everyone! "The Outta Control Magic Show" is an amazingly versatile event for one and all. Families are always there and everyone seems to have a ball. You can hold a birthday party there, and the lucky birthday boy or girl will be made part of the show from the very beginning. If you're visiting from out of town, this is a wonderful and memorable stop that you should check out. Don't worry about the young children, either, the show is always family friendly.
You can find coupons in coupon books and traveller's guides found in almost any store and restaurant on I-Drive. Or if you're looking to make an entire day of it, why not buy the Magic Combo ticket? For just about $39.95 for adults and $29.95 for kids you get an entire day at WonderWorks, plus The Outta Control Dinner Show to cap off your evening. For even more excitement, add on another dollar to the price and get a game of Lazer Tag at WonderWorks.