ATTRACTION: Pirate's Dinner Adventure.
WHERE: 6400 Carrier Drive, Orlando, FL 32819 
AGE RESTRICTIONS: None.
PRICE: Prices start at $29.95 + tax. All online reservations must be booked 72 hours in advance. 
ADDITIONAL INFORMATION: Tel: 407.248.0590. Email infofl@piratesdinneradventure.com 
TIP: Entrance is free with the purchase of a Go Orlando 3, 5 & 7 day card.  

If you are looking for an adventurous time while visiting the International Drive area of Orlando, then try Pirate's Dinner Adventure. This is a dinner show attraction that puts you and your family right in the middle of all of the swashbuckling action. Pirate's Dinner Adventure is acclaimed as "the world's most unique interactive dinner show."
Guests are entertained with an astonishing display of special effects wizardry, aerial artistry, swashbuckling swordplay, dynamic duels and a classic story of good versus evil that offers the perfect blend of action, adventure, comedy and romance; the opportunity to interact in the adventure; and a sumptuous dining experience. The show is perfect for children and adults alike.  
An authentically replicated 18th-century Spanish galleon measuring 46 feet long, 18 feet wide with 40-foot masts is anchored in a 300,000-gallon indoor lagoon with night sky lighting. Surrounding the lagoon is a six-sided showroom of six additional "ships" where the audience is seated. Voyagers on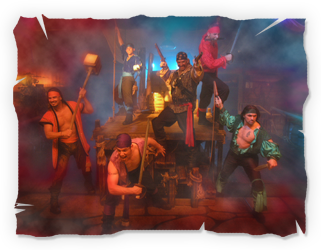 each of the six "ships" have their own fearless pirate "mascot" whom they cheer on as the adventure unfolds with a cast of a dozen actors, singers and stunt performers engaging in a bounty of action-packed exploits, accompanied by cannon blasts, pyrotechnics and a liberal dose of wit and wizardry. In addition, more than 150 guests have the chance to play an actual role in each show as the evil Captain Sebastian the Black leads his crews of renegades to the ship, taunting the seaport "villagers" (audience members) along the way. Even youngsters can be part of the action, donning costumes to row dinghies in a crucial pirate race around the lagoon or board the galleon to brave the dastardly Sebastian the Black and rescue a beautiful princess. For one shining moment, the fantasies of would-be pirates of all ages become uncannily real in the interactive arena of Pirate's Dinner Adventure.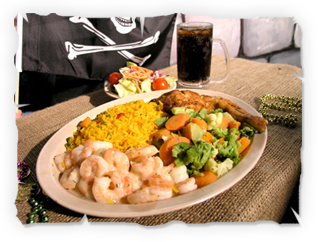 As a special guest of Princess Anita, you are invited to start off your evening with a bountiful appetizer buffet. Enjoy the King's assorted salads, tasty snacks, and special sauces.  
Your Pirate's Feast
Tossed Garden Fresh Salad
Served with House Dressing
or
Homemade Creamy Vegetable Soup
—————————————————————-
Treasure's Chicken
Roast Chicken Leg quarter in savoury seasonings
or
Pillager's Pork
Swashbuckling pork tenderloin roasted to perfection served with mushroom sauce
or
Captains Seafood Medley
Shrimp, Scallops and Lobster pieces served in a butter garlic sauce
Accompanied by
Caribbean Rice
or
Roasted Red Potatoes
———————————————————————————–
DESSERTS
Apple Cobbler a la mode
———————————————————————————
Vegetarian and Captain Kid's meals available.
Captain kids menu includes chicken fingers
———————————————————————————
Complimentary beer, soft drinks and coffee during the main show.
Cash bar available all other times.
*Menu subject to change
Gratuity is not included and payable at the table.
There's nothing a dastardly pirate likes more than having a swaggering good-time celebration. Conclude your evening by joining the crew at the Buccaneer Bash and party the night away.
Whether you seek pirate booty for your self or the perfect gift for someone else, the Gift Shop at Pirate's Dinner Adventure holds all the treasure you seek!
They carry a wide variety of pirate toys, from action figures to role play items for kids as well as high end collectable's such as statues, sword and pistol replicas and the ever popular Pirate's of the Caribbean line.
Starting late November and running through the end of the year, Pirate's Dinner Adventure is transformed into the annual Pirate's Christmas Show.