ATTRACTION: Jellyrolls Duelling Piano Bar.
WHERE: Disney's Boardwalk Resort area, at 2101 EPCOT Resort Boulevard, Lake Buena Vista, Florida, 32830
AGE RESTRICTIONS: 21 and over.
PRICE: There is a $10 cover charge.
ADDITIONAL INFORMATION: Tel: 407 560 8770. Jellyrolls has free parking at Disney's Boardwalk Resort. As of January 1, 2009 Jellyrolls has gone non-smoking. Full bar.
The piano players entertain the guests by playing song requests as well as having the guests become part of the show.

 
Jellyrolls is located at Disney's Boardwalk and is a great way to spend your nights after a long day at the park. No two shows are ever the same and no Disney vacation is complete without a night a Jellyrolls.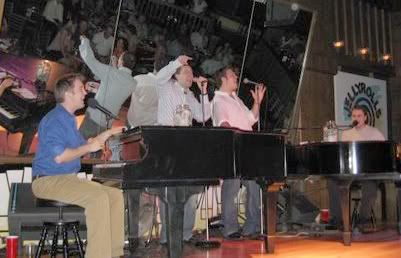 This piano lounge offers a relaxing way to end a long day of sightseeing and thrill riding (at Disney World). The musicians here are well trained and know every song imaginable, from the "Let it Be" to "Purple Rain," but are at their best when they are vying against one another in their own rendition of "Dueling Pianos." Of course, since the place is intimate and seating can be at a premium at times, make sure you get here early if you want to grab a table.
Although Florida law forbids smoking in restaurants, Jellyrolls is immune from this restriction because it's just a bar and doesn't sell food. They've allow smoking since their opening, but in 2009 they made a significant change: they are now smoke-free. This has opened them up to a whole new audience of people who have wanted to enjoy the duelling piano antics but who don't like to be surrounded by a haze of smoke. This is especially good news because of the closing of Pleasure Island's clubs, which has severely impacted Disney's adult nightlife. While it's not quite as exciting as the sorely missed Adventurer's Club, it offers an interactive entertainment experience right on Disney property.
Jellyrolls opens at 7pm, with the performers taking the stage at 8pm. On the weekend or at busy times, you'll want to get there early in order to score a good table and the party runs all the way through 2 a.m.  
Jellyrolls is a true entertainment gem. You'll be amazed by the pianists' talent and flexibility. They take audience requests and can play nearly anything, so be creative when you challenge them.