ATTRACTION: Hoop Dee Doo Musical Revue. 
WHERE:  Disney's Fort Wilderness Resort And Campground. 
AGE RESTRICTIONS: None
PRICE: See chart below
ADDITIONAL INFORMATION: Reservations are required. Daily 5, 7:15, and 9:30pm. Casual attire is suggested. Show length approximately two hours. Due to the popularity of the show, reservations are required and can be made up to 180 days prior to your visit by calling 407-WDW-DINE.
TIP: If you catch one of the early shows, consider sticking around for the Electrical Water Pageant at 9:45pm, which can be viewed from the Fort Wilderness Beach. 
Hoop-Dee-Doo Musical Revue Seating and Pricing
Prices and show times are subject to change without notice.
Tickets are available for pick-up 7 days prior to show date at any Walt Disney World Resort Guest Services desk. For same day box office pick-up, please arrive 40 minutes prior to show time. Guests must reconfirm the reservation 24 to 48 hours prior to dining time.
Ticket Pricing
Guests Ages 10 and older
(tax and gratuity included)

Guests Ages 3-9
(tax and gratuity included)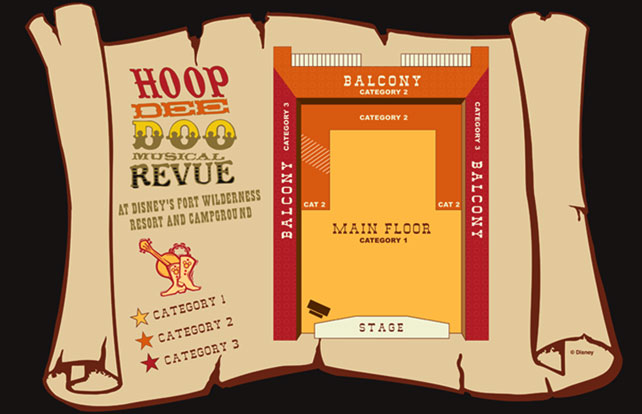 Disney's most popular dinner show is located at Disney's Fort Wilderness Resort. The Pioneer Hall Players are your hosts at this down home country hoedown –  tossed salad, a loaf of cornbread and honey butter for starters,  lots of fried chicken, pork ribs, corn on the cob (take a toothpick!) and country style baked beans. Strawberry shortcake is served for dessert. Unlimited beer, sangria and soft drinks are also included. The show is full of slapstick humour, corny jokes and lots of sing-along musical numbers like "Shenandoah" and "My Darling Clementine" – there's banjo strummin', can-can dancing and a big washboard finale!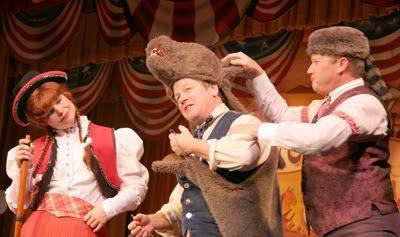 This show may be corny, but it's also the liveliest dinner show in Walt Disney World. A troupe of jokers called the Pioneer Hall Players stomp their feet, wisecrack…. that includes a lot of jokes you haven't heard since second grade, and sing and dance, while the audience eat. There are six players in all, and each one has a vibrant personality that plays off of the others to ensure that there is non-stop comedy throughout the entire evening.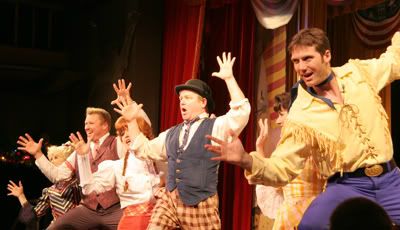 There are three shows nightly, and the prime times sell out months in advance in busy seasons. But you're better off eating dinner too early or too late rather than missing the fun altogether—so take what you can get. If you arrive in Orlando with no reservations, try for a cancellation. Prices vary by seat selection.
A tiered pricing system is in place, which means that the closer you are to the action, the higher the price you'll pay to enjoy it. Tier 1 seats are located on the first floor nearest the stage, tier 2 seats in the back half of the first floor and in the centre of the balcony, tier 3 seats to the right and left sides on the balcony level. There's not a bad seat in the house, so don't feel the need to splurge.