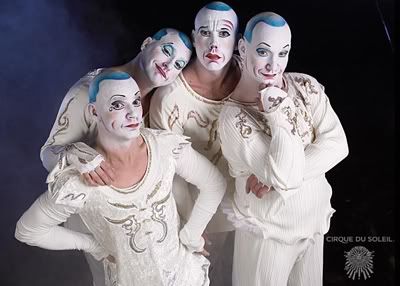 ATTRACTION: Cirque Du Soleil, La Nouba. 
WHERE:  Downtown Disney's West Side Arena. 1478 E. Buena Vista Dr., Lake Buena Vista, FL 32830 
AGE RESTRICTIONS: None.
PRICE: See below.
ADDITIONAL INFORMATION: Tel:(407) 939 7600. Show length 90 minutes. Reservations can be made up to six months in advance.
2010 Performance Times
Tuesday through Saturday, 6:00 p.m. and 9:00 p.m. Performances will be available on Monday, December 27, 2010
Prices….
 

     ADULTS

       CHILDREN
       (3-9 years old)

Front and Center

      USD$120.00

        USD$97.00

Category 1

      USD$105.00

        USD$85.00

Category 2

      USD$85.00

        USD$69.00

Category 3

      USD$69.00

        USD$56.00
*Prices exclude live entertainment tax and service fee.
No performances on Sunday and Monday, or on the following dates:
January 19 – 23, 2010

March 23, 2010

May 25 – 29, 2010

June 1 – 5, 2010

July 27, 2010

September 21 – 25, 2010

November 16, 2010
TIP: It's worth searching online as you can often get cheaper tickets.
La Nouba by Cirque Du Soleil is a performace unlike any other in the world. La Nouba combines the most amazing acrobatics, staging and stunts with a truly humorous and exotic act.
La Nouba is known for amazing visuals, stunts, and choreography that will take its audience on a spectacular, mysterious trip through lands and times never embarked upon before. A masterpiece that features over 70 diverse performers and artists from all over the world, not to mention original music, dynamic costumes, and a theme that will absolutely blow your mind.  
Cirque du Soleil La Nouba means to party or live it up, and that is exactly what you will be experiencing as you set sail on this whimsical, magical journey through dreams, fun, and mystery. You will not believe what is being presented before your eyes.   


There are two sets of main characters that help to set the stage for the Orlando Cirque du Soleil show, and they are the circus people, or Cirques, and the simpler urbanites, or Urbains. The Urbains are a rather boring bunch, as they represent the mundane, and for all intents and purposes, practical side of life. Their non-chromatic and almost lifeless costumes help to identify them. The Cirques, on the other hand, are a colourful bunch, and they represent things like dreams, fantasy, and promise.    
In addition to impressive acrobatics and expert lighting, the show also features a bit of comedy on the side. La Nouba integrates a number of side characters who help to complete the overall picture. Among these characters are two clowns, who go by the names of Balto and Serguei. These clowns don't only provide comic relief during the show, but before it as well. It's not uncommon for some unsuspecting audience members to become part of their antics, so you might want to keep your eye out for them.    
The acts begin with the German Wheels, with what that first began as a popular gymnastics exercise in Germany and is now one of the favourite acts of Cirque du Soleil. Six and a half feet in diameter, the wheel is made of two metal hoops that are joined at six different places and identical twin brothers turn and spin the wheels to perform gravity-defying acrobatics.
They are followed by the High Wire, one of the most classic performances of the circus, but you have probably never seen it done quite like it is presented here. Diabolos are next, and this Chinese yo-yo is actually a children's game which is performed in front of audiences by four young Chinese performers whose skills with their magic spools are marvellous to behold.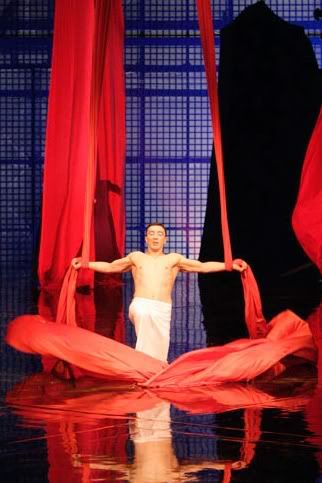 The Cycles are performed by BMX wizards of extraordinary talent, with gravity defying stunts that will leave you breathless. The Aerial Cradle is an amazing display of athletic prowess as the male and female performers take turns supporting one another 34 feet above stage. Then, of course, there is the Aerial Ballet in Silk, which is beautiful to behold. The Balancing on Chairs act was created specifically for this show, and reaches heights that are truly awe inspiring. Of course no Cirque show would be complete without the Flying Trapeze, which presents a team of perfectly synchronized aerialists whose timing, rhythm, and athleticism are incredible.
The show is completed by the Power Track/Trampoline, which must be seen to be believed.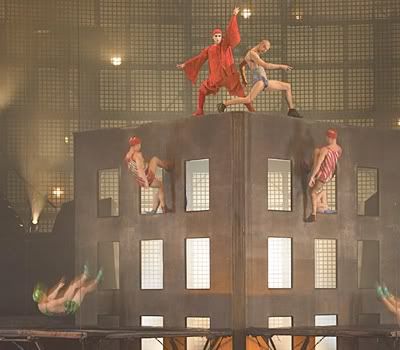 Cirque Du Soleil Boutique HERE