ATTRACTION: Zipline Safari.
WHERE: Forever Ecosafaris, 4755 N. Kenansville Road, St. Cloud, Florida 34773.
AGE RESTRICTIONS: 10 and up.
PRICE: $85 for adults and children ages 10 and up.  Children ages 10-17 must be accompanied by a parent or guardian.
ADDITIONAL INFORMATION: Tel: 407-957-9794 ext 1
Forever Florida Visitor Center opens at 9:00AM.
All participants must meet the weight requirements of 70 lbs minimum and 275 lbs maximum. The Zipline Safari is a fully-guided two and a half hour experience. With check-in, transport and suit-up time, it is recommended to plan for at least a 4 hour visit. Tours depart throughout the morning and early afternoon Wednesday through Sunday. Plus, Starlight and Moonlight Zips on Saturday nights. Arrive 15 minutes early. 
Reservations required. Please note that participants must wear closed-toe shoes and pants no shorter than just above the knee. For safety, cameras are only allowed on the Zipline Safari if they have a shoulder strap.
Participants must sign a waiver. For any individual planning to do the Zipline Safari, please follow this  link to print out the release form. Forms will be available upon arrival at Florida EcoSafaris but you can save time by completing and signing these forms in advance and taking them with you.
**Safari consists of
7 "zips" and 2 sky- bridges over 3 different ecosystems
Dual line setup
Duration – 2 1/2 hours
Maximum height – 55′
Maximum speed – 25 MPH
Longest run – 750 feet
9 Observation Platforms 
TIP: Book a Zipline Safari and get a One Hour Horseback Safari for $25 more, a $15  saving.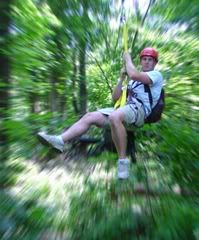 Florida EcoSafaris has opened a Zipline Safari.  It's a 2 hour zipline experience that takes you through the tree canopy of a wildlife conservation area called Forever Florida.  It covers thousands of acres and is completely unspoiled natural Florida. See the wilds of Forever Florida like never before – from high up in the treetops!  You'll sail above it all on this breathtaking aerial nature tour – a network of cables designed to send thrill-seekers flying through pine flatwoods and over wetlands, home to native Florida wildlife including alligators, black bears, white tail deer and the endangered Florida panther.
This is a unique addition to Central Florida's ecotourism market and the only zipline developed for flat land in the world. It's also the only zipline course in the state — the next nearest is in South Carolina.
You'll start with a short hike along a scenic section of the Florida Trail, one of only eight National Scenic Trails in the US, as you head toward the launching point of the zipline course. Led by an expert guide, you'll "zip" among the trees from platform to platform along a system of seven high-tension cables.
The breathtaking aerial view of the wilderness will be the perfect vantage point to spot wildlife and experience Florida's ecology. Adding to the adventure, the course includes two sky-bridges passing over a slough, a type of forested wetland.
The final zip brings you to ground level near our wildlife interaction area which features a panther-hybrid, a close relative of the endangered Florida panther, alligators and other animals. Spend some time with them and then catch the next safari coach transport back to the visitor center.
NEW – Starlight and Moonlight Zip Parties!
For an even wilder adventure, check out the nocturnal side of Forever Florida at one of their Zip Parties! You'll experience all the thrills of the Zipline Safari under a beautiful night sky full of stars.  Get ready for fun as you step off into the abyss, zipping through the night at speeds up to 25 miles per hour!  Many animals are most active at night giving you the chance to spot an entirely new set of Forever Florida's residents. Your expert guides are there with you to see to your safety and help you spot wildlife.  One thing is sure, you won't need any help spotting the moon and stars throughout this amazing journey.
Then, join the crew back at the zipline pavilion for more fun. A cash bar and fun food options are available as you relax with friends, new and old. It's a great chance to get to know your guides and share your stories of flying through the treetops with your fellow zipliners!  Spots on the Starlight and Moonlight Zip Party teams are the same price as the daytime Zipline Safari. Space is limited so please make your reservations early.