ATTRACTION:
Hot Air Balloon Ride.
WHERE:
Painted Horizons. Meeting point….. Best Western Lakeside, 7769 West Irlo Bronson Highway (192) Kissimmee, Florida 34747.

 
AGE RESTRICTIONS:
There is minimum age restriction. Unfortunately, they cannot take anyone under seven years old. The only other considerations are that passengers need to be able to get in and out of the basket unassisted, and be able to stand during the entire flight.
PRICE:

Private flights:

$425 + tax per couple.

Non-private flights:

$180 + tax per person.

Children (7-12):

$50 + tax with 2 paying adults.
ADDITIONAL INFORMATION: Tel
407-578-3031
for more information or to book a flight

. Flights are 7 days a week at sunrise…

.weather permitting.

info@paintedhorizons.com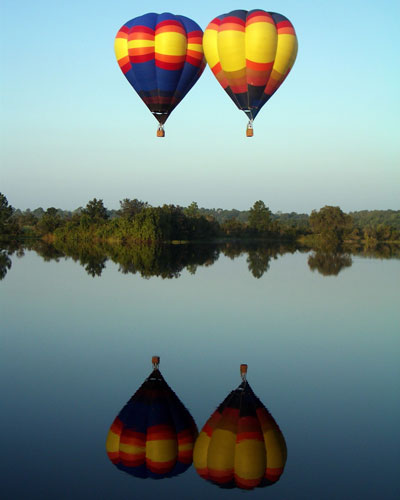 Painted Horizons Hot Air Balloon Tours is a special organization who have made a business out of their passion — hot air ballooning.
Theyoffer unforgettable hot air balloon rides over scenic Central Florida in the Orlando and Disney World area. Flights are available seven days a week, weather permitting. They also offer exclusive, couples-only flights.
After you unload the equipment, you lie out the balloon and attach it to the basket. A fan inflates the balloon with cold air until there is enough air for the pilot to begin heating it with the burners.
Once heated, the hot air lifts the balloon into an upright position. Once the balloon is fully upright, the pilot will invite passengers to board. Then the pilot heats the air again with the burners and soon the balloon will begin to lift gracefully into the air. No turbulence or wind is felt when airborne, because you are "floating" with the wind. During the flight, the burners are used periodically to keep the balloon "lighter than air".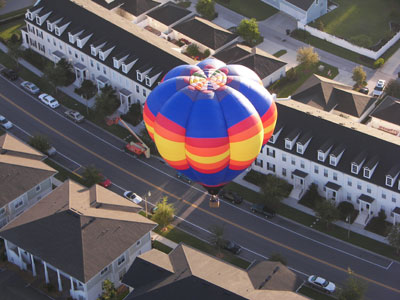 Once airborne, it's time to enjoy the flight and experience the breathtaking views. You may take photos if you wish to go with the memories you'll never forget from Painted Horizons Hot Air Balloon Tours.
After the flight, you enjoy a champagne or sparkling cider toast with pastries, cheese and crackers.
Don't forget the cameras, and remember to bring plenty of extra film!

The actual flight time is approximately one hour. The entire balloon experience, including pre-flight preparation, flight and post-flight celebration, may take two to three hours.