ATTRACTION: Hot Air Balloon Ride.
WHERE: Thompson Aire, 7769 W. Irlo Bronson Mem. Hwy.KIissimmee, FL 34747
AGE RESTRICTIONS: Minimum age to fly is 5 years old however, they will make exceptions.
PRICE: Adults $185. Junior adult rate for those passengers 10 to 15 years old $105. Children 9 and under FREE with paying adult.
ADDITIONAL INFORMATION: Tel 407-421-9322. Flights are 7 days a week at sunrise. Contact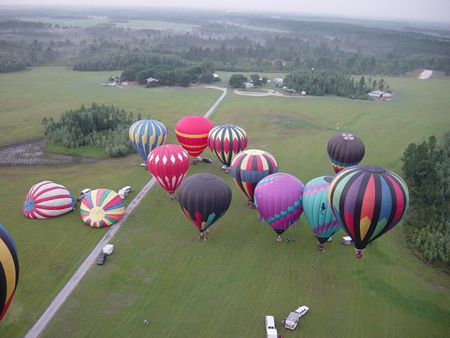 Operated by Jeff Thompson, this tour operates around the Disney Area. If you don't have a car, for a small charge, the company will pick you up at your hotel and take you to the launch site. This package also includes a Champagne toast and a buffet breakfast.   
Capt Thompson is the most experienced hot air balloon pilot in the Orlando area.  Jeff has been  licensed to fly balloons for over 30 years.  Passionate about flying his entire life, his enthusiasm and knowledge will have you spellbound.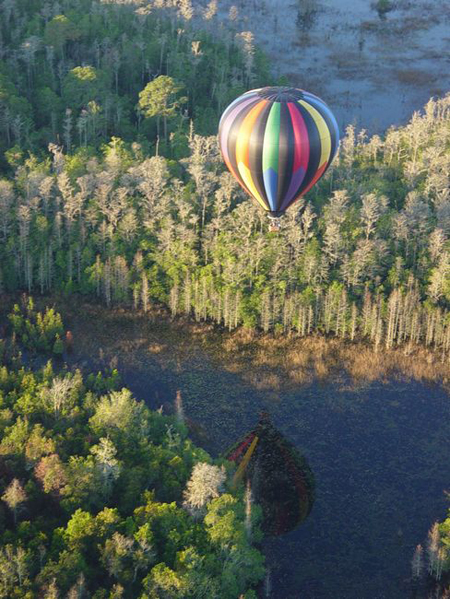 So, if you are going to be in Orlando or going to the Disney parks don't miss one of the most spectacular rides of your life.  A hot air balloon ride!  See the real Florida by floating effortlessly across the pristine beauty that is the real Florida.  Tour areas absolutely untouched by human hands. Nature in all of its awesome glory. This is an experience you will talk about the rest of your life. 
After your pre-flight briefing you will step outside and launch a small helium balloon to determine the wind direction for the morning.
Balloons float with the wind and you need to make sure you have landing fields in the direction you are going.  Once you have selected a launch site you will climb aboard the vehicles and head to the launch site.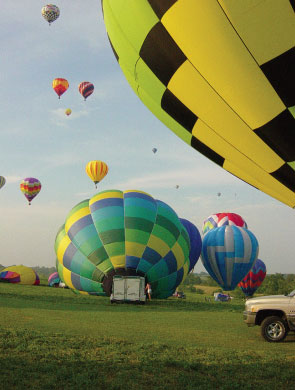 At the launch site you may become a member of the ground team as you inflate the balloon and prepare for flight.  Many people love the hands on approach.  To help or not is your choice.
Once the balloon is inflated and ready for flight you will board and liftoff into the heavens.
Your flight will last approximately an hour.  During the flight you will have  all of the spectacular sites the area has to offer pointed out to you.  Take lots of film and batteries. The entire area is a great mix from swamps and forests to resorts and residential.  Theme parks and wildlife.  You may see a 4 foot alligator or even a 4 foot mouse.
At our landing site the ground support team will be waiting for you.  Once the balloon has been stored away you will have the traditional champagne toast.  You will also have explained some of the history of balloon flight as well as how the tradition of champagne upon landing came about.
You will then return for an all you can eat buffet breakfast where all the passengers will receive their first flight certificate suitable for framing
Plan on about 3 to 4 hours for the entire trip