ATTRACTION: Titanic The Experience.
WHERE: 7324 International Drive, Orlando, FL 32819.
AGE RESTRICTIONS: All ages.
PRICE: Adults $21.95. Children ages 3-11 $12.95. Prices are plus tax.
ADDITIONAL INFORMATION: Tel 407-248-1166. Open daily 9am until 9pm. Guided tours every hour on the hour.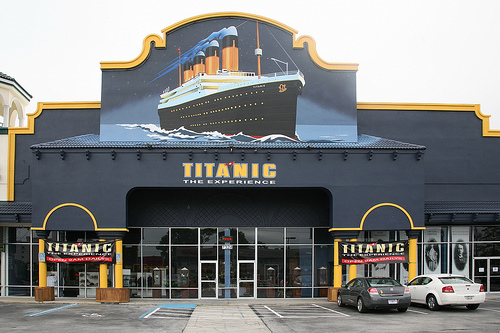 Your journey starts with buying your ticket for boarding. Your ticket issued to you will have a name and a brief history of one of the actual passengers that sailed on that fateful day. For example if you are a female child then you will have a ticket with the name of a female child on it. This can be quite interesting because after the tour you will be told whether you survived the trip or not.
You will then be greeted by an actor in authentic period dress. This will be your guide for the tour and they will keep you entertained throughout with plenty of interesting facts plus plenty of humour.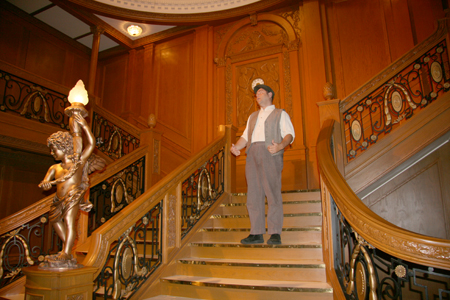 During your experience here you will see recreated rooms from the Titanic including the magnificent staircase. You'll start of in Belfast (where the ship was created in Harland and Wolf) and then onwards towards it's journeys end.
One thing that really makes this attraction special is the fact that after your guided tour has finished you are allowed to retrace your steps and explore the exhibition by yourself. You are also allowed to take as many photos and video as you like.
When you are ready to leave you enter the gift shop which has many books and souvenirs for you to take home. You'll also find the shop assistant very helpful and keen to answer questions.
Hundreds of thousands of visitors each year come to stroll through full-scale recreations of Titanic's most famous rooms, including her Grand Staircase, First Class Parlor Suite, Boilers, and Promenade Deck, where you can walk out and feel the chill of the cold Atlantic air as you gaze at the stars. 
Exceptionally trained actors in period costume portray famous Titanic notables such as Capt. Smith and Molly Brown, sharing stories of her passengers and crew during an hour-long guided journey aboard the most famous ship in history. The exhibit showcases an extensive Underwater Room, displaying an 8-foot replica of Titanic as she appears on the bottom of the Atlantic today as well as over 200 artifact and historical treasures, including movie memorabilia from James Cameron's blockbuster film, TITANIC.