ATTRACTION: Hang gliding.
WHERE: Wallaby Ranch, 1805 Deen Still Road, Davenport, FL  33897 
AGE RESTRICTIONS: 4 and up
PRICE: A tandem flight is $120.  This includes everything you need to fly. DVD of your flight $60
ADDITIONAL INFORMATION: Tel: (863) 424-0070. The flight takes about 15 to 20 minutes from start to finish.  Reservations are not needed. just be there around 8 a.m. on the day you decide to fly.  It's a good idea to call the night before to check the weather.  
The First Fulltime Aerotow Hang Gliding Flight Park in the World! Open Seven Days a Week since 1991.
Wallaby Ranch offers year-round discovery tandem hang gliding flights and hang gliding instruction in sunny Central Florida. They use the latest tandem aerotowing techniques to provide the safest, most enjoyable hang gliding experience possible. Wallaby Ranch offers a truly unique atmosphere for visitors, students, pilots and their families and friends from around the world.
Requirements for Discovery Flights:
There are few physical limitations for tandem hang gliding. It requires no fitness level or strength. Your take off and landing will be on wheels, so there is no running involved. You cannot weigh more than 240 pounds. If you're under 18 years old, you'll have to get signed permission from your parents. They have taken people from 3 to 94 years old flying.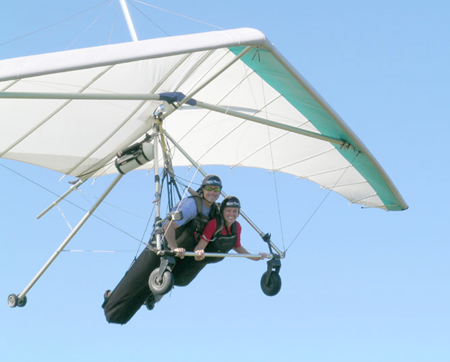 Wallaby Ranch is the ideal place to try out the sport of hang gliding. The development of tandem aerotowing, where a two-place hang glider is being towed by a specially designed ultralight  towplane, has greatly increased the accessibility of the sport. Before tandem aerotowing, in order to experience to exhilaration of free flight, you had to learn how to hang glide yourself. You had to go through months of training at the hill, in order to be able to safely launch and land a hang glider, and then take the big step of launching from a mountain site for your first solo high altitude flight.
By contrast, during a discovery flight at Wallaby Ranch, you feel confident and relaxed with the wind in your face and your instructor by your side as you are being towed 2,000 feet into the air. Once you release from the 'tug', as they call it, you will free-fly for 15 to 20 minutes, and your instructor will show you how to control the glider by shifting your weight. You return to earth gently with a smooth rolling landing
Tandem discovery flights are for practically everyone. People from 4 years to 90 years old, and from 35 lbs to 240 lbs have experienced flying in its purest form at Wallaby Ranch.


The best conditions for tandem flying are smooth air and calm winds, generally in the morning or late in the afternoon. Flying begins everyday at 8:00 a.m., weather permitting.
For the little ones, there is a playground with sandbox, merry-go-round, slide and monkey bars, as well as a Doctor Seuss tree house to play in. The trampoline is also very popular, not only with the kids…