ATTRACTION: Miniature Golf
WHERE: Fantasia Gardens, located near the EPCOT resort area. Fantasia Fairways, Located across from Disney-MGM Studios, the courses are within walking distance of Disney's BoardWalk, Disney's Yacht Club and Disney's Beach Club Resorts, and the Walt Disney World Swan and Walt Disney World Dolphin.
AGE RESTRICTIONS: None.
PRICE: $12 for adults and $10 for children 3 to 9 years old.
ADDITIONAL INFORMATION: Open daily from 10 a.m.-11 p.m.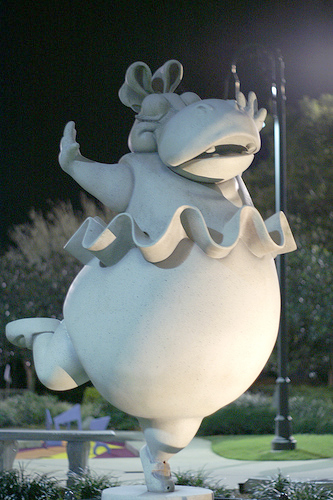 Fantasia Gardens was inspired by the movie Fantasia and it has a number of holes with water effects, hippos that dance and even music to identify those great shots. Dancing fountains and animated statues guide guests around Fantasia Gardens' cleverly themed hazards based on five sequences from "Fantasia." Duffers and veterans alike will find surprises abound every sculpted corner as they challenge holes honouring "Toccata & Fugue," where good shots are rewarded with musical tones; "The Nutcracker Suite, " where quirky obstacles include dancing mushrooms; "The Pastoral Symphony," where guests encounter a 40-foot-tall Mount Olympus complete with waterfalls; "The Dance of the Hours'," where good timing and accuracy are needed to pass "Fantasia's" famous alligator and Hippo pas de deux; and "The Sorcerer's Apprentice," starring Mickey Mouse, his troop of out-of-control broomsticks and dazzling water effects.
Fantasia Fairways is an innovative putting course designed to emphasize skill rather than chance. Dressed in a beautiful floral setting complementing Fantasia Gardens, Fantasia Fairways challenges the most adept golfers with exaggerated contours, menacing water hazards and diabolical sand traps. The layout combines par-three and par-four holes ranging in length from 40 to 75 feet long.