ATTRACTION: Miniature Golf
WHERE: Pirates Cove, 8601 International Drive, Orlando, Florida, 32819. (On International Drive between Mercado and the Castle Hotel, approximately 1 mile from the Convention Center.)
AGE RESTRICTIONS: None
PRICE: Adults $10.95, children (4-12) $9.95. 36-hole adventure for adults $16.50, kids $14.95. All prices are plus tax. 
ADDITIONAL INFORMATION: Tel: 407 352-7378. Open daily 9am until 11.30pm.
Come aboard mates! Make this part of your Orlando vacation. Voted "Best in Florida" by Orlando Magazine, this adventure golf course is renowned for it's innovative hole designs, lush landscaping, and entertaining pirate theming.
The adventures and legends of infamous pirates come to life as you enter the world of 18th century buccaneers complete with sunken ships, cascading waterfalls, dreaded pirate dungeons and lush, tropical vegetation. And watch out for stray cannon shots from the wily skeleton lofting cannon fire from his old raft!
The manicured courses are specifically designed to provide maximum enjoyment for kids and adults alike. Discover the fun!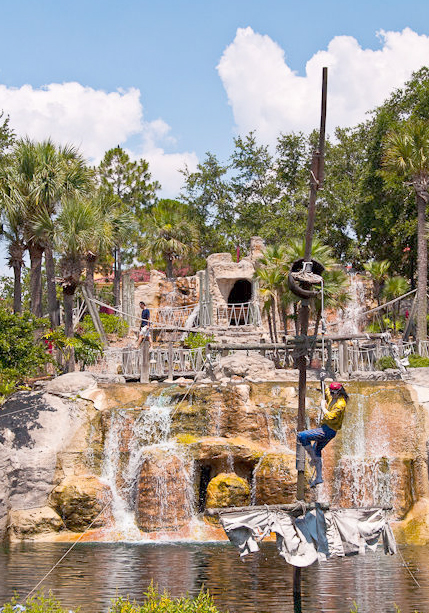 Pirates Cove Gold also available at…..
Crossroads
Center, Lake Buena Vista 32836
2845 Florida Plaza Boulevard
, Kissimmee 34746