ATTRACTION: Orlando Science Center.
WHERE: 777 East Princeton Street, Orlando, Florida 32803-1291
AGE RESTRICTIONS: None
PRICE: Adults:$17. Ages 3-11 $12. Parking $5.
ADDITIONAL INFORMATION: Tel 407.514.2000   E-mail: info@osc.org
Open on most major holidays except for: Easter Sunday, Thanksgiving Day, Christmas Eve, and Christmas Day. Sunday – Friday: 10a.m. – 5p.m.  Saturday: 10a.m. – 10:p.m.
Have you ever thought about a visit to Jupiter, or how about a trip back in time? Want to pet a reptile or stare face to face at a dinosaur? At the Orlando Science Center, your imagination and curiosity are your keys to unlocking worlds you've only imagined. Each day at the Science Center is a full day of exploration and discovery.
Orlando Science Center's exhibit halls feature a vast array of exciting interactive experiences! From down to earth explorations in natural science to the high-tech world of simulation technology, everywhere you look, you'll find educational and entertaining opportunities to explore, experiment, and discover.
NatureWorks
NatureWorks celebrates the richness of the natural world, with a special focus on the diverse ecosystems of Central Florida. Visitors discover the insects, plants and animals of coral reefs, salt marshes, mangrove swamps and other Florida environments. They learn how living and non-living things interact with each other and their environment.
The dramatic centrepiece of NatureWorks is Florida's Habitats, a glimpse into the natural world of Central Florida. In this realistic exhibit area, visitors explore the distinctive environments of Sand Pine Scrub, Cypress Swamp, Pine Flatwoods and Sinkhole Lake. There are also ample opportunities for guests to encounter live animals during regularly scheduled presentations.
·         Observe a typical cypress swamp, complete with live alligators
·         See how sea turtles make their nest at the sandy beach
·         Discover the intricate system of mangrove roots at the mangrove swamp
·         Watch how bees build their hive, care for young and gather nectar at the BeeHive Encounter
Science Park
An eclectic array of many of the Science Center's best hands-on exhibits are back! Explore such concepts as light, sound and waves, electricity and magnetism, nature's forces and simulation. New interactive exhibits include a giant 56 foot echo tube, pipes of pan, air cannon, and visitor operated giant Tesla coil. The earthquake room is back with a new "build and test" shake table.
There are also new open-ended exhibits that invite visitors to imagine, create, and construct various inventions from paper flying machines to structures from PVC pipe. Science Park will also feature a variety of live shows and demonstrations that complement and enhance the topics in the exhibit.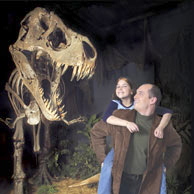 DinoDigs
Meet the ancient rulers of our planet as you examine fossil replicas of dinosaurs and prehistoric sea creatures. Orlando Science Center showcases the dinosaurs in their disparate land and aquatic settings as guests become part of a paleontological excavation site.
·         Examine fossilized dino eggs
·         Uncover 'fossils' in the dig pit
·         Explore displays that feature ancient land and marine reptiles.
·         Compare reptiles and dinosaurs to see similarities and differences.
·         Discover denizens of the ancient oceans such as Elasmosaurus and Tylosaurus
KidsTown
KidsTown is a spot where children under 48' tall can explore their world in a town designed just for them. Fun abounds for even the littlest scientist in this pint-sized town. This miniature town introduces science concepts through whole-body experiences, hands-on interactives and opportunities for imaginative role-playing. Water tables, automotive garage, orange juice processing plant and more invite the joyful hands-on creative play that is so important to the cognitive development of young children.
·         Pick and sort oranges at the Orange Grove Factory
·         Explore the KidsTown tree
·         Discover what's under a City Street
·         Float boats at the Waterfall
·         Build dams and channels at the Water Table
·         Play mechanic in the Super Service Center
All Aboard
No destination is too far for a child's imagination. Watch as your child travels the world in the vehicle of their choice.  Child-sized models of trains, planes, even the space shuttle provide the mode of transportation – creativity provides the road map. All Aboard is a great way for kids to learn about transportation, as well as geography.
Dr. Dare's Lab
The possibilities are endless as you play scientist in this innovative lab, and perform hands-on experiments under the guidance of a trained instructor (check daily schedule for availability).
Scanning Electron Microscope
In another area, explore the microscopic world during scheduled demonstrations of this region's only scanning electron microscope (SEM) available to the public. View everyday objects – from hair follicles to newsprint to jewelry – magnified many thousands of times (check daily schedule for availability).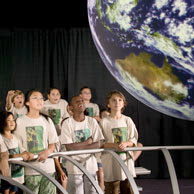 Science on a Sphere
Science on a Sphere connects guests of all ages to Earth and space science through a dramatic visual presentation using a six-foot suspended sphere and state-of-the-art projection technology. Explore our planet's dynamic landscape and weather, tour the solar system and understand the complex relationship between our planet and its sister worlds.