ATTRACTION: Skydiving
WHERE: Skydive Orlando, Orlando, FL 32801
AGE RESTRICTIONS:  18 and up.
PRICE: Skydive Tandem Specials starting at $199
ADDITIONAL INFORMATION:  Call 407-377-1180 for more details and current prices. Open daily 6.30am – 10pm. info@skydiveorlando.net
Skydive Orlando is Florida 's top skydiving provider, offering you the most thrilling experiences available today!
At Skydive Orlando, the industry's foremost professionals will make certain your jump is charged with enough excitement to keep you talking about it for the rest of your life!
Your Tandem Skydive
Tandem Skydiving is where it's at!
Many first time jumpers select tandem skydives for their first jumps. Tandems are easy, safe, exciting, and you don't have to spend a lot of time learning how to jump!
You just go for it!
Securely harnessed to your skydiving instructor, you are free to simply enjoy your Florida Skydive.
Experience total exhilaration while freefalling through the fathomless sky at 120mph!
Then, after your parachute opens, ride a sea of tranquillity as you gently drift through the sky, soaking up the panoramic view of a lifetime.
Tandem skydives are available 7-days a week, 365 days a year. Allow 2 to 3 hours for your Florida Skydive.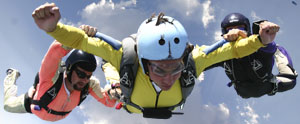 Accelerated Freefall  
Some first time jumpers decide to slice the sky a slightly different way. They take the Accelerated Freefall (AFF) approach.
During your first AFF jump, you are not bound to another person. After taking a short class, you jump along with two master skydivers who ensure your safety while making certain you enjoy the ultimate first jump experience!
AFF is your fast track to learning to skydive. It is a 7-stage program, allowing you to experience freefall on every jump. The equipment, facilities, and instructors make Skydive Orlando's instruction the school-of-choice for skydiving enthusiasts wishing to make a Florida skydive.
AFF Training consists of the following:  
Approximately 5-hours of ground training
Jump with 2 instructors
stable body position
altitude awareness
parachute activation
radio assisted landing
ground training
body awareness
ump with 2 instructors
•  stable body relaxation
•  pilot chute throw
•  turning techniques
•  radio assisted landing
hover control
holding a direction
jump with 2 instructors
hover control
hold heading
radio assisted landing
consolidation of previous levels
repeat of stage 3
depending on progress, jump with 1 or 2 instructors and with or without radio assisted landing
turn
jump with 1 instructor
linked or unlinked freefall
360 degree turns
epeat of stage 5
forward movement
jump with 1 instructor
backloops
tracking
jump with 1 instructor
 dive exit
backloops
180-degree turn
delta
flare
wave off
A videotape allows you to share your thrilling skydiving experience with your friends and family. You only make your first jump once, so have your jump recorded by one of the expert skydiving videographers.
Starting with a pre-jump interview on the ground, your cameraman will record your experience from getting "geared up" through your landing.
Your camera man is only feet away during your entire skydive, and will be waiting for you on the ground to record your landing and comments.
The entire video is set to music and prepared for you usually within 15 to 30 minutes of your landing.