ATTRACTION: Skydiving
WHERE: Skydive Space Center, 476 N. Williams Avenue, Titusville, FL 32796
AGE RESTRICTIONS:  18 and up.
PRICE: Florida's highest tandem-15,000ft $189. World's highest tandem-18,000ft $229
ADDITIONAL INFORMATION:  Tel: 321-267-0016
Hours 9am – sunset daily. No additional charge for jumpsuits.
Complete video and still photography of your jump experience available. The camflyers freefall with you and capture close up video and stills of your entire jump. Finished video will be 5-10 minutes long. $89.95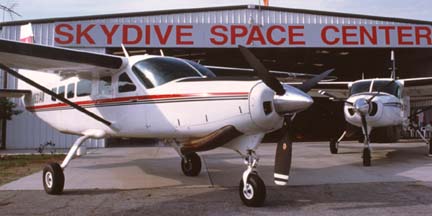 The Skydive Space Center has the world's highest tandem jump! It is the only drop zone in the world overlooking the Kennedy Space Center, Cape Canaveral and the Space Coast beaches.
The tandem skydive is by far the most popular way to make your first jump. With minimal ground training, you are able to experience the exhilaration of freefall for nearly one minute before your tandem jumpmaster opens the parachute.
After a briefing on skydiving training and safety, you will completely understand the equipment and sequence of events. You and your jumpmaster will board the aircraft wearing a dual harness assembly. Once you reach the jump altitude you will exit the aircraft securely harnessed to your instructor for an unbelievable freefall at 120mph!
After your parachute opens you will have a scenic 4 to 6 minutes parachute ride. This is central Florida skydiving at it's best. Because your instructor is with you all the way to landing, there is no need for you to worry about anything during your jump except to remember to relax and have fun.