ATTRACTION: Spa Treatments.
WHERE: Disney's Grand Floridian Resort & Spa, 4401 Grand Floridian Way, Lake Buena Vista, FL 32830-1000.
AGE RESTRICTIONS: Guests 10 years and older are welcome to receive spa treatments from the service menu. For the youngest guests (ages 4-10), there are selected treatments to introduce a healthy lifestyle. If you are under 18 years of age, you must have your parent or guardian's permission.
PRICE: Call (407) 824-2332 for prices.
ADDITIONAL INFORMATION: Call for reservations as far in advance as possible at (407) 824-2332, the reservations office is open from 8:00 a.m. to 8:00 p.m. daily. A credit card is required at the time you book your appointments. Be sure to inform the Cast Member if there are any medical or physical conditions your Spa therapist should be aware of.  Note that the Spa and Fitness Centre are non-smoking facilities.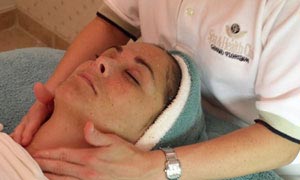 Indulge in rejuvenating treatments for the face, body and spirit at Disney's world-class retreats. Enjoy the ultimate in full-service spa offerings, including an array of massage therapies, facials, aromatherapies, signature services and workout machinery. Invigorate your mind and soul with a perfect balance of beauty and wellness.
Relax your body and elevate your spirit in grand style. Treat yourself to pampering massage therapies, facials, body treatments and the use of state-of-the-art fitness machinery at an elegant, full-service spa and health club at Disney's flagship Resort.
Individual Programmes  
Discover our wide range of individual treatments that pamper and refresh your mind, body and spirit. Let us help you create your very own spa experience or choose one of our spa packages designed to maximise relaxation and therapeutic benefits.
Experience rejuvenating spa services — including massage, body treatments, facials and more. Full-day, half-day, individual treatments and in-room services are available by appointment.
Skin Care
Discover the perfect blend of rejuvenating and pampering skincare treatments designed to cleanse, nourish and revitalise all skin types.
Treatments include: Grand Floridian Deluxe Facial, OPC Anti-Aging Antioxidant Facial, Zen Harmony Facial, Citrus Zest Facial, Marine Herbal Facial, Secret Garden Aromatherapy Facial, Gentlemen's Facial, Stress Recovery Facial, Aromatherapy Back Facial.

Massage Therapy
Our commitment to your well-being is embodied in each of our massage therapies, which are all designed to reduce stress, increase circulation and induce a state of relaxation.
Treatments include: Dreamtime Massage, Personalized Massage, Citrus Zest Therapies, Sports Massage, Aromatherapy Massage, Mother-to-Be Massage, Shiatsu, Reflexology, Swedish Massage, In-Room Swedish Massage.


Water Therapy and Soaks
Relax the body and mind — nourish, purify and energise with speciality baths, each designed to elevate mood, ease specific conditions and induce a sense of physical and psychological well-being.
Treatments include: Spirulina Milk Bath, Peaceful nights Bath, Sports Bath, Secret Garden Bath.
Body Therapy
Restore harmony and achieve maximum therapeutic benefit for your entire body when you experience "The Ultimate" in spa therapies.
Treatments include: Aromatherapy Massage and Body Wrap, Herbal Body Scrub and Massage, Citrus Zest Sugar Scrub, Paraffin Body Masque, Marine Algae Body Masque, OPC Exfoliating and Detoxifying Body Masque, Sedona Mud Body Masque.


Hand and Foot Treatments
Experience hand and foot treatments in a luxurious spa room designed for total relaxation. Put your mind and body at ease in a spa chair that massages your lower back while your hands and feet enjoy first-class pampering.
Treatments include: Spa Manicure, Spa Pedicure, Spa Manicure and Pedicure Combination, Paraffin Treatment, Soothing Tired Legs Treatment, Sports Pedicure.


Especially For Couples
Take time just for the two of you. Share a relaxing treatment and discover a new sense of togetherness.
Treatments include: Grand Romantic Evening, Couples Instructional Massage.


Spa Packages
Transform your spa visit into a Grand Experience when you combine selected spa treatments. Maximise your relaxation as well as the therapeutic benefits you receive from our personalised massage and skin treatments.
Spa packages include: Citrus Zest Collection, Antioxidant Collection, Aromatherapy Collection, Mother & Daughter Spa Collection, Golfer's Spa Collection, Sea Escape, Finishing Touch Collection, The Ultimate Day.
Children's Services  
Learn the basics of good skincare and the benefits of creating a healthy lifestyle. (Ages 10-12) Enjoy fun and educational services especially for young Guests.
Sample selected treatments tailor-made for Spa-goers ages 4-12, or, for Guests 10 years and older, make an appointment for spa services from the service menu. (Guests under 18 must be accompanied by an adult during massage and body treatments.)
Treatments include: My First Facial: This mini facial, especially designed for our guests aged 12 and younger to introduce the basics of good skincare, is a fun and educational primer for a lifetime of healthy skin. (25 minutes)
My First Manicure: A mini manicure (25 minutes)
My First Pedicure: A mini pedicure (25 minutes)