ATTRACTION:
Spa Treatments.
WHERE: Disney's Saratoga Springs Resort.
AGE RESTRICTIONS:
Guests 10 years and older are welcome to receive spa treatments from the service menu. For the youngest guests (ages 4-10), there are selected treatments to introduce a healthy lifestyle.

If you are under 18 years of age, you must have your parent or guardian's permission.
PRICE:
The Spa at Disney's Saratoga Springs Resort downloadable brochure with full prices

BROCHURE
ADDITIONAL INFORMATION:
Call for reservations as far in advance as possible at (407) 824-2332†; the reservations office is open from 8:00 a.m. to 8:00 p.m. daily. A credit card is required at the time you book your appointments. Be sure to inform the Cast Member if there are any medical or physical conditions your Spa therapist should be aware of.

 

Note that the Spa and Fitness Centre are non-smoking facilities.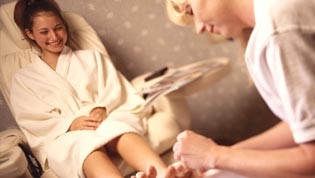 Indulge in rejuvenating treatments for the face, body and spirit at Disney's world-class retreats. Enjoy the ultimate in full-service spa offerings, including an array of massage therapies, facials, aromatherapies, signature services and workout machinery. Invigorate your mind and soul with a perfect balance of beauty and wellness.
The Spa at Disney's Saratoga Springs  
Pamper yourself with facials, massages and pure indulgences reminiscent of the healing spas of Saratoga Springs, New York. Work out in Disney's premiere fitness facility, make an appointment for a personal training session and take advantage of dry saunas and steam rooms.
Treat yourself to hours of pampering – including massage, facials, aromatherapy, signature programmes and more.
Massage Therapies
Indulge yourself with a specialised Massage Therapies designed to release tension, promote harmony and restore your sense of well-being.
Treatments include:
Swedish, Aromatherapy, Adirondack Stone Therapy, Motherhood Massage, Mystical Forest Therapy, Reflexology, Shiatsu, Healing Hands Massage, In-room Massage.
Facials
Enjoy the finest in facial treatments and products.
Treatments include: Saratoga Springs Deluxe, Adirondack Stone Facial, Aromatherapy Facial, OPC Facial, Mystical Forest Facial, Gentlemen's Facial.
Body Treatments
Discover a true state of tranquillity and relaxation with Body Therapies that maximize benefits for both body and mind.
Treatments include:
Mystical
Forest
Body Masque & Wrap, Maple Sugar Body Polish, Healing Herbal Body Scrub, Indian Summer Paraffin Body Treatment.

Hydro-Massage Therapy
Wash away your stress and tension as you are immersed in Hydro-Massage Therapy that restores and revitalises your senses.
Treatments include:
Geyser Spring, Oneida Spring, Polaris Spring, Lincoln Spring, Rosemary Spring, Mineral Spring.
Treatments for Hands and Feet
Try a variety of relaxing treatments that help you look and feel your best from tips to toes.
Treatments include: Spa Manicure, Spa Pedicure, Spa Manicure and Pedicure Combination, Paraffin Treatment.


Spa Packages
Treat yourself to hours of pampering, including massage, body treatments, facials and more.
Treatments include: Mystical Forest Retreat, Mother & Daughter Day, My First Spa Experience, Couple's Relaxation,