ATTRACTION: Wonderworks.
WHERE:  9067 International Drive, Orlando, Florida 32819 
AGE RESTRICTIONS: None.
PRICE: See below. Information on the Outta Control magic Show can be found in our Dinner Show section HERE
ADDITIONAL INFORMATION: Tel: (407) 351 8800.  Open daily, 9am to midnight.  
Discount coupons  HERE
TIP: Free entry with the Go Orlando card.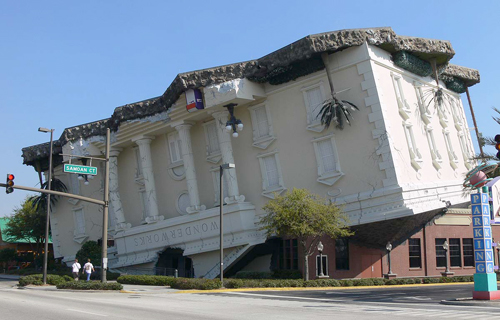 (Prices are subject to sales tax)

CHILD (4-12)
& SENIOR 65+

(Over 100 Interactive Exhibits)

The Outta Control Dinner Show

(WonderWorks and Dinner Show)

(WonderWorks and 1 Lazer Tag Game)

(WonderWorks, 1 Lazer Tag Game & Dinner Show)
Central Florida's only upside down attraction. An amusement park for the mind, featuring over 100 interactive exhibits for the entire family to experience.  
This once top-secret laboratory was located in the Bermuda Triangle, when it was ripped from its foundation by a horrific tornado and carried thousands of miles away to International Drive, Orlando Florida. This tornado was created by scientists from around the world trying to find answers to the unexplainable. During their experiment, something went awry and the power of the tornado was unleashed throughout the laboratory. Remarkably, all of the experiments remained intact and functional. Here are just a few of the amazing exhibits found inside the 1st and 2nd levels of WonderWorks.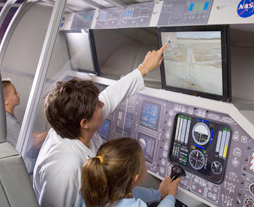 Land the Space Shuttle! Take a seat in the Shuttle Landers. Use your hand and eye coordination to maneuver the controls and land the Discovery Space Shuttle on the airstrip. Feel first hand the challenge and skill needed to make the landing.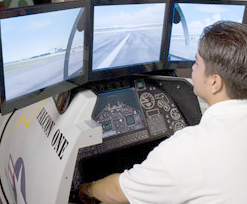 Fighter Jets Discover the freedom of flight as you pilot the F14 and F18 fighter jets across the blue skies. The visual effects of three wide screen television monitors will immerse you into the experience. (photo)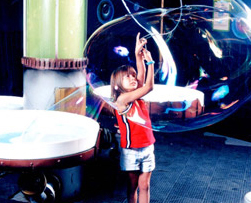 Bubble Lab Kids of all ages (1-101) love bubbles! This exhibit is just for the fun of it! Put yourself inside a gigantic bubble that you created! 
Bed of Nails Feel the sensation of 3,500 SHARP nails rise up from under you while lying on this bed of nails.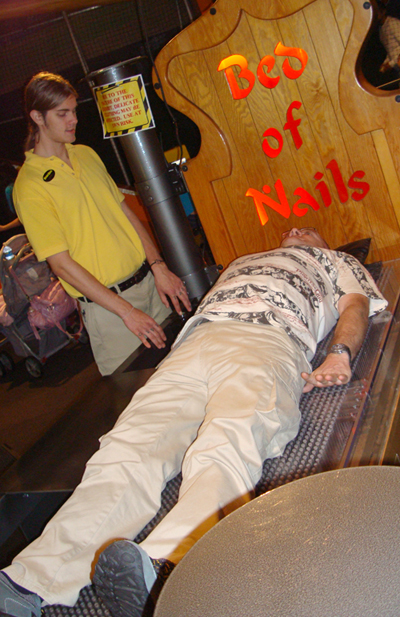 Wonder Coaster Design the Roller Coaster you have always wanted to ride! Feel the adrenaline rush of this 360º pitch and roll motion virtual ride.
Must be at least 48 inches tall to ride.
Earthquake Simulator One of history's most renowned earthquakes, the 1989 San Francisco earthquake that stopped baseball's World Series and collapsed a freeway is recreated in the laboratory. Get ready to feel what a 5.3 earthquake actually feels like.
WonderWall Create a 3-dimensional impression of your entire body by pressing into this wall made of 40,000 pins.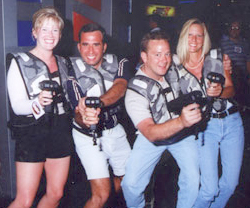 Lazer Tag Featuring more than 10,000 square feet of action and arcade fun in the WonderWorks basement. Lazer Tag combines innovative technology and fast-paced excitement to provide players with a one-of-a-kind experience. Vest up and face off against your opponents in a huge maze. The object is to outplay, outlast and outshoot the other players.  (photo) 
After a game of lazer tag, visit the state of the art video arcade area and huge prize redemption counter.
Play a game of air hockey, ride the Harley Davidson motorcycles, race in the Daytona USA, shoot a few hoops, move to the beat with In the Groove 2, and much more!
WonderWorks Café
After your interactive WonderWorks adventure, relax in the convenient WonderWorks café located on the 1st level. Take a break and pull up a chair to enjoy the freshly hand tossed New York style pizza. Other menu items include chicken nuggets, hot dogs, french fries, soft pretzels, popcorn, hand-dipped ice cream, Pepsi products and more.
WonderWorks Gift Shop
Offering a fascinating collection of souvenir merchandise from postcards and t-shirts to mugs and hats. Old fashion rock candy comes in a variety of flavours and is sure to be hit with the kids. If you like M&M's, look no further, they have 21 different colours or simply satisfy your sweet tooth with a selection from the wall to wall bulk candy!