ATTRACTION: Miniature Golf
WHERE: Disney's Winter Summerland, located near Disney's Blizzard Beach water park. 
AGE RESTRICTIONS: None.
PRICE: $12 for adults and $10 for children 3 to 9 years old.
ADDITIONAL INFORMATION: Open daily from 10 a.m.-11 p.m.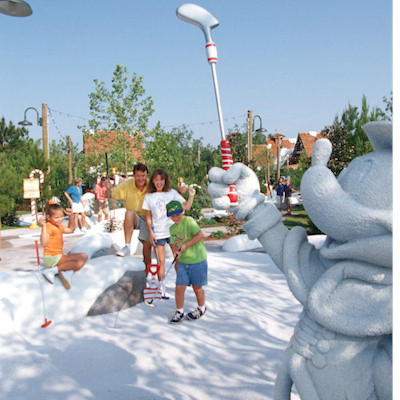 Late one moonlit Christmas Eve, as Santa was flying over Florida on his way back to the North Pole, he glanced down and could not believe what he saw. Santa found snow in a place that is usually hot. After surveying the strange location, he decided to build a vacation destination for his off-duty elves — a Winter Summerland.
The only thing Winter Summerland lacked was a golf course. So the elves divided into two camps, one that enjoyed the warm Florida sun and another that preferred the snow and cold of the North Pole. In this Winter Summerland, the elves built two distinctly different 18-hole golf experiences — a summer course and a winter course.
Although the elves were split into different camps, they agreed that the last couple of holes should converge within an old log campground lodge. Guests will need pinpoint accuracy to tap the ball between two model trains that circle below a fully decorated pine tree. Upon sinking their last putt on hole 18, guests journey through cyberspace via the WinterNet as a computer downloads a special greeting from Santa.
Winter Summerland also features Santa's "Winterbago," a converted travel trailer that houses the starter booth, and small snack and gift shops. For a great photo opportunity guests can sit behind the reigns of Santa's sleigh or gather in front of the "surfing" Santa statue, an elf-made tribute to jolly old St. Nick.
The 2 courses at this location are the Winter course and the Summer course.
On the Winter course (also known as the snow course) you work your way to the North Hole past Squirty the Snowball all while you enjoy Santa Claus and some of your favorite Disney characters.

On the Summer course (or the sand course) your will play around the sand castles, surfboards and other beach themed items.
Two distinctly different 18-hole golf experiences — a summer course and a winter course created for the relaxation of Santa's off duty elves. Both courses at Winter Summerland are loaded with interactive elements that will entertain and engage golfers of all ages.
On the winter course, Squirty the Snowman sprays water on unsuspecting guests when their golf balls pass beneath him. On the summer course, guests putt over a slumbering Santa buried underneath a tremendous sand mound.