ATTRACTION: Fly Your own Plane
WHERE: Warbirds, Kissimmee Gateway Airport, 233 N Hoagland Blvd, Kissimmee, FL 34741-4531
AGE RESTRICTIONS:  Only requirements are that you must be at least 48 inches tall and weigh less than 254lbs.  Additionally you must be capable of accepting flight instruction.
PRICE: 15 minute flight $240. 30 minute flight $420. 60 minute flight $720. 
ADDITIONAL INFORMATION:  Tel: 407-870-7366. Open 7 days a week  09:00 – 17:00. Closed on Thanksgiving Day, Christmas Day & New Years Day.
Reservations are not required but HIGHLY recommended. Walk-ins are accepted on a first-come, first-serve basis.
It is recommended that you arrive at least 15 minutes prior to your scheduled flight time. 
These are not simulators!!! This is the real thing. Fly like the aces of yesteryear in some of the most significant military aircraft in history  and prepare yourself for the experience of a lifetime! Whether you want a thrilling aerobatic adventure or a smooth sightseeing flight, the experience will never be forgotten. Great for first time flyers, nostalgia buffs and pilots. You take the controls in the front seat and one of our very experienced instructors will teach you everything you want to learn about flying these beautiful pieces of history. It's a 100% hands on experience…
You will learn any (or all) of the following: Aileron rolls, Loops, Cuban 8's, Reverse Cuban 8's, Barrel Rolls, Immelmans, Split-S, Wingovers, Cloverleaf and Hesitation 4-point, 8-point & 16-point rolls. This option is avilable as a $35.00 upgrade on the 30 minute flight. It's included on the 60 minute flight but not available on the 15 minute flight.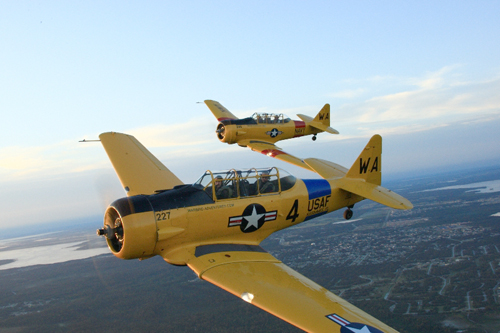 DVD of your flight:
The radio transmissions and the all the communications between you and your instructor are recorded for sometimes some really entertaining audio.
Your instructor will be switching between the three cameras depending on where the light is coming from and what manoeuvre you are performing. It is a very high quality video to bring home.
All flights are recorded and you are welcome to watch it after the flight before you decide if you would like to purchase it.
This option is available for $50.- on any flight.  
Photo's of your flight:
All T-6's are equipped with a 35mm camera on the left wingtip. You keep all the negatives so you can select your favourite and enlarge for display as desired.
This option is available on all T-6 flights for $25.
You should wear comfortable casual clothes and sturdy soled, closed toe shoes. No sandals or flip flops as they might fall off your feet during aerobatic maneuvers.  Tennis shoes would be fine.  A shirt with a collar will be more comfortable so the harness straps do not rub on your neck.  Make sure you have a pair of sunglasses with you also.
Regardless of your experience, once airborne you will be doing the flying, even the aerobatics if that option has been chosen.  An experienced flight instructor will be in the back seat with a full set of controls, he will handle the taxiing, take-off and landing,  you get to do the rest with some coaching from your instructor.