ATTRACTION: Miniature Golf
WHERE: Tiki Island Volcano Golf, 7460 International Drive, Orlando, Florida, 32819
AGE RESTRICTIONS: None
PRICE: Adults $10, children (4-12) $9 for each course; the "Big Kahuna" package ($13 and $12 respectively) lets you play both courses.  
ADDITIONAL INFORMATION: Tel: 407 248 8180. Open daily 10am until 11pm.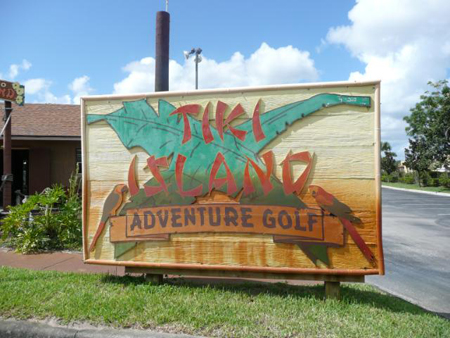 Tiki Island Volcano golf is one of the most hilarious places around. It is a mini golf course centred around a big volcano with real fire that comes out of the top. The scenery is further punctuated by dinosaurs and waterfalls. This place is incredibly cheesy, but the atmosphere just adds to the fun, and you might just have a good time here.
The holes here are actually pretty challenging. The course is laid out quite well, and even though the surroundings are cheesy, the golf is not.
Enjoy Orlando's most exciting miniature golf course. Two 18 hole courses wind around the giant waterfalls and four-story fire exploding volcano. Hole-in-One on final shot wins a free game and erupts the volcano. Paddle rentals also available.
Flamingo paddleboats are also available for rent. Conveniently located on International Drive (North of Sand Lake Road), Tiki Island also boasts an onsite Dunkin' Donuts and Baskin Robbins.