ATTRACTION: Go Karts.
WHERE: Magical Midway, 7001 International Drive, 2 blocks South of Wet 'n' Wild.
AGE RESTRICTIONS: At least 12 years old to drive and 58 inches tall. At least 16 years old to drive a passenger (valid DL required) At least 36 inches and 5 years old to be a passenger
PRICE: Free general admission. 3 Hour armband $25 prices subject to tax.
ADDITIONAL INFORMATION: Tel: 407.370.5353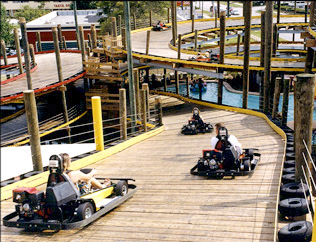 Magical Midway features two elevated go-kart tracks, a fast track, thrill rides and a collection of classic midway rides. Experience EXTREME GO-KART TRACKS at Magical Midway. Test your skills on these fast tracks as you whip around corkscrew turns and feel the jolts at high speeds.
Unlimited Go-Karts and Midway rides for 3hours with the armband….Slingshot not included.
Monday -Tuesday
2PM to 10PM
Wednesday-Friday
2PM to Midnight
Saturday-Sunday
10AM to Midnight