ATTRACTION: Guided Segway Tours.
WHERE: ZE Tours,  5515 Irlo Broson Memorial Highway, Suit B, Kissimmee, FL 34746
AGE LIMIT: Insurance covers riders 16 and older. Riders under 18 years of age must be accompanied by an adult.
PRICE: See below.
ADDITIONAL INFORMATION: Tours run daily 7 days per week between 11am and 5pm.
Reservations highly recommended for every tour. Call (863) 512-0256 or book  HERE
Experience the Disney planned community of Celebration while riding an eco-friendly Segway PT.
Explore the villages and nature trails and discover native wildlife all while gliding along on this modern self-balancing marvel. You'll fall in love with the surroundings and be amazed at the ease of gliding on a Segway!
Breaks are taken for photos but participants should be able to stand for 40 minutes at a time.
Minimum weight is 100 pounds.
Maximum weight is 250 pounds.
Rider must be able to step up 8 inches unassisted and maintain balance.
All riders must complete a safety training session prior to tour.
Segway suggests expectant moms refrain from participating.
Tours may be canceled due to poor weather conditions.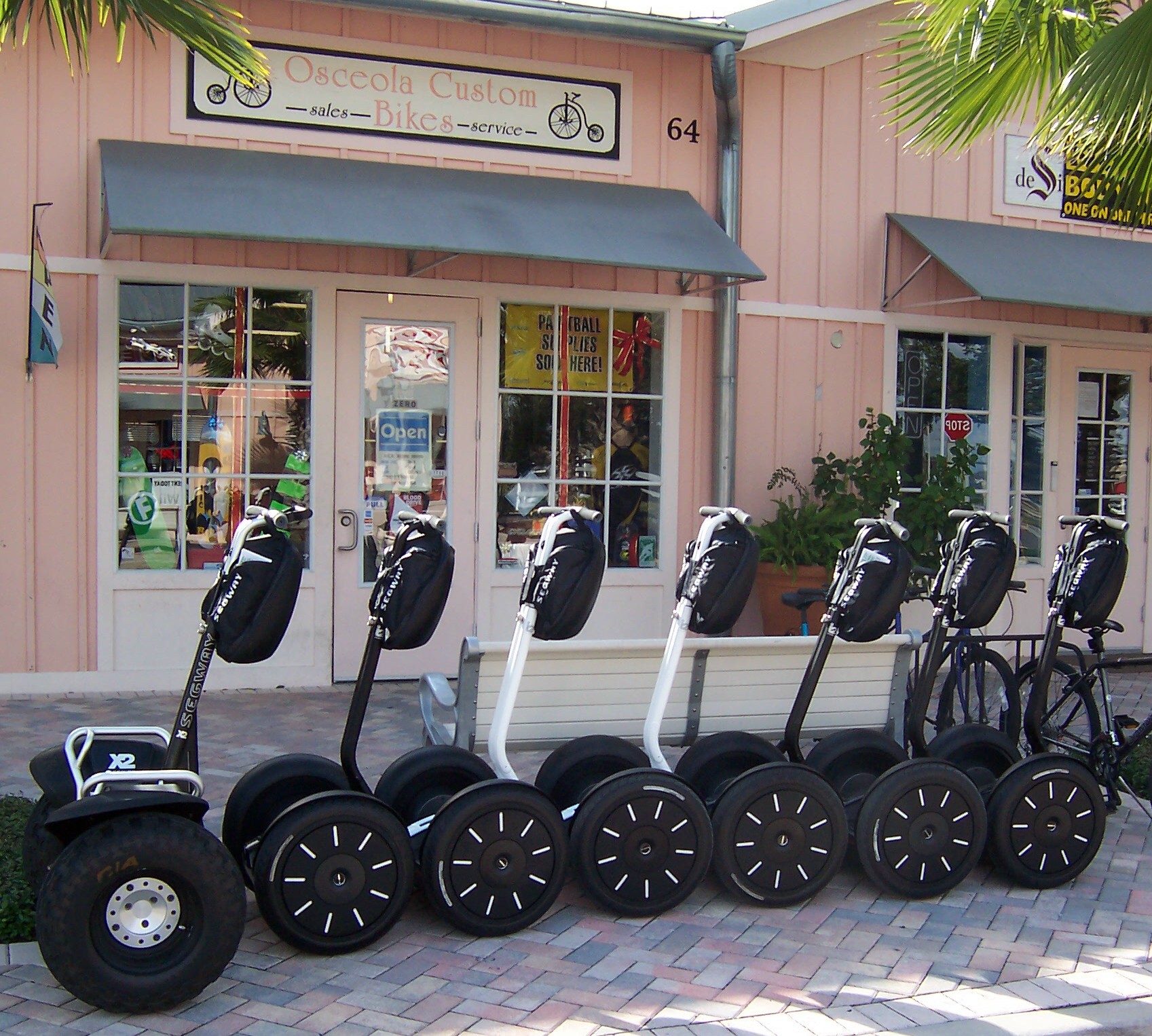 Two different types of venues to choose from. The descriptions for those will follow below.
First there is the "Ride Around."
Be trained how to ride safely prior to you heading out on your own in a preselected area. It is an open area behind the training facility and is quite sizeable.
4 lengths of time to choose from for the "Ride Around."
$5 for 5 minutes of time.
$10 for 10 minutes of time.
$15 for 20 minutes of time.
$20 for 30 minutes of time.
Second, there is "Hosted Tours of Celebration"
If you are looking for adventure we recommend the "Hosted Tours of Celebration." Your host will take you through the villages and nature trails sharing knowledge about the town and some of the wildlife you may see as you journey along. You may even get to feed some of the squirrels and ducks!
3 lengths of time for the "Hosted Tours of Celebration. You will start and end the tour from the training center. It usually takes no more then 20 minutes to get into Celebration. It gives you the chance to see part of Kissimmee as well!
Hosted Tours of Celebration are as follows:
$40 for 70 minutes of glide time on the Segway. (Approximately 30 minutes of this time will be in Celebration)
$55 for 100 minutes of glide time on the Segway. (Approximately 60 minutes of this time will be in Celebration)
$70 for 130 minutes of glide time on the Segway. (Approximately 90 minutes of this time will be in Celebration)