Beginning mid November through early January,

 

SeaWorld in Orlando has modified the Wild Arctic Exhibit into a brand new journey into Santa Town as shown in the popular children's book and movie The Polar Express. A story of a young boy staying awake listening for Santa who finds himself aboard a magical train heading to the North Pole. This is a multi sensory performance culminating in a created Santa Town complete with the jolly old guy himself.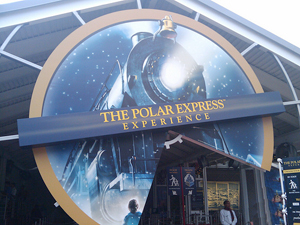 The experience starts with a three minute introduction to the story before visitors are escorted to board the Polar Express Experience. They will follow the same journey as the boy from the story, and the train ride is brought to life through sight, sound, smell and motion. When the train arrives, visitors will embark and discover themselves in a winter wonderland.
Sea World has created a North Pole with not only ice and snow, but with a giant Christmas tree, a sleigh loaded with toys and gifts, the fully decorated village from the movie as well as Santa himself.
Visitors not only get to see St. Nick, they also are able to see Beluga whales, polar bears and giant walruses in their natural environment complete with cold arctic temperatures – be sure to bring a jacket!
The holiday show has some nice effects. Candles, a bouncy soundtrack that also slows down for some nice "dancing" by Shamu and the trainers.
A choir, in which local high-school students perform while holding candles, adds to the sense of holiday spectacular through their singing, clapping and firing up the crowd. They perform in the walkway between the upper and lower seating areas, facing the stage. A gospel singer performs up above the stage, and is later joined by the trainers.