ATTRACTION: Sharks Deep Dive Program.
WHERE: SeaWorld. 
AGE RESTRICTIONS: 10 years and older.
PRICE: $149 per person plus tax.
ADDITIONAL INFORMATION: Limited to two guests per session. Located at the Shark Encounter attraction. Park admission is not included but required. Must be booked at least three days in advance. Must use own swimsuit. Price includes a t/shirt and a shark booklet. Pay by Amex or American Express and they will match 50% of the purchase price as a donation to the SeaWorld & Busch Gardens Conservation Fund. This program will run through December 31st 2008, or until the program reaches a maximum American Express donation of $100,000. Book online at Seaworld.com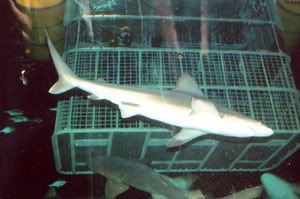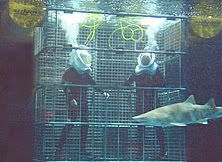 Feel the hair on the back of your neck stand on end as the shark cage inches you deeper and deeper into the home of more than 30 sharks. Come face to face with these predators underwater. You will be taken through a 125 foot long habitat filled with sandtiger sharks, nurse sharks, sawfish and over 1000 schooling fish.
This is a two hour tour with all equipment provided including the underwater helmets which provide you with oxygen. While underwater, you can speak to each other and a trainer who you are in contact with at all times if you have any questions.  
The program runs at 10 a.m. 11am. 12 pm. 2 pm. 3 pm. and 4 pm. daily.
Sunglasses and all jewellery must be removed. No cell phones allowed.