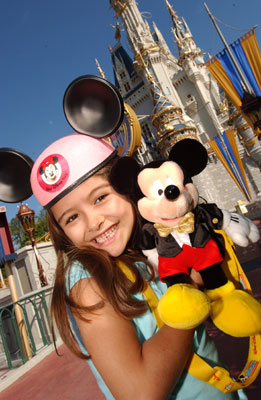 Pal Mickey is/was the ultimate Walt Disney World insider. Sadly he's been discontinued 🙁 boo

He's a cheerful friend who will enhance a theme park visit with lots of timesaving tips and fun facts.
Pal Mickey is a huggable, talking Mickey Mouse that entertains and assists guests in each of the four theme parks at Walt Disney World Resort – Magic Kingdom, Epcot, Disney's Hollywood  Studios &  Disney's Animal Kingdom.
Pal Mickey helps guests get the most out of a Walt Disney World vacation by bringing each theme park to life as a helpful tour guide. The huggable plush toy offers reminders about parades and show times, shares stories and trivia, recommends attractions, plays games and tells guests where to locate Disney characters. Each 10 1/2-inch Pal Mickey responds in all of the Walt Disney World theme parks.
You can clip your Pal Mickey to your belt or waistband, using the pager-type clip provided; making sure Mickey is facing forward.  The current version of Pal Mickey also has a lanyard, too, for wearing him around your neck.
As you walk through the park, Mickey giggles and shakes when he has something to say. Just squeeze one of his hands or tummy within 15 seconds and listen. "Using infrared technology, Pal Mickey not only knows where he is in the parks, he knows where he's been, so he doesn't keep repeating the same information
"See the names written on those second-story windows?" Pal Mickey might say as guests stroll along Main Street, U.S.A. "Those folks helped Walt Disney build this Magic Kingdom!" In fact, the windows bear the names of key Disney cast members instrumental in the development of Walt Disney World Resort.
"Say, 'Fantasmic!' will be starting in about an hour," Pal Mickey might remind Disney's Hollywood Studios guests about the park's popular nighttime spectacular. "If ya wanna see it, now's a good time to go grab a seat!"
Pal Mickey keeps the whole family entertained with Disney jokes, trivia questions, sing-alongs and fun interactive games guests can initiate, whether waiting in line at the theme parks or relaxing in a hotel room – even back at home.
The innovative toy is available at select sites in Disney's four Florida theme parks and at merchandise locations in each of the Walt Disney World resort hotels.
Pal Mickey is also available in Spanish.  You can purchase him at various outlets at the Magic Kingdom, Disney's Hollywood Studios, Animal Kingdom and Epcot.  You can also get him at Once Upon A Toy at the Downtown Disney Marketplace. 
Disney's Animal Kingdom Theme Park
Pal Mickey is available for purchase at the following locations throughout Disney's Animal Kingdom® Theme Park:
Outpost
Disney Outfitters
Island Mercantile
Mombasa Marketplace
Chester and Hester's Dinosaur Treasures
Pal Mickey has something to tell you about each of the following Disney's Animal Kingdom Theme Park attractions:
Harambe Village
Pangani Trail
Rafiki's Planet Watch
Kilimanjaro Safaris® Expedition
Dinoland U.S.A.®
Boneyard
DINOSAUR
Primeval Whirl®
Dino-rama
Discovery Island®
It's Tough to be a Bug!®
Tree of Life
Maharajah Jungle Trek
Expedition Everest
Kali River Rapids®
Flights of Wonder
Hear Pal Mickey's tips about the following Disney's Animal Kingdom Theme Park events:
Island Mercantile character greetings
Mickey's Jammin' Jungle Parade
Character Landing character greetings
Disney Hollywood Studios
Pal Mickey is available for purchase at the following locations throughout the Disney's Hollywood Studios™:
Darkroom
Once Upon a Time
Mickey's of Hollywood
Sorcerer's Hat Shop
Golden Age Souvenirs
Movieland Memorabilia
Pal Mickey has something to tell you about each of the following Disney's Hollywood Studios™ attractions:
Crossroads
Sunset Boulevard
Animation Studio
Great Movie Ride
Sorcerer's Hat
The Twilight Zone Tower of Terror™
Rock 'n' Roller Coaster
Sounds Dangerous
Gertie the Dinosaur
Indiana Jones Epic Stunt Spectacular
Star Tours
Muppet Vision 3-D™
Al's Toy Barn
New York Street
Catastrophe Canyon
Honey, I Shrunk the Kids Movie Set Adventure
Playhouse Disney
Voyage of the Little Mermaid
One Man's Dream
Who Wants to be a Millionaire
Backlot Tour
Hear Pal Mickey's tips about the following Disney's Hollywood Studios™ events:
Beauty and the Beast stage show
Sorcerer's Hat character greetings
Fantasmic
Mickey Avenue character greetings
Stars and Motor Cars Parade
Pal Mickey will tell you about short wait times at the following attractions:
The Twilight Zone Tower of Terror™
Rock 'n' Roller Coaster
Epcot Park
Pal Mickey is available for purchase at the following locations throughout Epcot®:
Camera Center
MouseGear
Port of Entry
International Gateway World Traveler
Pal Mickey has something to tell you about each of the following Epcot® attractions:
Spaceship Earth
Innoventions
Test Track
World Showcase
Future World
Mission: SPACE
Fountain of Nations
Land Pavilion
Journey into Imagination with Figment
Honey, I Shrunk the Audience
Universe of Energy
Mexico Pavilion
Norway Pavilion
Maelstrom
China Pavilion
Germany Pavilion
Italy Pavilion
American Adventure
Japan Pavilion
Morocco Pavilion
France Pavilion
United Kingdom Pavilion
Canada Pavilion
Hear Pal Mickey's tips about the following Epcot® events:
IllumiNations
Dolphin and Cuttlefish at the Living Seas
World Showcase character greetings
World Showcase entertainment offerings
Magic Kingdom Park
Pal Mickey is available for purchase at the following locations throughout the Magic Kingdom® Park:
Main Street Cinema
Newsstand
Emporium
Mickey's Star Traders
County Bounty
Frontierland Trading Post
Pal Mickey has something to tell you about each of the following Magic Kingdom® Park attractions:
Walt Disney World Railroad
Space Mountain®
Stitch's Great Escape
Astro Orbiter
Buzz Lightyear
Mad Tea Party
Goofy's Barnstormer
Cinderella Castle
The Many Adventures of Winnie the Pooh
Snow White's Scary Adventures
Mickey's PhilharMagic
Cinderella's Golden Carousel
Peter Pan's Flight
Haunted Mansion
Diamond Horseshoe
Liberty Square Riverboat
Country Bear Jamboree
Tom Sawyer Island
Splash Mountain®
Big Thunder Mountain Railroad
Pirates of the Caribbean
Jungle Cruise
Swiss Family Treehouse
Hear Pal Mickey's tips about the following Magic Kingdom® Park events:
Adventureland character greetings
Cinderella's Surprise Celebration
Share a Dream Come True Parade
Toontown character greetings
Pal Mickey will tell you about short wait times at the following attractions:
Space Mountain
Buzz Lightyear's Space Ranger Spin
The Many Adventures of Winnie the Pooh