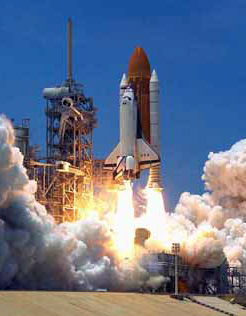 Price: Included with General Admission
It's 3… 2… 1… launch as guests take their own exciting journey of the Space Shuttle's rush to Earth's orbit. On Shuttle Launch Experience, visitors strap in to the sights, sounds and sensations of a real Space Shuttle launch.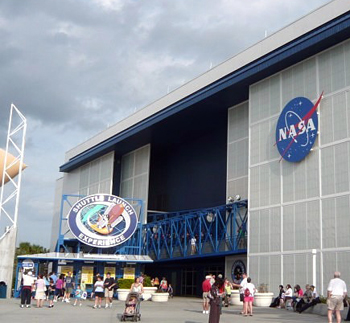 The journey begins as passengers enter the Shuttle Launch Simulation Facility, a looming six-story structure that looks like the actual Space Shuttle facilities at Kennedy Space Center. As crew members ascend along the gantry, veteran shuttle astronauts share testimonials, setting the stage for the experience to come.
Entering the heart of Space Shuttle operations for the pre-launch briefing, crew members are guided by veteran Space Shuttle Commander Charlie Bolden as he takes them step-by-step through the shuttle launch sequence. Brilliant video screens spring to life on shuttle-like robotic arms. Anxious moments arise as atmospheric sound and lighting effects dramatize the moments before your space shuttle launch.  
Dramatic sound and lighting effects, rumbling floors and fog dramatize the moments before launch. Guests will board the mock-up Space Shuttle and strap in for launch in a unique motion simulator designed to bring the mission alive by replicating the sights, sounds, G-forces and rattle of lift-off. The sensations of launch continue as they experience Max Q, the zone where enormous forces squeeze the Shuttle, Solid Rocket Booster separation, main engine cut-off and the External Tank separation. After this experience, visitors will never view a launch in the same way.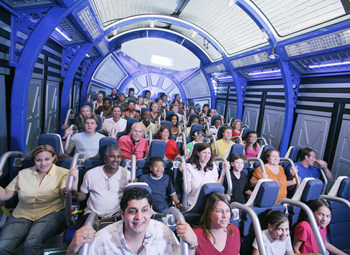 Shuttle Launch Experience Requirements……..
Visitors are required to be at least 48 inches tall to take part in the simulation experience. A dynamic Shuttle Launch Experience preshow can be viewed by all guests. There is no motion during the preshow. An observation room is available for those who do not meet the height requirement or do not want to experience the simulation motion.
Please note: Children who do not meet the shuttle launch height requirement must be accompanied by an adult while in the observation room.
Warning: Shuttle Launch Experience is a realistic simulation of an actual space shuttle launch. The simulation motion includes: Extreme shaking, motions/vibrations, loud noise visual and lighting effects. All participants should be in good health and free from high blood pressure, heart, back or neck problems, motion sickness, and any other medical or physical conditions that could be aggravated by this experience.
Participants must be at least 48 inches tall

Expectant mothers and those who have recent surgery should not participate

Individuals who are unable to use the provided seating or safety restraints must not board

Wheel chair users must transfer to the observation room

Complimentary lockers are available for loose items