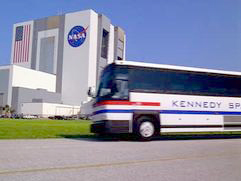 Where is the Space Shuttle assembled and launched? How does it land? Where do astronaut crews prepare and train? These are a few of the questions we'll answer on this intriguing guided KSC tour through NASA's Space Shuttle program.
During this exciting NASA tour you'll visit Kennedy Space Center's industrial area to see NASA KSC's headquarters, and get the closest possible view of the Space Shuttle launch pads. Plus, you'll visit KSC's Shuttle Landing Facility, see the massive Vehicle Assembly Building, and catch a glimpse of NASA's gigantic Crawler Transporters.
Please Note: Photo I.D. is required for adults & children. This tour sells out daily and reservations are strongly suggested.  Call 321-449-4400.
Adults $21. Children (3 – 15) $15.
 .