One of the most popular programs at Kennedy Space Center, "Lunch With an Astronaut" gives visitors a one-of-a-kind experience to enjoy a delicious meal and meet a veteran member of NASA's Astronaut Corps.
An impressive roster of astronauts have appeared since the program's inception in 2001, among them Wally Schirra, John Glenn, Jim Lovell, Gene Cernan, Walt Cunningham, Story Musgrave and Jon McBride.  
Call 321-449-4400. Seating is limited.
Adults $22.99. Child $15.99. prices include tax.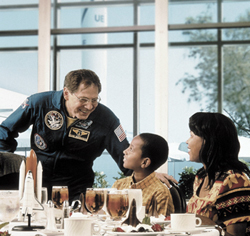 This tour is held once daily during lunch hours. These sessions offer an up-close and personal opportunity to share in the excitement of space exploration through the eyes and personal stories of one of NASA's best. All of this while enjoying a delicious meal.
This meal opportunity includes a banquet-style lunch with a speaking appearance by a real Astronaut hero. The popular program includes a fun highlight video of Astronauts living and working in space, a brief oration of the Astronaut's thoughts, and individual time with each family for Q&A and photos. The meal is topped off by a wonderful selection of desserts. You will receive an autographed souvenir to take home.
Each meal is an exclusive opportunity to rub elbows, ask questions, and take pictures with a real Space Hero! And the food is fantastic!
Seating for lunch begins at 12:15 p.m. Lunch is served at 12:30 p.m.
Lunch Menu: Mixed Green Salad with Balsamic Vinaigrette, Rotisserie Chicken with Mushroom Sauce, Oven Roasted Potatoes, Vegetable Medley, Rolls and Butter, Dessert, Coffee or Tea. A child's alternative of corndog nuggets is also available.