FESTIVAL OF THE LION KING SHOW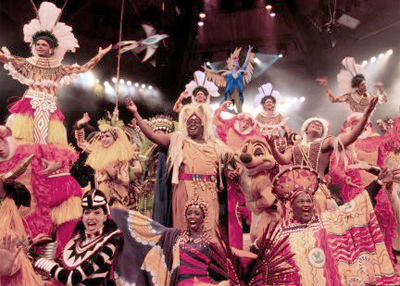 You will find lines to get into this popular show for most of the day. Outside lines are in un-shaded areas. This show is the highlight of a visit to Animal Kingdom, and almost justifies a visit to the park by itself.
The enclosed air-conditioned amphitheatre seats 1000 guests in four sections who sit on benches that surround the stage. The theatre is wheelchair accessible.   
As the performers fill the theatre, 4 huge moving floats are brought out. Simba is a 12 foot high animated character sitting on Pride Rock. There is an elephant, a swaying giraffe and a float with Pumba and Timon.
This live action show combines song, dance, and acrobatics in a festival no one should miss.  Simba and friends lead the crowd in many Lion King meolodies as spectacular dance performances are witnessed.  Take a seat and be prepared to be dazzled by the puppetry, pageantry, colorful costumes, spectacular singing and gymnastics—keep a look out for the balletic birds and acrobatic monkeys!
Stick around for Timon's send-off.
Watch The festival Of The Lion King right here in this three part video. 
FINDING NEMO – THE MUSICAL
***RESERVED SEATING AT FINDING NEMO –  THE MUSICAL   
Guests at Animal Kingdom who have an Advanced Dining Reservation at the Tusker House restaurant for dining during the following select times will receive a pass for reserved seating at Finding Nemo.  
Advanced reservations at Tusker House from 1:00pm – 1:40pm will be eligible for the 3:15pm show.
Advanced reservations at Tusker House from 1:50pm – 2:45pm  will be eligible for the 4:45pm show.
The puppets for "Finding Nemo – The Musical" are designed by Michael Curry, creator of the puppets for the Broadway hit, "The Lion King." The innovative lighting, sound, special effects and stunning theatrical puppets, some as large as cars, make Finding Nemo  a must "sea" production.
Finding Nemo – The Musical is the latest in the line of Disney movies abbreviated for the stage at a Disney park.   
Most of the actors control puppets that represent the characters they portray, but make no attempt to hide.  At several points in the show, the cast comes out onto a runway cutting through the orchestra section, making the audience feel like they are fully immersed in the story.   
This is a 30-minute Broadway-style musical stage show. The performance is for audiences of all ages in an air-conditioned theatre over in Dinoland USA area of the park. 
 Thanks to Lisa1976 for the Nemo photos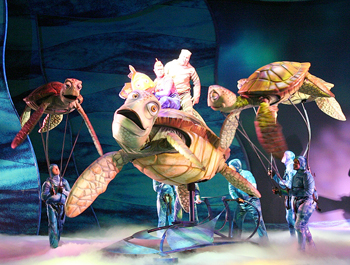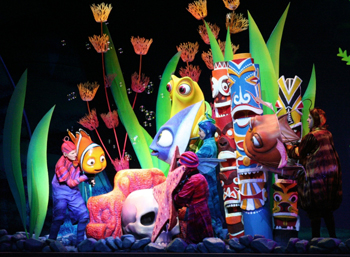 Watch Finding Nemo – The Musical right here. You can watch in high definition 720p……
FLIGHTS OF WONDER
Flights of Wonder is a scheduled 25-minute live show presented several times a day in the Asia area of Disney's Animal Kingdom theme park. The show features the fascinating natural behaviors and often humorous talents of at least 20 species of exotic birds, including Harris hawks, macaws and a Yellow-napped Amazon parrot named Groucho, who has an amazing singing voice.
Step inside the shaded, canvas-canopied area and take a seat in front of the ornately-decorated Caravan Stage. This is where local tour guide and his partner, a bird handler in training, pair up for the Flights of Wonder performance.
In response to their cues, the birds hunt, sing, soar and sometimes swoop just above your head for some high-flying surprises.
Though the cast changes on occasion, the Flights of Wonder show may include birds from these species:
Abyssinian Ground Hornbill

American Bald Eagle

Augur Buzzard

Barbary Falcon

Eurasian Eagle Owl

Gray-Crowned Crane

Harris Hawk

Ibis

Indian Runner Ducks

Macaw

Pigeon

Seriema

Toco Toucan

Yellow-napped Amazon Parrot
This presentation is wheelchair accessible.For guests who are hearing impaired, assistive listening devices are available, check with Guest Services as you enter the park for more information.Sign Language interpreters are offered at certain performances on designated days.
As long as you are not nervous about birds, you will enjoy this.  The variety of species, the range of talents, and the sheer beauty of the performers is a wonder to behold.   
The stage faces south-west and is uncovered, so during the mid to late afternoon the sun shines brightly on the backdrop, which can make photography and video difficult. Try an earlier show before the sun has climbed too high.
Stick around after the show to get some close-up photos of some of the birds.  
MICKEY'S JAMMIN' JUNGLE PARADE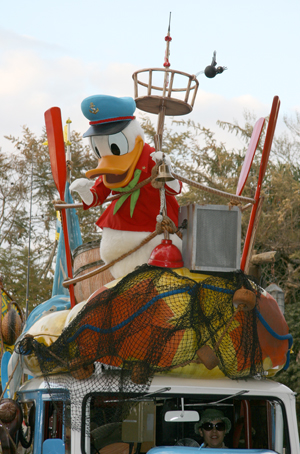 Mickey's Jammin' Jungle Parade features popular Disney Characters as they pay tribute to the wild spirit of their animal friends in a 15-minute, high-energy, afternoon procession that loops through the various areas – Africa, Discovery Island, Asia, and back to Africa. If you miss the parade coming out of Africa, just wait twenty minutes. It will loop around Discovery Island and return to Africa, with a lot fewer people watching.
Rafiki, the mandrill from Disney's animated film, The Lion King, leads the parade in a brightly painted Adventure Rover. Following behind him are Minnie Mouse, Donald Duck and Goofy in customized Jeeps that are cleverly decorated to match each character's personality.
The streets in Disney's Animal Kingdom theme park come alive during Mickey's Jammin' Jungle Parade with music and more colorfully-costumed performers, including stilt walkers, dancers and drummers. The music is upbeat and loud.
The parade concludes its spectacular celebration of the entire animal kingdom with farewell waves from Mickey Mouse.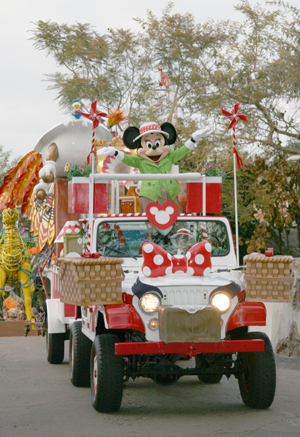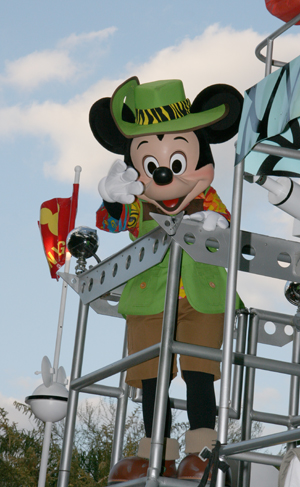 Watch Mickey's Jammin' Jungle Parade right here…..
MICKEY'S JINGLE JUNGLE PARADE
Mickey's Jingle Jungle Parade is a music-filled holiday celebration that winds its way through the park. Your spirit is lifted with a merry mix of traditional holiday wonderment, colourful creatures and festive music in this joyous celebration.
Ring in the season with Mickey and his friends as they lead a parade of favourite Disney characters and larger-than-life animal puppets that dance and bring you into the fun.  
Mickey's Jingle Jungle Parade is the holidy overlay to Mickey's Jammin' Jungle Parade. Floats are decorated for Christmas and the music is modified slightly, but other than that it is the same parade.
The parade starts with Rafiki stirring up the crowd to move with the "Rythm of Life" (only this time with jingle bells) while Baloo and King Louie dance around. Mickey radios ahead to keep the parade moving. Several animal floats, alternatively containing musicians and guests, come by next.
Chip and Dale precede Minnie's luxury RV to the sound of  "fa-la-las". More animals follow, as do the Br'er characters, leading up to Goofy's who plays Santa in his overstocked truck. Then comes along Donald's now snow-covered duck-mobile.
The last set of animals, accompanied by Pluto, introduce the Grand Marshall – Mickey Mouse himself.
Watch Mickey's Jingle Jungle Parade right here……