Cast members regulate the lines and the pace of greetings, allowing a minute or two per family for pictures and autographs. The PhotoPass photographer will take a picture for you to be added to your PhotoPass card if you wish to get a print made.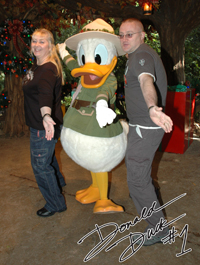 Camp Minnie-Mickey Greeting Trails lead you to the places where Minnie, Mickey and their friends gather to pose for photos and sign autographs
Each character has a path along the greeting trails. Follow the trail that leads to who you want to meet, and greet them with a smile for a fabulous photo, or ask for their signature to add to your autograph collection.
Some popular characters on the Camp Minnie-Mickey Greeting Trails may include Minnie Mouse, Mickey Mouse, Goofy and Pluto. Recently, Thumper has been available to pose with too.
During holiday seasons, the characters dress up accordingly.
Check your park guide for hours when the characters will be on the Camp Minnie-Mickey Greeting Trails.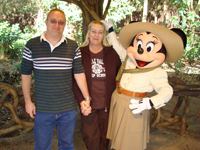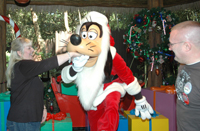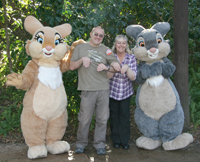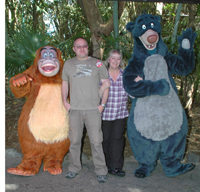 Africa Character Spot is located in Africa, just as you pass over the bridge from Discovery Island. Turn right as if you were heading towards Asia. The character greeting area is across from the drums. Here, you will meet Ling Louie and Baloo from Disney's Jungle Book.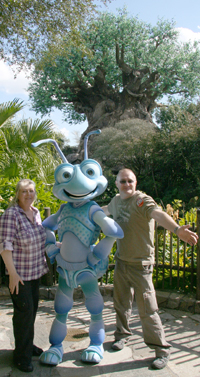 Flick from A Bugs Life can be found on Discovery Island on the pathway to Africa.
Jiminy Cricket: Jiminy Chricket is at Rafiki's Planet Watch.
Lilo and Stitch can be found in Discovery Island on the way to Camp Minnie-Mickey, usually outside the Island Mercantile shop.
Terk from "Tarzan" can be found on Discovery Island on the path towards Africa.
Discovery Island Character Landing is where you will meet EEyore, Piglet, Tigger and Winnie the Pooh.
Dinoland USA sometimes has Goofy and Pluto.
DeVine
Mainly found on the walkway between Africa and Asia in the heavily tree covered area, she often surprises guests as she emerges from the undergrowth.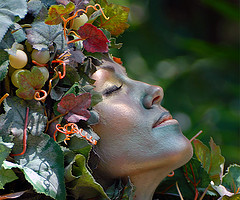 "Did you see it?"  
"What was that?"  
"Did that tree just move?"  
When walking through Disney World, one expects to meet lots of characters. Sometimes these encounters are expected and intentional; sometimes they are unexpected. Often you meet "first tier" characters, such as Mickey & Minnie Mouse, Goofy, or Donald Duck. Sometimes you meet unconventional characters like the soldiers from Toy Story, or the Imperial Stormtroopers from Star Wars.
When she moves, it is with the grace and agility of nature itself. When she stands still, she portrays the strength of a rock. When she so wishes, she can blend into the scenery so completely that all are blind to her presence.  
 Once revealed, she always draws a crowd!
Using stilts, extended arms and creative costuming, DiVine fluctuates between 7 and 16 feet tall. When she crosses the path, it's impossible to miss her. When she curls around a post, it's easy to mistake her for ivy. When she hugs a tree, she vanishes into the landscape.
Pipa The Talking Recycling Bin, is at Disney's Animal Kingdom, appearing at Rafiki's Planet Watch and encourages guests to recycle.
Also at Animal Kingdom, there is a character named Wes Palm, a talking palm tree.