Pin Collecting by Pin Expert Tinker
Have You Ever Thought About Pin Trading or Collecting But Wasn't Sure Where To Begin ?

Disney Pin Trading Has Never Been Made Easier and today thousands of guests trade pins with other guests and cast members from around the world .
Disney Pin Trading began in October of 1999 with the start of The Millenium Celebration .
Now, you may be asking : How Do I Start ?

Disney Pin Trading is as easy as 1,2,3
You can go to any Disney Central Pin Store or Stand located in the Theme Parks . Resort Gift Stores also carry them , but your best selection is at the Downtown Disney Marketplace or Epcot. These stores carry * Starter Lanyard Set * which comes with four or up to eight pins . These sets range in price from $26.00 to $48.00 .
If you are an ebayer, I suggest starting there first . I type in lot of Disney pins and have purchased lots of authenic, tradeable Disney pins at $2.00 per pin . Watch for sellers that offer free shipping .
Cast Members at all theme parks, resorts and cruises wear neck or hip lanyards . Hip lanyards are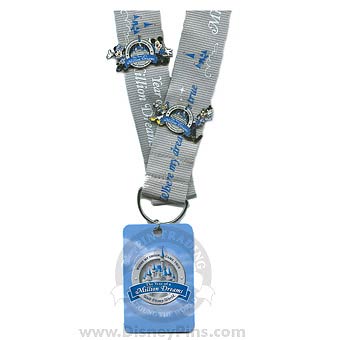 clipped to their waist belt and are not always visible . If you don't see one, just ask . Cast Members have to trade pins that are only displayed on their lanyards. If pins are on their shirts or jackets , these are there personal pins and are not tradeable . Sometimes they are awarded pins for service.
You are only allowed 2 trades per lanyard . You choose the pin you want and choose the pin to give back in return. If a cast member is wearing a green lanyard ( Walt Disney World ) or a teal lanyard (DisneyLand) this means that kids are the only guests that may trade with them. Ages 3 – 12
Cast Lanyard Collection is a term now known as Hidden Mickey Collection Series . You may be asking What This Means ? These special and higly collectible pins were introduced several years ago as a unique way for cast members to interact with guests . The Hidden Mickey Collection Series is recognized through the silver Hidden Mickey head that will appear on the front of the pin . Usually the bottom right hand corner . Look Carefully ! These are pins that are only given to the cast members for trade . You cannot buy them and this makes them even more collectible .

These pins will have a backstamp : example Hidden Mickey 1 of 5 . This means there are five pins in this series . Villians may be Jafar, Cap't Hook, Malificent, Ursala, etc . or Monorails in color, orange, red , yellow, blue .
Ask the cast member which others to look out for . Cast Members love interacting with guests . They are more than happy to answer any question that you may have . If they know you are new to pin collecting and have a special pin on , they will point it out to you.
I have found the best cast members to trade with are the managers during parades, just walking along or at your resort . Managers are very rarely seen and usually have a lot of Hidden Mickey pins on their lanyards . Managers will also do their best to give magical moments . I, once, needed one pin to finish a series . I looked my entire trip and could not find the pin I needed . Tired and Dragging on my last day at the MK , my husband and I were leaving . A manager came up to me, out of the blue, and looked at my pins . He stated how I had done so well collecting . At this point , I said *Yes* I did but there is one pin that I am having difficulty finding . I tolds him which pin and he said , Stay Here ! Within minutes he was back and said Is This It ! After all that searching and there it was . I gave him the biggest hug!
Limited Edition Pins are just that a limited pin . The lower the edition size the more sought after

and collectible it will be . These pins can be purchased .
The most important thing to remember is that Disney's Pin Trading Tradition is to be a fun experience for the whole family . The most important tip I can give you is to stay away from the pin traders at the Downtown Disney Marketplace . We call them Pin Sharks. They are guests that enter the parks and snatch up every Hidden Mickey pins that they can get there hands on . They may have 20 of the same pin, but will not and are not obligated to trade as they are not a cast member . If you do not have something they are interested in they will ask you to go in the store and buy them a pin . No Matter How Bad You May Want That Pin , Don't Do It …

Don't Give Up The Search .
The fun part of pin trading is finding that very last pin to complete your series . A Feeling That You Accomplished Your Find On Your Own . Its Disney Pin Trading At Its Best . I hope I have helped teach you the knowledge that you need to get started . I am always around . If you have any questions, just send me a PM and I will be more than happy to answer . If I don't know, I will find out .
Now in closing, I'd like to introduce you to someone that I met at this past pin event .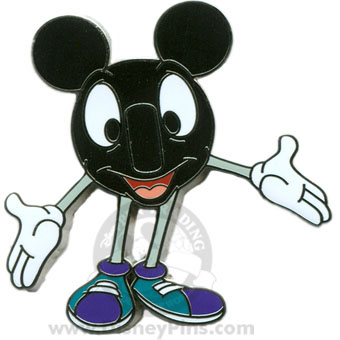 Meet Pin Traders Newest Mascot… Robert R. Pinback or just Bobby Pinback . He was released as an open edition pin . Oops , sorry open edition pins are pins that are not limited and available to anyone for purchase . Say Hello 🙂