Raglan Road
Cuisine: Irish
Location: Westside
Price Range: Lunch $$ ($15-$29.99 per person)  
Information: Hours: Lunch Served 11:00am to 3:00pm. Dinner Served 3:00pm to 11:00pm. Bar Menu Served all day. Live Entertainment starts at 7:00pm to midnight, with an Irish band and Irish dancer, who perform 6 nights a week. Guests must be 21 years of age or older to purchase alcoholic beverages. Specialty celebration cakes are available for an additional charge and should be ordered 48 hours in advance by calling (407) 827-2253. Menu items and prices subject to change without notice.  This experience takes place in a non-smoking environment. To make reservations, book online or call (407) 939-3463 up to 180 days prior to your visit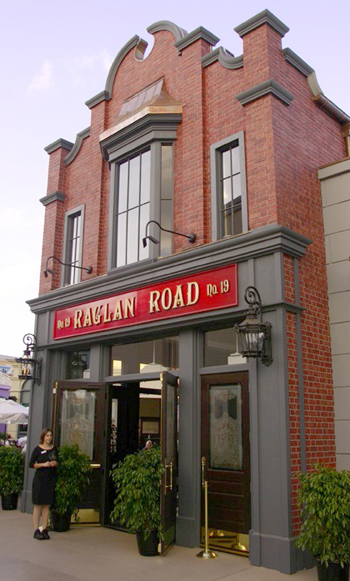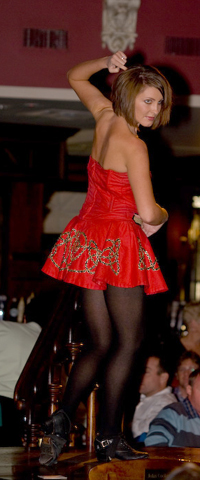 Traditional pub fare is served in a spirited atmosphere where there's beer on tap and live bands add to the nightly entertainment. Four distinct antique bars, each more than 130 years old and imported from Ireland, serve as focal gathering areas. Custom furnishings, lighting and wall coverings were all designed and built in Ireland to ensure a real Irish experience.
Dinners at Raglan Road Irish Pub & Restaurant include modern twists on classics, like creamy colcannon soup, beef stew with a hint of Guinness, and fish 'n' chips, as well as traditional English cuisine like bangers and mash.
You're encouraged to dance a jig as the band blazes with foot-stomping Irish music. Then grab a frothy beer from one of the 4 bars and lose your hat in a fairy wind. The night has just begun!
Mon-Sat  A brilliant 3 piece imported band from Ireland. Creel – featuring Champion Irish dancer Danielle Fitzpatrick.  Maybe it's best to talk about what they're not. They're not shy, they're definitely not quiet, they're not, how do you say it, "lame." They're not like anything you've likely heard – unless you've heard traditional Irish music infused with rock, infused with outlandishness, infused with hilarity.
They start most nights at 7pm. They commence with some traditional Irish music…that's unplugged to you. As the night meanders, the music becomes more electric reaching a crescendo in the early hours of the morning.
Danielle Fitzpatrick is an Irish lassy who hails from Dublin. Danielle has won every dance award that an Irish dancer dreams of winning. She has danced all over the world.  
Now Danielle adorns the stage nightly from 9pm (Mon – Sat) when she teams up with Tuskar Rock.
Lunch  
Appetizers
Calamari City – Salt and pepper calamari and mixed tempura vegetables served with a spicy remoulade. – $10.95
Crock o' Pate – Rustic chicken liver pate served with an apricot chutney. – $8.95
Dalkey Duo – Dalkey battered cocktail sausages, with a Dalkey mustard dipping sauce. – $9.95
Scallop Forest – Forks of battered scallops served with a lime dipping sauce. – $12.95
Soups/Salads
Colpucinno – Frothy Colcannon soup, a creamy potato, bacon and cabbage soup. – $4.95
Eatin'n'Drinkin' – Wild Forest mushroom chowder. – $4.95
Raglan Romaine Salad – The auld classic with Romain lettuce, cherry tomatoes, croutons, Reggiano cheese and crispy Parma ham with zesty Caesar dressing. With chicken $13.95 or with shrimp $14.95 – $9.95
Entrée
Fada Burger – Char-grilled sirloin beef burger. Add bacon and tomato chutney with Wexford Vintage cheddar. Served up with fresh fried potatoes. – $14.00
Keen Eye For The Shepherd's Pie – We give the traditional Shepherd's Pie (prime beef and lamb) a much-needed makeover with our contemporary twist to this favorite dish. – $14.95
Lobster Club – Lobster and Avocado salad, crispy prosciutto, watercress and citrus herb – $14.00
One & One – Beer-battered fish and chips served with fresh tartar sauce. – $15.95
Portobello Beauty – Portobello mushroom cap burger filled with Dubliner cheese, tomato relish and served with chips and mixed green salad. – $12.00
Roast Stuffed Pork Sandwich – Tender slices of stuffed pork loin served with an apple apricot chutney and chips. – $11.95
Sod…The Stew – It's beef stew infused with a hint of Guinness. – $12.95
Steak Sanger – Sliced sirloin steak with fried onions, mushrooms and spicy horseradish remoulade. Served with chips. – $15.00
Dessert
Bailey's Creme Brulee Tart – Crème brulee Irish style. – $6.99
Bates Banagher Banoffi Beauty – Caramel base. Add banana with our special secret sauce. Top it off with fresh cream. – $6.99
Culchie's Chocolate Cake – Dark chocolate sponge, chocolate mousse and a secret orange ingredient. – $6.99
Dunbrody Kiss – Chef Dundon's gift to America. Chocolate, add chocolate, and then add some more. – $6.99
Ger's Bread & Butter Pudding – Like no other pudding you have ever tried. – $6.99
Me Ma's Apple Pie – Cooked apples, mouth watering pastry & ice cream. – $6.99
Raspberry Riot – Frozen raspberries surround vanilla ice-cream on a shortcake base and coated with warm white chocolate. – $6.99
Dinner  
Appetizers
Calamari City – Salt and pepper calamari and mixed tempura vegetables served with a spicy remoulade. Great for sharing! – $11.00
Crock o' Pate – Rustic chicken liver pate served with an apricot chutney. For 2 people. – $10.00
Dalkey Duo – Dalkey battered cocktail sausages, with a Dalkey mustard dipping sauce. For 2 people. – $10.00
Heaven on Earth – Baby back ribs in a Guinness and honey glaze. For 2 people. – $13.00
Scallop Forest – Forks of battered scallops served with a lime dipping sauce. – $13.00
Smokie City – Oven-baked layers of smoked pollock with mature Wexford cheddar and double cream, served with crusty bread. For 2 people. – $11.50
Soups
Colpucinno – Frothy Colcannon soup, a creamy potato, bacon and cabbage soup. – $6.00
Goats Town – Irish goats cheese terrine made with sautéed garlic, shallots, shitake mushrooms served with grilled crostini. – $10.95
Seared Beef Salad – Seared beef salad with a horseradish drizzle served with mixed greens and crispy fried onions. – $14.50
Entrée
Crock o' Mussels – Fresh Blue Hill Bay mussels served in a saffron, grape tomato and leek broth. – $17.95
Fish & Chips – Beer-battered fish and chips served with fresh tartar sauce. – $18.50
It's Not Bleedin' Chowder – Mussels, prawns, scallops and fresh seafood infused with white wine and finished with cream and fresh potato. – $23.95
Keen Eye For The Shepherd's Pie – We give the traditional Shepherd's Pie (prime beef and lamb) a much-needed makeover with our contemporary twist to this favorite dish. – $17.50
Kevin's Heavenly Ham – Chef Kevin's signature dish. Oven-roasted loin of ham with an Irish Mist glaze and served with braised cabbage and creamed potato. – $20.95
Pie In The Sky – Chicken and wild mushroom pie served with a rocket lettuce salad. – $17.50
Portobello Beauty – Portobello mushroom cap burger filled with Dubliner cheese, tomato relish and served with chips and mixed green salad. – $13.50
Posh Pan Chicken – Pan roasted chicken breast sautéed in garlic, olive oil, a suggestion of chili and ever so slightly glazed with an Irish cider cream sauce. Served with sautéed veggies. – $18.95
Rialto Salad – Dry cured Parma and Serrano ham salad, roasted pecans, grilled pears and baby vine tomatoes, parmesan cheese and baby greens, balsamic dressing. – $15.95
Salmon of Knowledge – Fresh salmon fillet topped with smoked salmon, baked and served with a maple glaze. – $22.95
Serious Sirloin Steak – 10oz sirloin topped with Irish whiskey glaze, and drizzled with fresh basil oil. Served with mashed potatoes and topped with crispy fried onion strings. – $23.95
Sesame Seed Coated Haddock – Sesame seed coated haddock fillet served with crushed garden peas and chips. – $19.95
Sod…The Stew – Beef stew infused with a hint of Guinness. – $16.95
Side Dish
Variety of Side Dishes – Colcannon, Vegetable Medley, Buttered Asparagus, Green Beans, Homemade Chips (fries), Braised Cabbage, Mixed Field Green Salad or Crispy Onions. – $4.50
Dessert
Bailey's Creme Brulee Tart – Crème brulee Irish style. – $6.99
Bates Banagher Banoffi Beauty – Caramel base. Add banana with our special secret sauce. Top it off with fresh cream. – $6.99
Culchie's Chocolate Cake – Dark chocolate sponge, chocolate mousse and a secret orange ingredient. – $6.99
Dunbrody Kiss – Chef Dundon's gift to America. Chocolate, add chocolate, and then add some more. – $6.99
Ger's Bread & Butter Pudding – Like no other pudding you have ever tried. – $6.99
Me Ma's Apple Pie – Cooked apples, mouth watering pastry & ice cream. – $6.99
Raspberry Riot – Frozen raspberries surround vanilla ice-cream on a shortcake base and coated with warm white chocolate. – $6.99
  
Child's Menu
Lunch   
Entrée
Atlantic Fish – Fresh Atlantic fish deep fried in a crispy batter and served with choice of a side: garden veggies, fresh salad with ranch dressing, mashed potato, or Irish chips. – $8.50
Crispy Shrimp – Succulent deep fried shrimp served with choice of a side: garden veggies, fresh salad with ranch dressing, mashed potato, or Irish chips. – $8.95
Dalkey Duo – Dalkey battered cocktail sausages, with a Dalkey mustard dipping sauce. Served with choice of a side: garden veggies, fresh salad with ranch dressing, mashed potato, or Irish chips. – $6.50
Gold'n Chickin' – 2 deep-fried chicken skewers served with choice of a side: garden veggies, fresh salad with ranch dressing, mashed potato, or Irish chips. – $7.00
Little Big Burger – Sirloin beef burger, char-grilled, topped with Wexford vintage cheddar and served with choice of a side: garden veggies, fresh salad with ranch dressing, mashed potato, or Irish chips. – $7.00
Macaroni Cheese – Macaroni pasta with Dubliner cheese served with choice of a side: garden veggies, fresh salad with ranch dressing, mashed potato, or Irish chips. – $6.50
Young Shepherd's Pie – Traditional Shepherd's Pie with a contemporary twist to this favorite dish. Served with choice of a side: garden veggies, fresh salad with ranch dressing, mashed potato, or Irish chips. – $8.50
Dinner
Entrée
Atlantic Fish – Fresh Atlantic fish deep fried in a crispy batter and served with choice of a side: garden veggies, fresh salad with ranch dressing, mashed potato, or Irish chips. – $8.50
Crispy Shrimp – Succulent deep fried shrimp served with choice of a side: garden veggies, fresh salad with ranch dressing, mashed potato, or Irish chips. – $8.95
Dalkey Duo – Dalkey battered cocktail sausages, with a Dalkey mustard dipping sauce. Served with choice of a side: garden veggies, fresh salad with ranch dressing, mashed potato, or Irish chips. – $6.50
Gold'n Chickin' – 2 deep-fried chicken skewers served with choice of a side: garden veggies, fresh salad with ranch dressing, mashed potato, or Irish chips. – $7.00
Little Big Burger – Sirloin beef burger, char-grilled, topped with Wexford vintage cheddar and served with choice of a side: garden veggies, fresh salad with ranch dressing, mashed potato, or Irish chips. – $7.00
Macaroni Cheese – Macaroni pasta with Dubliner cheese served with choice of a side: garden veggies, fresh salad with ranch dressing, mashed potato, or Irish chips. – $6.50
Young Shepherd's Pie – Traditional Shepherd's Pie with a contemporary twist to this favorite dish. Served with choice of a side: garden veggies, fresh salad with ranch dressing, mashed potato, or Irish chips. – $8.50