Wolfgang Puck Cafe & Dining Room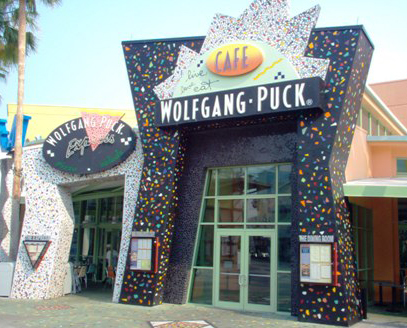 Cuisine: Californian
Location: Westside
Price Range: Lunch $$ ($15-$29.99 per person)  Dinner $$$ ($30-$49.99 per person)
Information: Hours: 11:30 am – 11:00 pm. 
Specialty celebration cakes are available for an additional charge and should be ordered 48 hours in advance by calling (407) 827-2253. Menu items and prices subject to change without notice.  This experience takes place in a non-smoking environment. To make reservations, book online or call (407) 939-3463 up to 180 days prior to your visit.
Wolfgang Puck Café, a lively and casual restaurant open for lunch and dinner serving the famous chef's unique fusion of Asian and California cuisine.
Located on the ground floor, below the more formal Wolfgang Puck Café – The Dining Room, Wolfgang Puck Café offers a chic setting with more straightforward, though also very fresh, menu selections.
Signature dishes at Wolfgang Puck Café include vegetarian dishes, wood-fired gourmet pizzas, hand-tossed salads, piquant pastas, savory sandwiches and decadent desserts. The sushi bar features tender fish creations prepared by talented sushi chefs.  
The decor is a bit flamboyant, with bright tile work on the floor as well as on the large wood fired pizza oven as you enter. Deeper inside, the colors calm to a more soothing set of "fall" tones, with burnt orange carpeting, earth-tone walls, and pleasant artwork all around. The furniture is definitely contemporary, but in a very elegant style. As you're being shown to your seat, be sure to notice the dessert station, at which the menu offerings are placed on display. 
Cafe Lunch Menu
Cafe Dinner Menu