Paradiso 37 Street Foods of the Americas
Cuisine: North, Central & South American
Location: Pleasure Island
Price Range: $$ ($15-$29.99 per person)
Information: For reservations please call 407-934-3700. This experience takes place in a non-smoking environment. Guests must be 21 years of age or older to purchase alcoholic beverages
Paradiso 37 is a new waterfront dining spot at Downtown Disney Pleasure Island.
North, Central and South American cuisine are represented at this new restaurant that features an extensive tequila bar and nightly entertainment.
This high-energy restaurant and bar serves up unique cuisine inspired by the Street Foods of the Americas. Menu items from North, South and Central America will be featured for lunch and dinner. Paradiso 37 features an international wine bar and a one of a kind tequila tower bar with more than 50 kinds of tequila and a selection of signature frozen margaritas. For those guests who are interested in beer, the restaurant takes pride in serving the coldest beer in Walt Disney World.
Enjoy a cup of specialty coffee when they open at 11:00 a.m., and return in the evening for festive food, beverages, and entertainment; the restaurant closes late at night.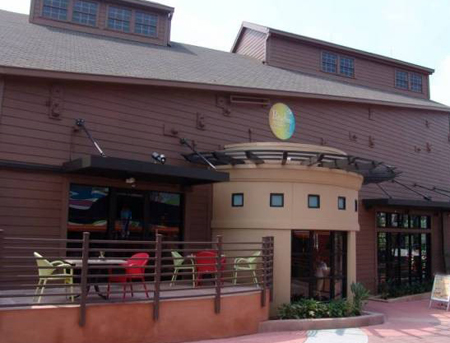 Lunch   
Appetizers/Starter
Argentinean Chorizo Skewers – Authentically prepared Chorizo Sausage seasoned with Argentinean Spices. Served with Cucumber and Onion Salad. Citrus Yogurt Sauce and Chimichurri Pita Bread – $10.99
Caribbean crab and Fish Fritters – Crab Meat, shrimp, Fish, Peppers and Cilantro Fritters. Fried to a golden brown, Serve with a coconut lime dipping sauce. – $10.50
Central American Crazy corn – Fire Roasted Corn on the cob topped with a Spicy yellow pepper sauce and chef's special cheeses – $7.50
Chili Con Carne – Slow Cooked Tender Ground Beef with Onions, Peppers, and Chiles. Topped with Chef's Special cheeses and served with Corn Tortilla Chips – $6.50
EL Salvadorian Pupusas – Sampler with Soft Pockets Stuffed with Authentically Seasoned Meats, Fish and Vegetables. Served with Serrano Slaw – $9.99
Mac and Cheese bites – Fried crisp on the outside, creamy on the inside, served with Jalapeno and cilantro dipping sauce. – $7.50
Mexican Chips an Salsa – Fresh corn Tortilla chips with Housemade Fire roasted Tomato Salsa – $3.99
Mexican Guacamole – Homemade, Chunky fresh Avocado with Fresh Tomato Slsa, Lime Juice and Cilantro. Served with Corn Tortilla Chips. Regular, 4.99 Large, 7.99 – $7.99
Mexican Quesadillas – Mexican Sampler of Corn Tortillas Stuffed with Braised Chicken, Grilled Steak, and BBQ Pulled Pork. Topped with Chef's Special Cheese and served with a Serrano Slaw – $11.99
Mexican Salsa Trio – pineapple Salsa, Tomatillo Salsa Verde and Fire Roasted Salsa Diablo. Served with Corn Tortilla Chips – $7.99
North American Corn Dogs – A cone filled with a bite size Corn Dog fried to a golden brown. served with a honey mustard dipping sauce – $7.50
North American Potato Pancakes – Home style Potato Pancakes Prepared with a Hint of Chives. Special Paradiso 37 Spice Blend and then sautéed to a Golden Brown. Served with Sour Cream – $5.99
Peruvian Beef Skewers – Grilled Skirt Steak served with a Mushroom Ceviche and Chimichurri Pita Bread – $10.99
Queso Fundido – Chef's Special Cheeses Flavored with Cilantro, Chiles and Onions. Served with Warm Flour Tortillas or Corn Torilla Chips – $7.99
Yucatan Style Shrimp Ceviche – Fresh Shrimp, cucumbers, sweet Green and Red Peppers tossed in a spicy Tomato and Lime sauce – $8.99
Soups/Salads
Grilled Chicken Ceasar Salad – Romaine Lettuce Wedge tossed with Toasted Croutons, Parmesan Cheese and Homemade Caesar Dressing. Topped with Seasoned Grilled Chicken Breast – $12.99
Grilled Chicken Tortilla Salad – Mixed Greens Tossed with Roasted Corn, Diced Tomatoes, Crispy Tortilla Strips and Queso Freco in a Citrus Vinaigrette – $12.99
Prickly Pear Shrimp Salad – Grilled Jumbo Skewered Shrimp with Mixed Greens tossed with Orange segments, Jicama, Dried Apricots, Raisins, Toasted Almonds and Pumpkin seeds in a Prickly Pear Vinaigrette – $15.99
Entree/Main Course
Argentinean Skirt Steak – Marinated Grilled Skirt Steak Topped with Caramelized Onions and Chimichurri Sauce. Served with Fries. – $19.99
Baja Burritos – Flour Tortilla packed with your choice of Grilled Chicken or Beef Along with sautéed Peppers, Squash, Red Onions, Chef's Special Cheeses and Topped with Sweet Chipolte BBQ Sauce. Served with Cilantro Rice and Black Beans – $14.99
BBQ Pork – Slow Roasted with Sweet Chipolte BBQ Sauce. Served with Cilantro Rice and Black Beans – $17.99
Chilean Style Salmon – Skewered Grilled Salmon Served with a Tomato Vinaigrette, Cilantro Rice and Peruvian Olives – $18.99
Colombian Style Whole Crispy Hen – Marinated with Onions, Garlic, Lemon and Cilantro. Served with Street Style Potato Pancakes and Roasted Carrots. – $17.99
Enchiladas – Chicken or Beef Stuffed Tortillas with your choice of Guajillo or Mole Verde Sauces. Served with Cilantro Rice and Black Beans. – $13.99
New York Strip Steak – Rubbed with Special Paradiso 37 Spice Blend. Served with Street Style Potato Pancakes and Creamed Spinach – $26.99
North American Sausage and Pepper Hoagies – Homestyle Sausage Braised with Sweet Peppers and Fresh Tomato Sauce and Topped with Melted Mozzarella Cheese. Served on Three Mini Hoagie Buns with Fries – $12.99
North American Sliders – Choice of Blackened Mahi Mahi, Grilled BBQ Chicken or BBQ Pulled Pork Sliders. Served with Fries – $12.99
Paradiso 37 Cheeseburger – Grilled Street Style, Served on a Fresh Brioche Bun, Topped with Cheddar Cheese, Lettuce and Tomato.with Fries on the Side. – $12.99
Street Cart Dogs – Grilled Street Dogs Served with Fries 8.99 or Make them Chili Dogs for 9.99 – $9.99
Surf and Turf Paradiso 37 Style – Grilled BBQ Shrimp and Argentinean Skirt Steak. Served With Corn on the Cob and Street Style Potato Pancakes – $23.99
Tres Taco – Three Soft Authentic Mexican Corn Tortillas with your choice of Grilled Chicken, Roasted Pork, Grilled Steak, Roasted Mushrooms or Blackened Mahi Mahi. Served with Black Beans and Cilantro Rice – $11.99
Dessert
Chilean Sopapillas – Crispy Fritters Dusted in Sugar and Served with a Chocolate Sauce – $5.99
Churros – Dusted with Cinnamon Sugar and Served with Caramel Sauce – $5.99
Mini Ice Cream Cones – Four Waffle Cones of Vanilla, Chocolate, Strawberry and Cookies and Creams Topped with Sprinkles – $6.99
Paradiso 37 Popsicle – Different Flavor Daily – $2.99
Paradiso 37 Sundae – Vanilla, Chocolate and Strawberry Ice Creams with Chocolate Dipped Bananas. Topped with Chocolate Sauce, Sprinkles, Whipped Cream and a Cherry. Served in a Fresh coconut Half – $7.99
---
Dinner  
Appetizers/Starter
Argentinean Chorizo Skewers – Authentically prepared Chorizo Sausage seasoned with Argentinean Spices. Served with Cucumber and Onion Salad. Citrus Yogurt Sauce and Chimichurri Pita Bread – $14.99
Caribbean crab and Fish Fritters – Crab Meat, shrimp,Fish, Peppers and Cilantro Fritters. Fried to a golden brown, Serve with a coconut lime dipping sauce – $10.50
Central American Crazy Corn – Fire Roasted Corn on the cob topped with a Spicy yellow pepper sauce and chef's special cheeses – $7.99
Chili Con Carne – Slow Cooked Tender Ground Beef with Onions, Peppers, and Chiles. Topped with Chef's Special cheeses and served with Corn Tortilla Chips – $6.50
EL Salvadorian Pupusas – Sampler with Soft Pockets Stuffed with Authentically Seasoned Meats, Fish and Vegetables. Served with Serrano Slaw – $9.99
Mac and Cheese bites – Fried crisp on the outside, creamy on the inside, served with Jalapeno and cilantro dipping sauce. – $7.50
Mexican Chips an Salsa – Fresh corn Tortilla chips with Housemade Fire roasted Tomato Salsa – $3.99
Mexican Guacamole – Homemade, Chunky fresh Avocado with Fresh Tomato Slsa, Lime Juice and Cilantro. Served with Corn Tortilla Chips. Regular, 4.99 Large, 7.99 – $7.99
Mexican Quesadillas – Mexican Sampler of Corn Tortillas Stuffed with Braised Chicken, Grilled Steak, and BBQ Pulled Pork. Topped with Chef's Special Cheese and served with a Serrano Slaw – $11.99
Mexican Salsa Trio – pineapple Salsa, Tomatillo Salsa Verde and Fire Roasted Salsa Diablo. Served with Corn Tortillo Chips – $7.99
North American Corn Dogs – A cone filled with a bite size Corn Dog fried to a golden brown. served with a honey mustard dipping sauce – $7.50
North American Potato Pancakes – Home style Potato Pancakes Prepared with a Hint of Chives. Special Paradiso 37 Spice Blend and then Sauteed to a Golden Brown. Served with Sour Cream – $5.99
Peruvian Beef Skewers – Grilled Skirt Steak served with a Mushroom Ceviche and Chimichurri Pita Bread – $10.99
Queso Fundido – Chef's Special Cheeses Flavored with Cilantro, Chiles and Onions. Served with Warm Flour Tortillas or Corn Torilla Chips – $7.99
Yucatan Style Shrimp Ceviche – Fresh Shrimp, cucumbers, sweet Green and Red Peppers tossed in a spicy Tomato and Lime sauce – $8.99
Entree/Main Course
Argentinean Skirt Steak – Marinated Grilled Skirt Steak Topped with Caramelized Onions and Chimichurri Sauce. Served with Fries – $19.99
Baja Burritos – Flour Tortilla packed with your choice of Grilled Chicken or Beef Along with Sauteed Peppers, Squash, Red Onions, Chef's Special Cheeses and Topped with Sweet Chipolte BBQ Sauce. Served with Cilatro Rice and Black Beans – $14.99  *
BBQ Pork – Slow Roasted with Sweet Chipolte BBQ Sauce. Served with Cilantro Rice and Black Beans – $17.99
Chilean Style Salmon – Skewered Grilled Salmon Served with a Tomato Vinaigrette, Cilantro Rice and Peruvian Olives – $18.99
Colombian Style Whole Crispy Hen – Marinated with Onions, Garlic, Lemon and Cilantro. Served with Street Style Potato Pancakes and Roasted Carrots – $17.99
Enchiladas – Chicken or Beef Stuffed Tortillas with your choice of Guajillo or Mole Verde Sauces. Served with Cilantro Rice and Black Beans – $13.99
Grilled Chicken Ceasar Salad – Romaine Lettuce Wedge tossed with Toasted Croutons, Parmesan Cheese and Homemade Ceasar Dressing. Topped with Seasoned Grilled Chicken Breast – $12.99
Grilled Chicken Tortilla – Mixed Greens Tossed with Roasted Corn, Diced Tomatoes, Crispy Tortilla Strips and Queso Freco in a Citrus Vinaigrette – $12.99
New York Strip Steak – Rubbed with Special Paradiso 37 Spice Blend. Served with Street Style Potato Pancakes and Creamed Spinach – $26.99
North American Sausage and Pepper Hoagies – Homestyle Sausage Braised with Sweet Peppers and Fresh Tomato Sauce and Topped with Melted Mozzarella Cheese. Served on Three Mini Hoagie Buns with Fries – $12.99
North American Sliders – Choice of Blackened Mahi Mahi, Grilled BBQ Chicken or BBQ Pulled Pork Sliders. Served with Fries – $12.99
Paradiso 37 Cheeseburger – Grilled Street Style, Served on a Fresh Brioche Bun, Topped with Cheddar Cheese, Lettuce and Tomato.With Fries on the Side. – $12.99
Prickly Pear Shrimp Salad – Grilled Jumbo Skewered Shrimp with Mixed Greens tossed with Orange segments, Jicama, Dried Apricots, Raisins, Toasted Almonds and Pumpkin seeds in a Prickly Pear Vinaigrette – $15.99
Street Cart Dogs – Grilled Street Dogs Served with Fries 8.99 or Make them Chili Dogs for 9.99 – $9.99
Surf and Turf Paradiso 37 Style – Grilled BBQ Shrimp and Argentinean Skirt Steak. Served With Corn on the Cob and Street Style Potato Pancakes – $23.99
Tres Taco – Three Soft Authentic Mexican Corn Tortillas with your choice of Grilled Chicken, Roasted Pork, Grilled Steak, Roasted Mushrooms or Blackened Mahi Mahi. Served with Black Beans and Cilantro Rice – $11.99
Dessert
Chilean Sopapillas – Crispy Fritters Dusted in Sugar and Served with a Chocolate Sauce – $5.99
Churros – Dusted with Cinnamon Sugar and Served with Caramel Sauce – $5.99
Mini Ice Cream Cones – Four Waffle Cones of Vanilla, Chocolate, Strawberry and Cookies and Creams Topped with Sprinkles – $6.99
Paradiso 37 Popsicle – Different Flavor Daily – $2.99
Paradiso 37 Sundae – Vanilla, Chocolate and Strawberry Ice Creams with Chocolate Dipped Bananas. Topped with Chocolate Sauce, Sprinkles, Whipped Cream and a Cherry. Served in a Fresh coconut Half – $7.99