Planet Hollywood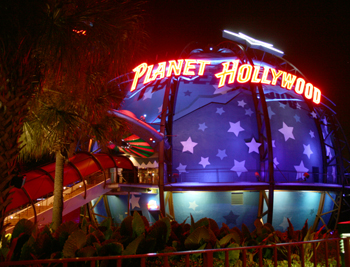 Cuisine: American
Location: Westside
Price Range: Lunch $$ ($15-$29.99 per person)  
Information: Specialty celebration cakes are available for an additional charge and should be ordered 48 hours in advance by calling (407) 827-2253. Menu items and prices subject to change without notice.  This experience takes place in a non-smoking environment. To make reservations, book online or call (407) 939-3463 up to 180 days prior to your visit.
Eat, Drink and Feel Famous at the world's largest Planet Hollywood, surrounded by three levels of movie and television memorabilia. The mouthwatering menu features wide selections of pastas, salads, sandwiches and award-winning burgers.
The three levels of Planet Hollywood are densely decorated with movie memorabilia and props from some of Hollywood's hottest films and TV shows. Stargaze at the displays while you dine under the iconic planetarium-like ceiling. Then commemorate your trip to "Hollywood" with custom Planet Hollywood logo merchandise and other movie-themed souvenirs.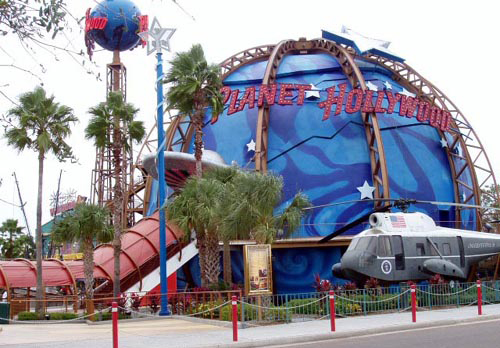 MENU
Appetizers
Chicken Crunch – our world famous Chicken Crunch is breaded with a crunchy sweet coating and served with Creole mustard sauce $6.95
Parmesan Spinach Dip – creamy parmesan cheese dip with spinach and mushrooms served with fresh white corn tortilla chips $6.95
Crispy Chinese Wontons – large wontons stuffed with a flavorful Chinese pork filling $6.50
Buffalo Wings – golden fried jumbo wings in a traditional spicy sauce served with celery and chunky blue cheese $7.25
Texas Tostadas – six mini tostadas topped with barbeque chicken, sautéed onions, Monterey Jack and sharp cheddar cheese with fresh guacamole, sour cream and pico de gallo $6.95
Crispy Onion Rings – breaded sweet onion rings with bacon ranch dip $5.95
Soup Special – your server will tell you about today's fresh selection $3.95
 
Salads
Grilled Chicken Caesar – freshly grilled chicken breast, crisp romaine, creamy dressing, parmesan cheese $10.95; without chicken $8.95
Asian Chicken Salad – a tangy blend of grilled chicken, Thai peanut dressing, cilantro, cucumber and chopped salad greens $10.95
Chopped Cobb Salad – grilled chicken, bacon, blue cheese, egg, onion, tomato and black olives, blended with chopped lettuce and a red wine vinaigrette $10.95
House Salad – Add to any sandwich, burger or pasta for $1.95. Chopped lettuce, cucumber and roma tomatoes with red wine vinaigrette $3.95
 
Sandwiches
Add a small Caesar or House salad for $1.95. Substitute onion rings for fries for $1.00
Turkey Club – smoked turkey, hickory bacon, Swiss cheese, lettuce, tomato and mayonnaise on toasted hearth bread, served with French fries $8.95
Barbequed Pork – tender smoked pork in our own BBQ sauce, topped with crispy onion rings, served with French fries $7.95
Eggplant Parmesan Sandwich – breaded slices of fresh eggplant, tomato sauce, provolone and parmesan cheese on herb focaccia bread, served with penne pasta $8.95
Thai Chicken – grilled lemongrass chicken with cucumber, cilantro and spicy sweet sauce served warm and rolled in a soft flat bread, served with French fries $8.95
Grilled Tuscan Chicken – grilled marinated chicken breast topped with Italian prosciutto ham, provolone cheese and fresh basil on herb focaccia bread, served with French fries $8.95
Portobello Mushroom – a jumbo grilled portobello cap with crisp lettuce, fresh tomato and provolone cheese, served with French fries $8.50
 
Award-Winning Burgers
Served with French fries, all burgers cooked medium well.
Classic Cheeseburger – fresh ground beef, home-style bun and choice of cheese with lettuce, tomato, onion, pickle $8.95; without cheese $8.50
BBQ Bacon Cheddar Burger – our classic burger finished with hickory smoked bacon, tangy sweet barbecue sauce and sharp cheddar cheese $9.50
Mushroom Onion and Swiss Burger – sautéed fresh mushrooms and onion layered on top of our classic burger complete with imported Swiss cheese $8.95
 
Pasta and Noodles
Add a small Caesar or House salad with any pasta for $1.95
L.A. Lasagna – A California twist to a classic lasagna! Fresh pasta tubes filled with ricotta cheese and Bolognese meat sauce fried to a golden brown and covered with garlic cream sauce and tomato basil sauce $11.95
Asian Noodle Stir Fry – stir-fried vegetables and Japanese noodles in a teriyaki rice wine sauce with your choice of Chinese pork, grilled marinated chicken or portobello mushroom $12.50
Pasta Pomodoro – fresh roma tomato sauce, extra virgin olive oil, basil and Italian parmesan cheese blended with penne pasta $9.95
Chicken Penne and Broccoli – grilled chicken, fresh broccoli and penne pasta blended with roasted garlic cream sauce $12.95
 
Grilled Specialties
Sizzling Fajitas – your choice of marinated char grilled chicken, beef or portobello mushroom served with sizzling onions and bell peppers, fresh guacamole, pico de gallo, sour cream, cheddar jack cheese and traditional flour tortillas $12.95
Selections below include your choice of French fries, baked or mashed potato plus a choice of a small Caesar or House salad.
Hickory Roasted Half Chicken – tender wood-roasted and herb-seasoned half chicken $13.50
Maple Grilled Salmon – grilled fresh salmon filet covered with Vermont maple butter $16.50
BBQ Ribs – a full rack of delicious hickory-smoked St. Louis style ribs smothered with our tangy sweet barbecue sauce $16.95; half rack $11.95
Chargrilled Double Thick Pork Chops – thick chop, lightly marinated with fresh herbs, chargrilled and oven roasted $15.50
New York Strip – premium center-cut 12 oz. sirloin steak grilled to perfection $19.95 
Kids' Menu
Cap'n Crunch Chicken Fingers – Served with fries
Hamburger or Cheeseburger – Served with French Fries
Hot Dog – Served with French Fries
Thin Crust Cheese Pizza
Cheese Quesadilla – served with French fries
Penne Pasta – choice of Marinara or Butter sauce
Ice Cream – $1.00
Kid's Sundae – $1.50
Soft Drink or Milk $1.50 or $2.95 in souvenir rocket cup.