Arribas Brothers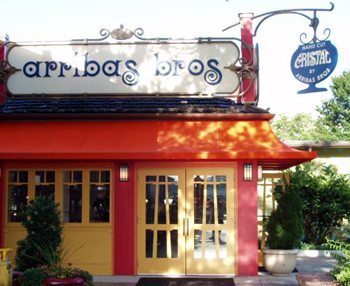 This crystal specialty shop offers a wide variety of unique gifts. It's a bit off the beaten track, located between Team Mickey and Basin. Skilled craftsmen work on various pieces in view of guests. A wide variety of items can be personalized.
Since 1967, Arribas Brothers has been crafting metal, crystal, and glass into works of art featuring iconic Disney characters and settings. The store sparkles with light refracted through the many creations; you have to at least wander through the place even if you don't intend to buy anything.
Tel: 407 828-4840   
Basin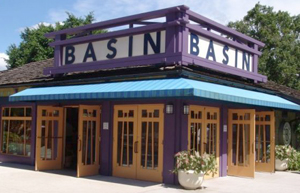 Unique bath and facial products. 
It's not actually a Disney operated shop, but the unique offerings and pleasant layout certainly lend themselves well to the WDW environment.
This store is filled with luscious glycerin soaps, bath bombs, scented candles, shampoos, skin creams, and lots more. Be sure to check out the bar of soap with Mickey silhouettes in it.
Visitors are encouraged to try out the products with the testers found throughout the shop.
Phone: 888-77-22746
Hours: Fri – Sat 9.30am – 11.30pm. Sun – Thur 9.30am – 11pm
Cirque du Soleil Boutique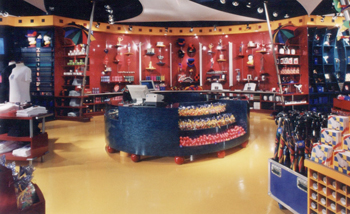 La Nouba souvenirs and other Cirque merchandise. Featuring over 300 Cirque du Soleil souvenirs and products. As guests exit Cirque du Soleil's La Nouba, they can visit the one-of-a-kind Cirque du Soleil store, which is located on the ground floor of the massive Cirque du Soleil building directly adjacent to the box office. This store, which is also open to public to venture through as well, features themed merchandise from the show, including signature apparel, music from the performance on CDs, posters, programs and other unique items such as magnets, mugs, key chains and even bags that will help you remember this unforgettable show forever.
All materials are of the highest quality, well thought out and extremely colourful. All merchandise is displayed directly on the walls, therefore none of the walls are straight.  The round cash counter sits alone at the centre of the central area.  This airy design allows customers to flow freely in the sore and have easy access to the merchandise. 
Curl by Sammy Duvall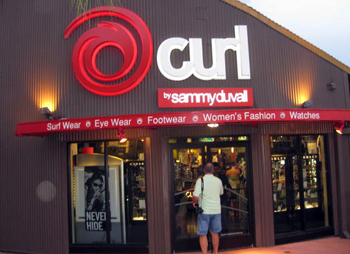 High end Surf Shop which features a selection of trendy surf themed clothing and accessories, skateboards, surfboards, and other watersport gear. A big name in water sports, Sammy Duvall lends his name to this high-end surf shop.
Tel: 407 842-1302
D-Street
D Street is located in Downtown Disney West Side and showcases a mix of products for both men and women. Items include cutting-edge apparel, handbags, accessories, jewelry, pop culture novelties and Vinylmation collectibles. The store offers an unfinished "industrial look" with fun, oversized props adorning the venue.
Product lines feature vintage looks from Disney and urban influences. Vintage apparel includes artwork from classic Disney attractions and characters. D Street also provides a great venue to showcase Disney art created by local artists.
 
This new urban-style location is the flagship store for Vinylmation serving as the place for launching the latest releases and trading of this new Disney collectible – you can design and decorate your own three-inch Mickey-shaped vinyl figurines.
Disney artists use a blank three-dimensional canvas bringing to life classic characters, attractions or icons inspired by Disney Parks & Resorts from around the world. They also showcase their own artistic styles with edgy and graphic-focused looks. 
Disney Tails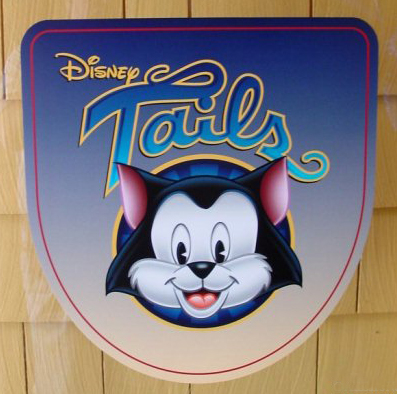 Do you need a princess bed, a Mickey collar or even a special T-shirt for your precious pet. Disney Tails has it. Pet care and pet pampering products include fun toys and fresh-baked animal treats. Personalization opportunities include collar ID tags with Disney flair.
A giant statue of one of the Dalmatians is a popular photo spot. Some of the merchandise here has also been seen inside the World of Disney, so if you get a discount at that store it would make sense to check there before making the purchase at Disney Tails. This shop is cute inside, and even has windows shaped like a bone—similar to a dog biscuit.
Tel: 407-824-4321 
Candy Cauldron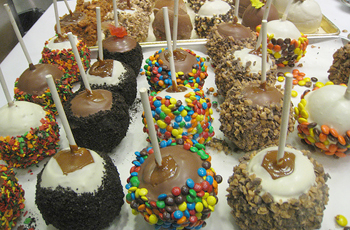 There's no shortage of candy shops in Walt Disney World, but here's another one. There's a show kitchen here, too, if you care to watch the sweet stuff being made – candies are made fresh before your eyes to tempt you to do more than window shop. It is a great place to satisfy your sweet tooth. This sweet shop is full of treats including jelly beans, fudge, caramel and candy apples, chocolate dipped strawberries and much, much more.
Themed as the Wicked Queen's dungeon from the Walt Disney animated film Snow White, the Candy Cauldron features more than 200 tempting sweets.
Days Of Christmas
There are 365 days of Christmas at this shop!
Year-round holiday enchantment with Disney character items and handcrafted ornaments.   
The store, which is the largest Christmas shop on Disney property, sells practically every kind of Disney related Christmas ornament imaginable, from trees, fairy lights, baubles, plush characters, and collectible plates, through to large animated figures, and practically everything in between.
Many of the items on offer can be personalised / engraved if required for a small charge.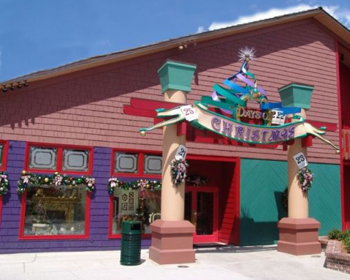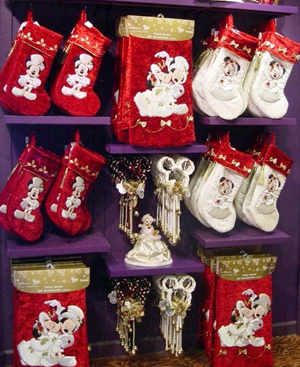 Disney's Design-A-Tee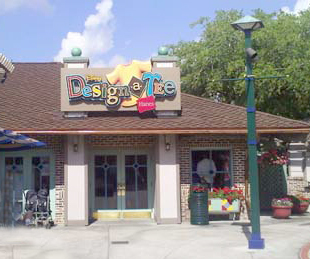 Design, customize and personalize your Walt Disney World vacation T–shirts in the new Disney's Design–A–Tee shop at Downtown Disney Marketplace area.
Can't find a shirt with your favorite character in your size? Disney Design-A-Tee comes to the rescue! In this shop, you can design your own T-shirt using a library of graphics, add custom text, and font, then get it printed on a T-shirt in your choice of colour and size. Once your design is finished, the shirt is ready within a couple of hours (depending on how busy they are) and the screen printing is high-quality.
One of the newest Downtown Disney stores, this is a fun custom T-shirt shop that is THE place to design wearable souvenirs and commemorative apparel. You can select your favorite T-shirt color, size and style, and choose from more than 400 pieces of character art. Add a pre-written phrase, or embellish your shirt with your own words. Then, watch your design as it's made! It makes for a fun way to celebrate a special occasion.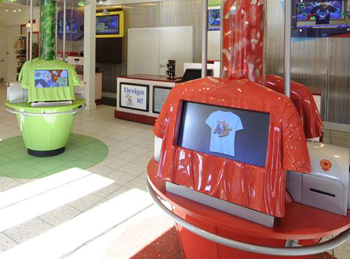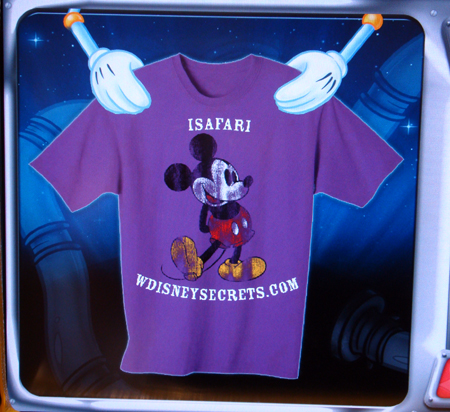 Disney's Pin Traders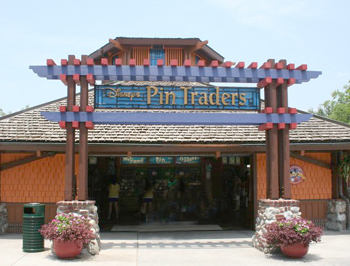 Disney's Pin Traders, in Downtown Disney Marketplace, is the biggest pin-trading location with the largest assortment of pins anywhere in Walt Disney World Resort. There are hundreds of pins displayed by characters as well as Limited Editions.
Official Disney pin trading can be a great way to meet and interact with Cast Members and guests from around the world. Getting started in Disney pin collecting is as simple as obtaining a pin you like. Disney pin trading begins when you meet a Disney Cast Member or guest wearing a pin trading lanyard—and then trade your pin for one of theirs. Disney Cast Members at Disney's Pin Traders can show you the tools of the trade to keep you going.  
Disney's Wonderful World of Memories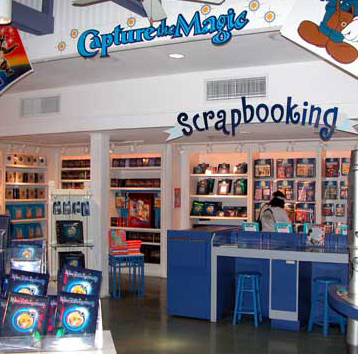 Capture the memories of a lifetime with photo albums, stationery and scrapbooking. A great place to get all of your scrapbooking materials along with photo albums and stationery.
Creating a Disney scrapbook is a great way to "keep the magic alive" even after your trip has ended.  If you are just starting scrapbooking or like to do a whole album in one sitting, there are starter kits – they come with the scrapbook book and blank colored paper.
Disneyquest Emporium
This is the place to find DisneyQuest logo merchandise including T/shirts, sweatshirts and more.
Goofy's Candy Co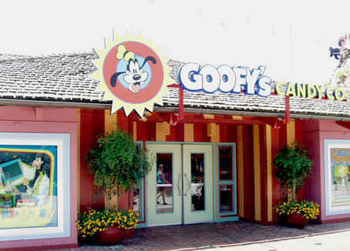 Discover the formula for confection perfection at Goofy's Candy Company, a fun-filled-factory where Goofy dreams up treats like cupcakes, cookies and candy in every color of the rainbow, made to order caramel and chocolate dipped apples, marshmallows and rice crispy treats.  You can also find dipped chocolate strawberries
A limited selection of sugar free candies are also available. 
Hoypoloi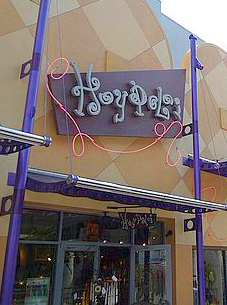 You won't find any of the items in HoyPoloi in any other stores as they are all provided by individual artists from across the USA.
The store and its contents have a very strong almost Zen theme, with most being made from, or styled around naturally flowing forms (Water, Air, Wood, Stone etc). With a background of soothing music, and water trickling over Japanese river stones in the Zen fountains it's a very tranquil and soothing store to visit. The aroma of pine, sage and berry wafting around the store underlines the store's message in trying to create a tranquil home environment with handmade artwork and nature-related home products.
Sundays – Thurdays 10.30am – 11pm, 
Friday & Saturday 10.30am-midnight 
Lego Imagination Center 
Officially opened on Nov. 6, 1997, the 4,400-square-foot retail store is modeled after the original LEGO store at the Mall of America in Bloomington, Minnesota.
You'll have fun in  this superstore, where kids of all ages can literally build their imaginations with all the latest fun from LEGO primo, LEGO duplo, and LEGO elements. Check out "Brickley," the 50-foot LEGO Sea Serpent in the lagoon, then get hands-on in the interactive outdoor playground.
They have everything from the simplest set of blocks to the latest kits, clothing and games. Outside of the shop is a 3,000 square foot play zone.
Littlemissmatched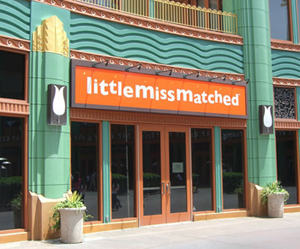 Think outside the socks at littlemissmatched, a specialty store offering everything from socks to accessories for boys and girls ages 1 to 101.
LittleMissMatched began with the idea to sell colorful missmatched socks in odd numbers. They quickly discovered that girls want to have fun with more than just their feet. LittleMissMatched has created gloves, sleepwear, swimwear, bedding, electronic socks, and a book (My MissMatched Life, Chronicle Books) – all incorporating their core design philosophy that nothing matches but anything goes. Each collection allows for thousands of combinations using unique color waves and patterns, giving girls the chance to express their creativity and individuality every day of the year.

 Tel: 407.938.9257
Sunday – Thursday: 10:30 AM – 11 PM
Friday & Saturday: 10:30 AM – 12 AM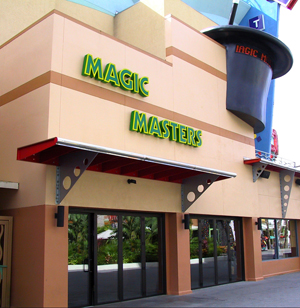 Shop for magic supplies, or see if you can catch a magic demonstration, right in the store.
Modeled after Harry Houdini's library, you can learn the secrets behind the magic at this upscale shop and take home magic paraphernalia from around the world.
Magic tricks for beginners that are very impressive, but very easy to do.  After the sale,  customers are taken to a small room hidden behind the bookcase,  and shown how to do the trick.  The combination of entertainment and demonstration  help sell the magic tricks.  
Display windows feature photos and posters from magic's heyday nearly a century ago.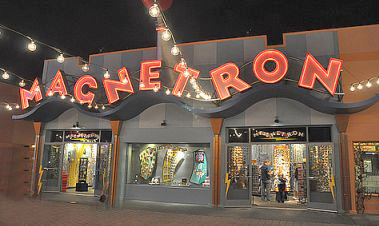 Magnetron Magnetz
Magnetron's glistening steel walls offer 20,000 magnets – magnets that talk, sing, ring, and beep; magnets that light up, change color, and glow in the dark; magnets in the shapes of food, animals, characters, everyday objects like telephones, and things from out of this world, including this planet's largest selection of magnetic space aliens
Prices range from $1.99 for a small magnet to $79 for a kit that contains more than 200 magnetic words.
| | | | |
| --- | --- | --- | --- |
| Sunday | 9:30 a.m. – 1 a.m. | Thursday | 9:30 a.m. – midnight |
| Monday | 9:30 a.m. – midnight | Friday | 9:30 a.m. – 1 a.m. |
| Tuesday | 9:30 a.m. – midnight | Saturday | 9:30 a.m. – 1 a.m. |
| Wednesday | 9:30 a.m. – midnight |   | (407) 827-0108 |
Mickey's Groove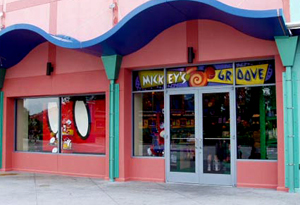 Just about anything you could want with Mickey Mouse on it. Be a big cheese when you shop at this store devoted entirely to Mickey Mouse.
Everything Mickey can be found here — from logo clothing to souvenirs, toys and commemorative pins.
Guests in an eclectic mood can boogie on over to Mickey's Groove where they will find posters, innovative (modern) lamps, handmade greeting cards and other unique souvenirs.
| | | | |
| --- | --- | --- | --- |
| Sunday | 10.30 a.m. – 11p.m. | Thursday | 10.30 a.m. – midnight |
| Monday | 10.30 a.m. – 11 p.m. | Friday | 10.30 a.m. – midnight |
| Tuesday | 10.30 a.m. – 11 p.m. | Saturday | 10.30 a.m. – midnight |
| Wednesday | 10.30 a.m. – 11 p.m. |   | (407) 824 4321 |
Mickey's Mart – 'Everything Ten Dollars and Under'
This is Disney's version of a dollar store. Everything here is ten dollars and under.  
Mickey's Mart, found between Disney Tails and Pooh Corner, features unique gifts, as well as Surprise Grab Bags and Items of the Week.
Bargain hunters will definitely want to check this place out!
It's the perfect place for kids to spend their vacation money. They have ever changing stock – so if you see something you like grab it, because it may be gone the next day.
They have lots of great souvenirs (mugs, plush toys, key chains, lots more) at low prices and mystery grab bags for kids at about $6.95 each.
Sunday – Thursday  9.30 a.m. – 11p.m.
Friday – Saturday  9.30 a.m. – 11.30 p..m.  
Mickey's Pantry
The family chef can explore culinary trends and find kitchen gadgets galore, from unique cooking utensils to mugs, teas and coffees. 
Once Upon A Toy
Play happily ever after at this amazing toy store that offers the largest assortment of toys and games in all of Walt Disney World®. Interactive stations allow you to really get into the fun. Look for toys inspired by beloved Disney stories and characters. You can even build your own theme park with Walt Disney World attraction toys and enjoy classic games like Monopoly and Candyland in special Disney versions! It's toy-rific!
Disney and Hasbro have something new to market with this toy store featuring baby-boom favorites, with a twist: Mr. Potato Head has Mickey Mouse ears; the game of Clue is set at Disney's Haunted Mansion. Other classics remain untouched by Disney's storylines. And there are new releases, too, including a build-your-own miniature Magic Kingdom (complete with a working monorail).
The store encourages hands-on play. The build-your-own areas are a hit, allowing customers to fill a box with Mr. Potato Head accessories, Tinkertoys and Lincoln Logs. Tops for little girls are the "My Disney Girl" dress-up dolls, with clothes inspired by the Disney princesses.
It's five rooms of pure fun.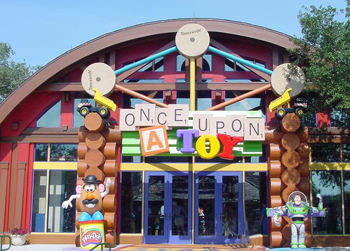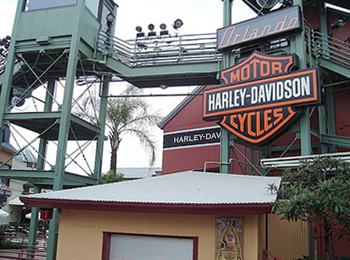 Orlando Harley-Davidson
The store features genuine Harley-Davidson t-shirts, jackets, hats, gifts, collectibles and pet accessories.
Custom Harley-Davidson motorcycles with one-of-a-kind paint schemes and plenty of chrome are on display for guests to see, touch and sit on for photo opportunities.
Pooh Corner
Everything from kids' to adults' ready-to-wear apparel, plush toys, accessories, decorative gifts … Winnie the Pooh merchandise at its finest.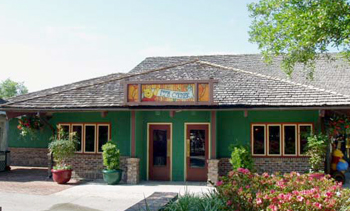 Rainforest Cafe Shop
Adjacent to the Rainforest Cafe. A full line of Rainforest themed merchandise including clothing, mugs, jewelry, private label condiments, postcards, toys, candy, mugs, etc.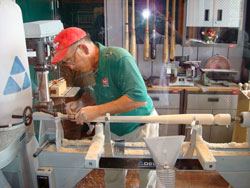 Rawlings Making The Game 
Find customized baseball gear such as personalized laser-engraved bats, balls and gloves as well as other Rawlings products. This exhibit is located inside the Team Mickey Store.
Ridemakerz
Ridemakerz allows you to create and customize your own model car, choosing the body, undercarriage, tires, wheels, decals and other accessories (each with their own price tag). In addition, you can add radio control ability. The average sale, with radio control added, will range from $50-$75 depending on how many add-ons you choose.
Complete Ridez range in price from $10 to $32, depending on body and paint style chosen. Radio remote control can be added for an additional $25, and custom accessories range in price from $2 for grill guards, spoilers and hoods scoops to $15 for themed kits that include a wide range of complementary accessories. Ridez measure approximately 12 inches long, or 1:18 scale, and are easy to assemble with snap-in, snap-on components that do not require glue.
Eight world-class show cars are on display, including a Chevrolet C5.R racecar built by Pratt & Miller Engineering for General Motors. The display also features an F150 NASCAR Pace Truck and Dodge Ram from the personal collection of legendary car customizer Chip Foose, as well as a MINI Cooper from the private collection of famed movie car designer Fireball Tim Lawrence.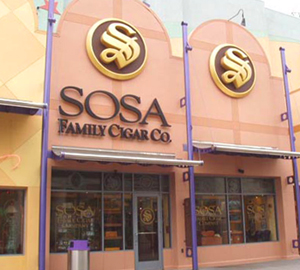 Sosa Family Cigars
The Sosa Family brings you the finest in fresh hand rolled cigars. An authentic, solid cedar humidor rooms keeps the cigars fresh from an enjoyable smoking experience. This place makes rings around all other cigar shops!
Inside this small shop, you'll find more than 80 brands of cigars, including Auturo Fuente, Padron, Diamond Crown, Imperio Cubano and the much sought-after Fuente Fuente Opus XE.
Sosa also sells smoking accessories, such as handsome humidors ($100-$4,000), lighters, ashtrays and cutters, as well as shirts and hats bearing the family name.
Open 10.30 a.m. – 11.00 p.m.  
Summer Sands
Active and beachwear from name brand designers
Life's a beach at this sunny, breezy shop. Everything you need for a day at the shore is found here. Drop by for fun, colorful Roxy, Quiksilver and Tommy Bahama swimwear, apparel, cool shades and accessories.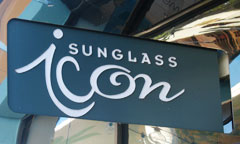 Sunglass Icon
The store is designed like a small movie set.  Designer sunglasses galore – some that are exact replicas of glasses worn by celebrities in recent films. This is a full-service eyewear boutique. 
Team Mickey Athletic Club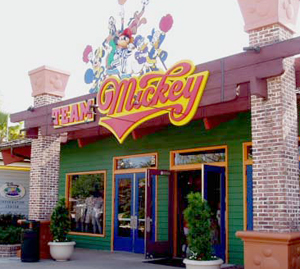 The perfect shop for the sports enthusiast.  Disney themed sportswear for virtually all sports including golf apparel and accessories, athletic jerseys and footwear, ESPN brand merchandise and a limited selection of sports memorabilia. There are wonderful Disney themed bowling balls that are sure to make you a league standout. You can find a large selection of sports gear with your favorite College or Professional team.
Baseball players can get customized baseball gear at the Rawlings Making the Game section.
The ideal place to browse around for Disney brand and top-name sports gear for just about any popular game such as golf, basketball, track, football, tennis and soccer.
Open 9.30 a.m.  – 11 p.m. 
The Art of Disney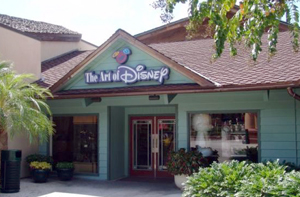 Whether you're a collector of Disney Memorabilia and artwork or not, this Downtown Disney shop is worth a visit. There's a vast collection of limited edition Sericels, lithographs, original paintings, sculptures, collectible figurines including the Walt Disney Classics Collection, crystal, Lenox, etc. The range of prices makes this appealing to both the serious collector and those wanting something special on a modest budget.
An art gallery a-la-Disney, filled with works that wouldn't look out of place in a museum.  
Most, though not all, of the animation cels on display are for sale, but be warned, that some command a very high price, so if you're looking for that one of a kind cel you may have to dig very deep, or severely flex the plastic to buy it. 
TrenD
This is the place for the most chic, edgy and up-to-date Disney fashions and accessories—plus exclusive merchandise from cutting-edge designers.
Merchandise includes organic loungewear, embroidered handbags, jeweled sunglasses and  accessories. Designers such as Kidada Jones, Tarina Tarantino and Roxy fuse their individual style with Disney-inspired creations.
Much of the merchandise is not available anywhere else at Downtown Disney Area—or even anywhere else at Walt Disney World Resort.
The World Of Disney
The World of Disney is the World's largest Disney Store, with over 50,000 square feet of character related merchandise. It is located at Downtown Disney Marketplace, next to the LEGO Imagination Center, and is possibly the best place to go for clothing, home decor items, handbags, caps, jewelry, kitchenware, stationery, storybooks, candy, videos, toys and more, all featuring some form of character endorsement.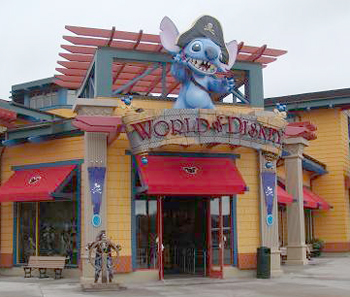 Explore the 12 rooms that overflow with an overwhelming collection of items, including:
Men's, women's and kids' apparel
Disney Character merchandise
Collectibles
Arts and crafts
Baby needs
Food and candy
Plush toys
Pirate and princess accessories
Trading pins (World of Disney store is a pin trading location)
Watches and jewelry
In the kitchenware department, you'll find everything you need to convince dinner guests that you have been thoroughly pixy-dusted. Here are a few examples: Mickey Mouse waffler, Mickey tablecloth, Disney latte mug with saucer, Winnie the Poo tea kettle, Mickey apron, Mickey-shaped coaster, Mickey-shaped pasta. There is also an abundance of glasses, pottery and dishes.
After a peek inside the jewelry department, you'll agree that a Mickey Mouse watch isn't what it used to be. Here you can choose from hundreds of watches, ranging in price from $25 for a leather-banded character watch to $6,900 for a gold, diamond-studded Mickey timepiece. In this room, you'll also find elaborate snow globes, rhinestone clutch bags and decorative picture frames.
Note however, that despite it being the Worlds largest Disney store, there are still plenty of souvenirs that are only available either in the various theme parks, or at Disney resort hotel stores. For example you won't find clothing bearing specific resort names at the World of Disney – you'll need to visit the resort store in question for those kind of items.  
Bibbidi Bobbidi Boutique is tucked inside this Disney store too.