Goofy's Candy Co. Birthday Parties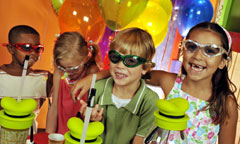 Host your birthday party in the heart of Downtown Disney Marketplace area, in a private room perfect for play. Pick a theme, create your own tasty treat, invite friends to participate in fun games, and plan a party that's as sweet as can be!  
Goofys Candy Company is a great atmosphere in which to hold a kids birthday party. Do you want that one special party or celebration that stands out from all of the rest, and that memory to last forever – then read on.
Two different packages are offered: Goofy's Scien-Terrific Birthday Bash or the Perfectly Princess Party.
For $344.99 plus tax, a complete party with all the trimmings accommodates up to 12 guests (including the Birthday Boy or Girl) and lasts 90 minutes. You can add up to three more guests for $25 each plus tax. Included is the use of the party room, complete with colorful tableware. The parties are held in Goofy's Candy Company party room in Downtown Disney's Marketplace and include:
Invitations and Thank you notes for all guests

a private party room decorated by Disney "elves" with balloons

specially created invitations

"create-a-treat" at the table. Depending on what you have selected, it will be an apple, a krispie treat, pretzels, marshmallows or an oversized deluxe cupc

themed party games, such as "Goofy's Licorice Limbo" and "Put the Cherry on the Sundae" or "Under The Sea Limbo" and "Put the Gem on the Crown"

an exclusive autographed 5×7 photo of Goofy or Cinderella for each guest

a customized Goofy's Glacier for each guest: a frosty, concoction inside a foot-tall Disney Character container with a crazy top and bottom. Choose from eight flavors, a blend of several, or all of them (another party exclusive). Each guest can choose a base, cup, top and straw, all washable.

a helium balloon for each guest featuring the special birthday party logo. The Birthday Guest of Honor receives a larger, Mylar version.

at Goofy's Scien-Terrific Birthday Bash, multicolor light-up glasses for each guest. The Birthday Guest of Honor is given something else not found in the Parks: a fantastic, vintage bubblegum machine PLUS a whole pound of selected candy in the shop.

at Perfectly Princess Party, an exclusive light-up Cinderella coach necklace for each guest. The lucky Birthday Guest receives a hand-blown glass slipper mounted on a mirror inside a Plexiglas case, tied up with a pretty blue bow! Princess Birthday Guest of Honor also gets a tiara and a "Birthday Princess" sash.

an exclusive "happy birthday" song that was created just for guests at Goofy's Candy Company
**** guests must be age 3 and older