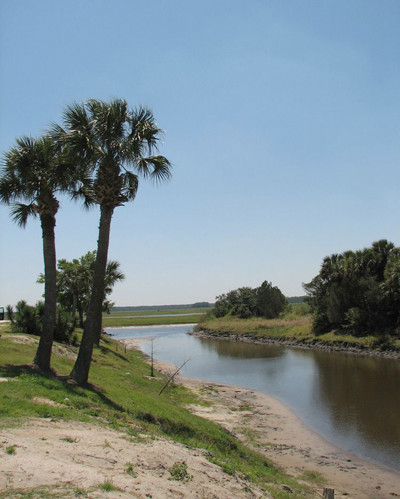 ATTRACTION: Captain Johnny Long's Old Fashioned Airboat Rides.
WHERE: Christmas Florida, 45 minutes east of Disney.
AGE RESTRICTIONS: None.
PRICE: $45.00 for all ages over 12.  $35.00 for ages 12 and under. All prices include tax.
ADDITIONAL INFORMATION: Call Airboat John 24hrs: 1-407-568-4307 or Email:

AirboatJohn@gmail.com

 for reservations. This is a 90 minute guided tour.
Enjoy the beautiful St. John's River in Central Florida on a 6 person airboat.  Ride through the marshes of the scenic St. John's River on real air boats for an "Old Fashioned Airboat Ride" in the Central Florida Everglades. Only 45 minutes from the Orlando area attractions and 15 minutes from Kennedy Space Center, Old Fashioned Airboat Rides will provide one of the most memorable stops on your Central Florida vacation. This is the true Florida, the way the natives enjoy it!
    * See Wildlife (such as alligators and eagles)
    * 90 Minute Guided Tour
    * Ride on Real Airboats (Not Barges)
    * Six Passenger NOT 16
    * Eco Adventure
    * Swamp Tour of the St Johns River
Nearly fifty generations of marsh birds have interacted with the humans and their airboats. Effortlessly, the boat slides across the grass and dollar weed as you make your way to a patch of open water. Small shad thrash the water's surface as bass chase them from below, and birds feed from above. 
Briefly, quiet settles over the area and then the usual marsh noise resumes as the arrival of an airboat – and its occupants – are accepted as normal. The marsh of the St. Johns River displays little impact from half a century of airboat use.
The airboat is more than just a mode of transportation; it is a safe haven and portal into and out of an otherwise hostile environment. As dusk arrives, the shriek of eagles playing gives way to the trill of a family of raccoons making their way to the waters edge. Turtles push off of logs as the warmth of the sun fades into the trees. Soon the sound of the marsh by day will turn to a din of crickets and mosquitoes as the splash of feeding gators and the hoot of owls mark the shift change.
Don't settle for boring barges…ride the river marshes on genuine Everglades-style Airboats. View Florida wildlife in their native habitat, like alligators and spectacular bald eagles.  
See Native Floridian history with a visit to ancient Indian Mounds. This is a real and wild experience. Your Native Floridian guide will share many true stories with you, to ensure that you will leave with colorful memories and a wealth of knowledge.
***Please note that if you are an individual or group of less than three adults you will be combined with other individuals or groups so that a mininum of 3 adults will be on the ride.
All trips are approximately 90 minutes and cover a round-trip distance of about 40 miles. Fully narrated by your Native Floridian Guide.
RESERVATIONS REQUIRED