ATTRACTION: Rivership Romance Dinner Cruise
WHERE: Monroe Harbour Marina in downtown Sanford
AGE RESTRICTIONS: 
Minimum passenger age 14 years or older for evening cruises…children are welcomed on day cruises 
PRICE: See cruise schedule and pricing below.
ADDITIONAL INFORMATION: Bar beverages & staff gratuity additional. Advance reservations required. Ship is available for groups & private charters. All meals are prepared fresh on board. Prices and menu subject to change without notice. Bar and gratuity not included in price. Casual dress is appropriate for all day cruises. Business casual to formal dress should be worn for all evening cruises. The first floor of the boat is handicap accessible, but the second floor and deck are not.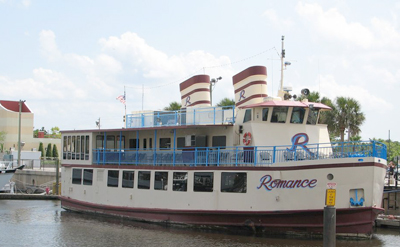 The instant you board Central Florida's heritage river boat cruise you will be transported to a simpler time when nature was king and the river was the expressway to relaxation.
The Rivership Romance carries hundreds of passengers daily on the historic St. Johns River and immerses you in an adventure of dining and dancing while you enjoy Florida's natural splendor.
If you're looking for an attraction that allows you to experience Florida the natural way, look no further. This is the true Florida!
January -November 2010………
Cruise Schedule and Pricing
3-HOUR LUNCHEON CRUISES – $38.00
Monday, Wednesday, Friday and Saturday 11 AM – 2 PM
Add $2.50 per person port charge plus 7% sales tax
This delightful and entertaining lunch cruise teases you with a taste of St. Johns River cruising.  A table of appetizers, assorted fruits, cheeses, and live entertainment greet you as you board, followed by a full course meal and sightseeing.
4-HOUR LUNCHEON CRUISES – $48.50
Tuesday and Thursday  11 AM – 3 PM
$Add $2.50 per person port charge plus 7% sales tax
A perfect way to spend a day! A light brunch of fruits, cheeses, warm "sticky buns" and other galley specialties welcome you aboard and satisfy your appetite until lunch is served in the early afternoon. Live entertainment and 25 miles of river scenery add to this special river getaway.
SUNDAY BRUNCH CRUISE – $38.00
Every Sunday 11 AM – 2:00 PM
Add $2.50 per person port charge plus 7% sales tax
This is Sunday at its finest. Enjoy the serene sights of the river combined with a special Sunday Brunch menu and onboard entertainment that only happens one day a week.
MOONLIGHT DINING & DANCING CRUISE- $53.75
Saturday 7:30 PM – 11 PM
Add $2.50 per person port charge plus 7% sales tax. 
◊♦◊♦◊♦◊
A cruise for true romantics. Indulge in the bountiful buffet of hors d'oeuvres to begin your evening. Order your favorite cocktail, enjoy a splendid dinner and a scenic cruise with excellent entertainment for relaxing or dancing. Come enjoy the tranquil and moonlit waters of the beautiful St. Johns River.
Southern Tilapia
Tender baked Tilapia filet seasoned with southern style spices, topped with a refreshingly cool cucumber salsa and partnered with a key lime remoulade.
Tango Mango Pork Tenderloin
Fresh pork tenderloin marinated, then roasted and accompanied by our house made mango bbq sauce and garnished with hand-cut plantain straws.
Summer Citrus Chicken
A fresh chicken breast seasoned and roasted perfectly then finished with a blood orange glaze.
Uncle Virgil's Vegetable Gratin
Hand-chopped roasted vegetables baked in an herb and swiss cheese béchamel sauce then encrusted with panko and parmesan.
Daily Special
Chef's seasonal creation.
Chef's Daily Beef Creation
Succulent beef dishes created daily from the freshest ingredients.
Certain entrees served with fresh hot vegetables and potato followed by seasonal deserts. Menu items subject to seasonal change.
Please note that if you have any food allergies or questions about the menu, you may speak with a reservationist at 1-800-423-7401
DIRECTIONS TO RIVERSHIP ROMANCE
433 N. Palmetto Ave Sanford, FL 32771

LOST ?????????? CALL 1-800-423-7401

It is always best to call our office a day or so before your cruise to check any
temporary detours due to holiday or special downtown road closures.

FROM ORLANDO/TAMPA GOING EAST ON I-4 TO EXIT # 104
Take I-4 East to Sanford EXIT # 104. At the end of the exit ramp, turn left (SW) onto Hwy 17/92 Shortly after making that turn, you will see the Central FL Zoo on your right and Lake Monroe on your left. Drive approximately 3 miles around the lake, keeping the lake on your left hand side. After you see the hospital on the right, Hwy 17/92 starts to curve to the right or there is a cut-off to the left. Make sure to take the cut-off to the left, keeping the water on your left. Drive to the first traffic light and turn left onto Palmetto Ave into the marina. The ship & free parking is on the right and the ticket office is at the end of the 1st parking lot. There is a big sign on the roof which reads ROMANCE.

FROM ORLANDO/KISSIMMEE VIA I-4 using EXIT # 101 BC
Take I-4 East to Sanford EXIT # 101BC. As you start to exit, the exit splits to 101B or 101C …..MAKE SURE TO USE EXIT 101C! At the end of the exit ramp, turn right onto S.R. 46. You will drive East on S.R. 46 for approximately 4 miles into downtown Sanford. Turn left at the traffic light onto Palmetto Ave ( Palmetto is two lights after Hwy 17/92). Drive 2 ½ blocks into the marina. The ship is on the right.
FROM ORLANDO/KISSIMMEE VIA ROUTE 417 Tollway
Note….this is a TOLLWAY…some exits will require exact change
Take Route 417 North to Exit #50. (Please note that is not HWY 50..it is exit # 50.) At the end of the ramp turn right onto Hwy 17/92. Drive about 3miles into downtown Sanford, noticing that the street signs are numbered starting at 27th Street and going down to * 1st Street (8th traffic light) Turn right onto 1st Street (Sign reads First Street/ S.R.46) Turn Left onto Palmetto Ave. The ship is 2 ½ blocks on the right. * note this is not the first street you can turn off of Hwy 17/92…it is a street named 1st Street & is approximately 3 miles from the exit)